We all started so innocently with small harmless animated games like Candy Crush and even though people were obsessed with such strategy games, the mobile gaming space hadn't grown quite as much to demand too much attention.
Remember when you couldn't let go of your first smartphone crushing pigs' territories in Angry Birds? No one really gave much attention to the business aspect of these projects because honestly, they weren't that big and after all, not everyone was able to afford a smartphone.
But we started getting bored with such games and we started hunting for something bigger, something better.
In response, developers started getting more ambitious as time went and we moved on to survival games and later on we wanted to play with others as we do with consoles and the games were made fully online and now we have a craze unlike any other ever seen.
I'm not saying online survival games like Fortnite and PUBG Mobile are the only causes for the current shift we are witnessing in mobile gaming but you have got to give it to them instead of just placing blame on them.
Yes, we have games like Candy Crush and Clash of Clans that still have their own kind of audience, proving that they are still relevant to us till this day (which is a good thing). This is considering how convenient they are since you can just pop in for a few minutes when you're at a queue bored or in a journey but moreover they are cheap or completely free to install and play.
The Shift From PC Gaming to Mobile Gaming
But you have to admit that new games like PUBG Mobile have moved millions from the PCs and consoles to the efficiency of just pulling out that small device and having a go shooting strangers in an open world. And now with creators like Activision coming up with a mobile version of the popular Call of Duty series, it is almost impossible to imagine what the future holds for this young industry. Should I keep going? Okay.
A recent report from App Annie shows games account for a whopping 10 percent of the total time users spend in mobile apps. Before you grab your pickets and say that's nothing, try and consider the amount of time that the likes of Facebook, Instagram, Netflix and Twitter claim from users every single day. You will then see that 10% is quite huge out of that.
The report further says that mobile games claimed 33% of total app downloads in 2018 with the figures still expected to peak to about 60 percent by the end of 2019. Now with such statistics, it wouldn't be shocking to see it rise even above expectations. More to that, a staggering 74% of all consumer spending on mobile app stores came through video games.
Strengthening my aforementioned point, only 5% of the revenue came was earned from direct app purchases. Whatever remains was spent in the form of in-app purchases, proving the popularity that absolutely free games are garnering is a huge factor in this success.
The report then adds on that the amount of time the average person spends in a mobile game is increasing, as well. In 2018, the total number of hours spent playing mobile games increased from around 100 billion to roughly 130 billion.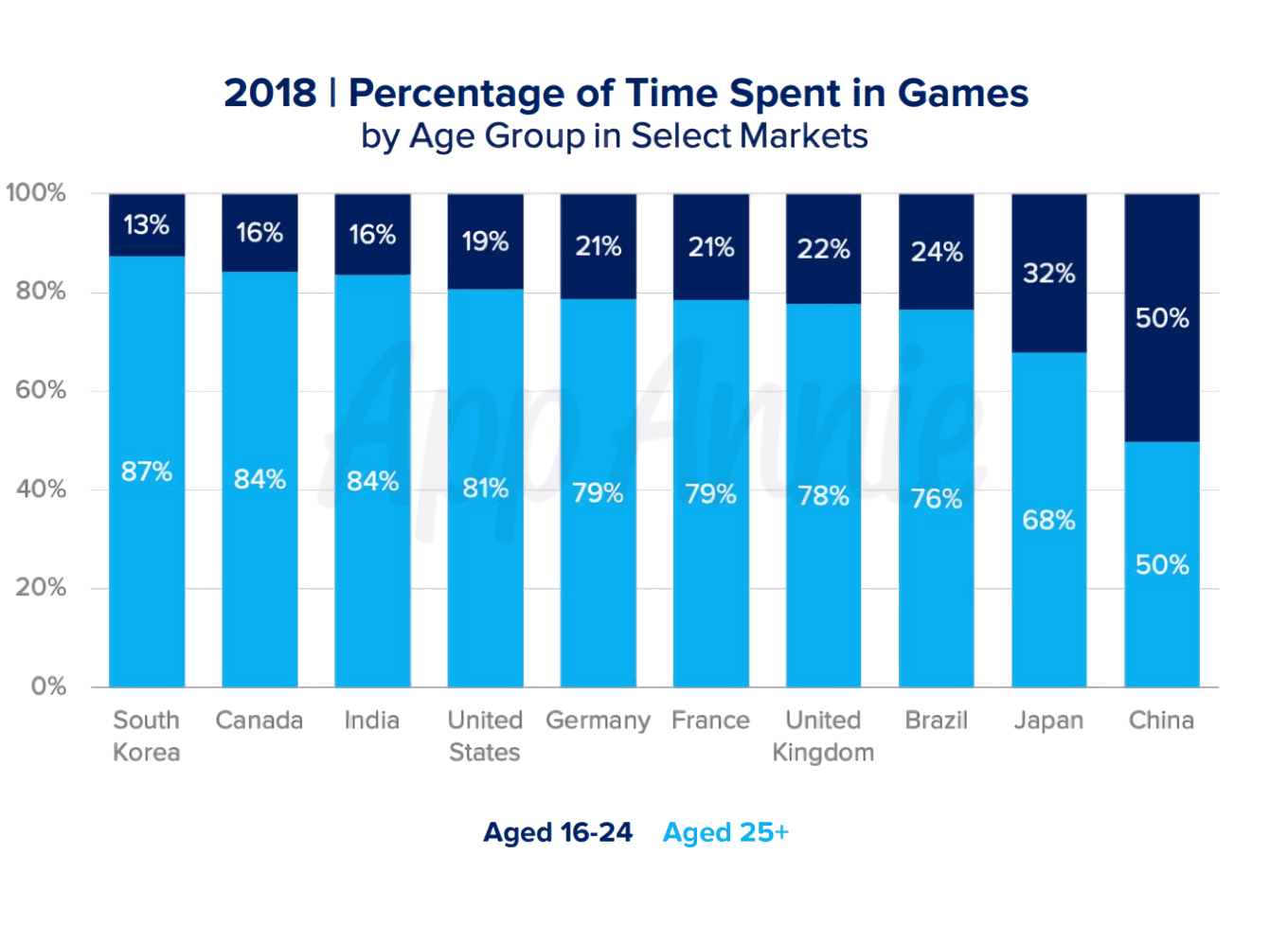 One may say that this is just a phase that's blazing among youngsters but it is worth noting that from the figures, most people accessing these games almost throughout the globe are aged over 25, with the exception of the Chinese market, where the age of gamers is spread out between 16 and 24 years with those over 25 being split into half.
So, what does this mean for the gaming space? Will this encourage more and more developers to venture and invest in mobile gaming now that it is showing huge potential? Most probably. If this happens, it could mean more competition which would then entice the creation of better games across the different game categories.
Will we be seeing more smartphone users getting into these games? Yes, of course. Which brings us to the question of whether it could bring a competition, however small, to the social media and movie streaming apps. For that, we'll have to wait. But never say die.