Google's game streaming service is finally taking its last corner before hitting the launch line. The service, which was first announced back in March, will let gamers access a myriad of games from different devices without the need of actually having a dedicated gaming machine.
And that's where we start our tale. Google has announced that Stadia will be available to the public as from November this year. Gamers will able to access the service through various devices as long as they have support for Google Chromecast, players can also access Stadia through Chrome browser and Google's Pixel 3 devices – the company did say they will open up the service to more smartphones in the future.
Available Games
At launch, Stadia will feature a total of 31 games from different titles, listed below:
Dragon Ball Xenoverse 2
Doom Eternal
Doom (2016)
Rage 2
The Elder Scrolls Online
Wolfenstein: Youngblood
Destiny 2
Get Packed
Grid
Metro Exodus
Thumper
Farming Simulator 19
Baldur's Gate III
Power Rangers: Battle for the Grid
Football Manager
Samurai Shodown
Final Fantasy XV
Tomb Raider: Definitive Edition
Rise of the Tomb Raider
Shadow of the Tomb Raider
NBA 2K
Borderlands 3
Gylt
Mortal Kombat 11
Darksiders Genesis
Assassin's Creed: Odyssey
Just Dance
Tom Clancy's Ghost Recon: Breakpoint
Tom Clancy's The Division 2
Trials Rising
The Crew
Pricing Details
As for matters pricing, there will be two subscription bundles, Stadia Base and Stadia Pro (although at launch only the Pro model will be offered).
With Stadia Base, players get up to 1080p game streaming, and the package will be free, however, you will have to purchase games individually to enjoy them.
On the Stadia Pro model, there's a monthly cost of $9.99 and offers 4K 60fps HDR with 5.1 surround sound. This package also comes with a bundle of free games – Google has not mentioned how many games one will get but as per the latest announcement, only Destiny 2 is bundled with this subscription but we expect more games to be added to the bundle by launch date.
Even with the Pro subscription, games not included in the free bundle will have to be purchased separately.
Streaming Experience
Google also announced the requirements for streaming Stadia. For one, players will need a Google Stadia controller that retails at %70 or any other controller that can connect to the device of their choice including a keyboard and a mouse.
Stadia will require a minimum of 10Mbps download speed and 1Mbps upload speed. At the minimum, users will get 720p streaming with surround sound, however, the recommended bandwidth is 35Mbps that gets you 4K HDR streaming at 60fps with 5,1 surround sound.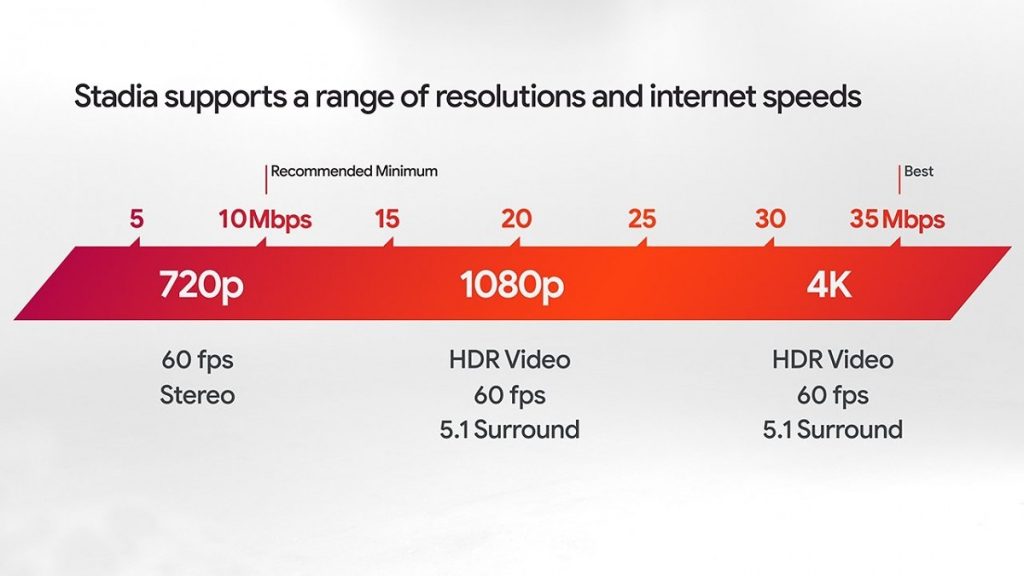 Pre-Order
While we await the November launch, Google Stadia is available on pre-order for $129, which gets you a limited edition Night Blue Stadia controller, Destiny 2 Collection, Chromecast Ultra and 3 months of Stadia Pro for two players.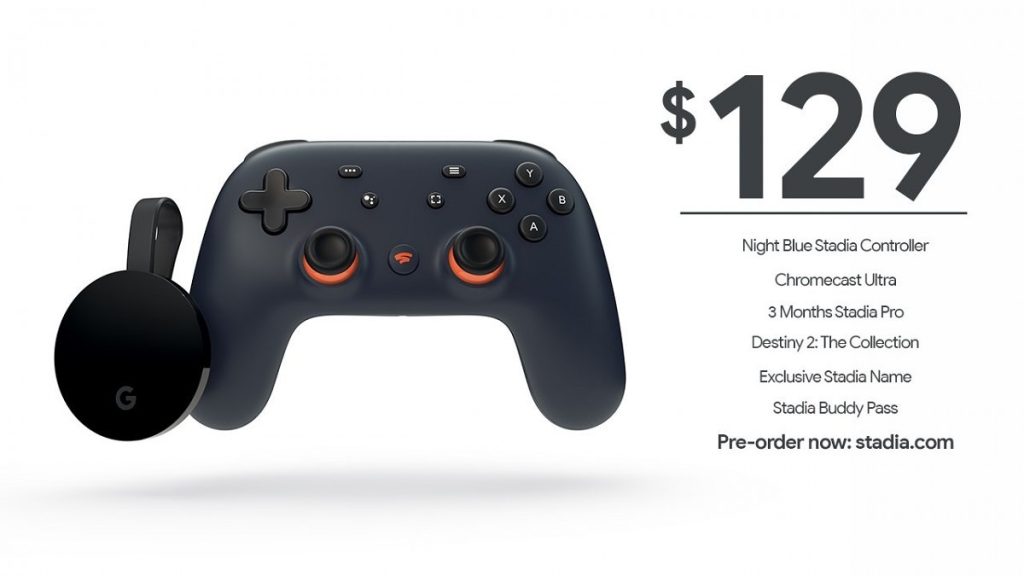 For now, Stadia will only be available in 14 countries; Belgium, Finland, Canada, Denmark, France, Germany, Ireland, Italy, Netherlands, Norway, Spain, Sweden, United Kingdom, and the USA.