Queuing in crowded offices for hours just to make one payment can be a hassle. Nairobi City Water and Sewerage Company are working to prioritize the needs of its customers. With the rise of mobile money, paying your Nairobi water bill has become much easier and accessible. Nairobi City Water and Sewerage Company offers several payment methods.
First, you can dial *888# on your mobile phone, and you'll be able to check your Nairobi water bill, make payments, and manage your account with ease.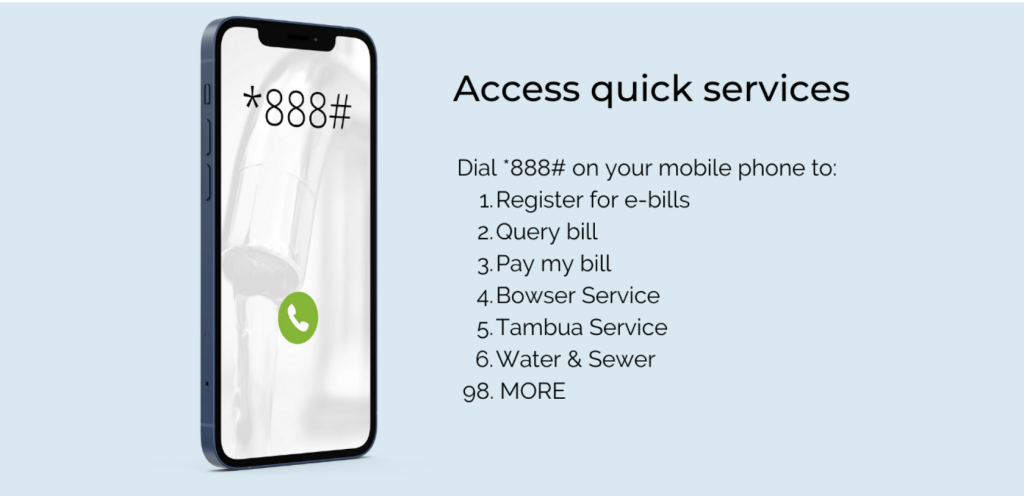 Customers who would like to pay their bills through personal cheques/credit/debit cards can do so at the CBD office, along Kenyatta Avenue. You can also use your M-PESA wallet, Airtel Money, or Equitel line from Equity.
M-Pesa
Go to the M-PESA Menu
Select 'Pay Bill'
Enter the Business Number: 444400
Enter your bill Account Number
Enter the amount you wish to pay
Key in your M-PESA PIN
Confirm that your entries are correct then press OK
Airtel Money
Select Airtel Money on your menu
Select 'Make Payments'
Select 'Paybill'
Select 'Nairobi Water'
Enter the amount you want to pay in KES
Enter your PIN
Under reference, enter your Nairobi Water Account number
Equitel
Select 'My Money'
Select 'Send/Pay'
Select 'Account Number'
Select 'Paybill'
Select 'Business'
Select 'Bill to Pay': Nairobi Water – 6800002
Enter Bill account number.
Enter the amount, then confirm all details.