A publication from Laptop Mag came out late last week ranking the best laptop brands for 2020 with ASUS surprisingly taking the top spot.
2020 has surely been a roller coaster in the tech market. The PC market has been growing over the last few months as many people look to acquire laptops in their respective work-from-home structures. Various firms have been launching new products through the course of the year but it seems that some have surely been standing out.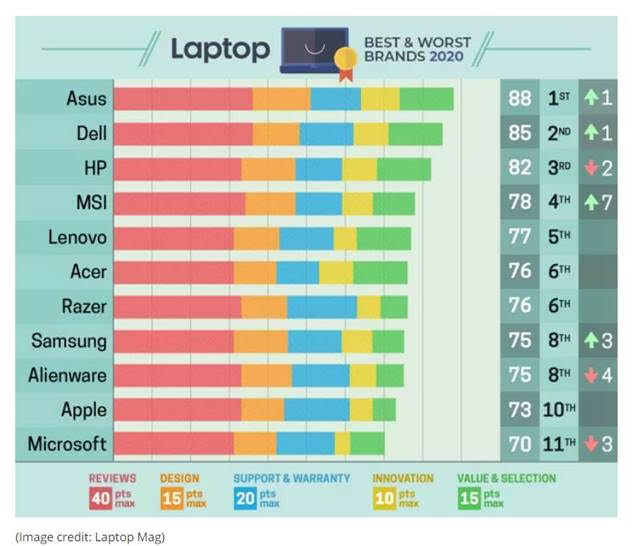 ASUS rose to the top in 2020 with 88 points out of 100. This placed the company above world-renowned brands like Dell, HP and Lenovo. The points were earned across different criteria namely review scores, design, support and warranty, innovation and general value.
ASUS has certainly been making moves on a yearly basis in trying to bring in cool laptops no matter the target market. The brand's top place is linked to the wide variety of laptops that it has been releasing since the beginning of the year. Of course, some among the various lineups had it earning high points in design, innovation and reviews.
The Kenyan market has also been lucky enough to receive some of these laptops, a number of which we have reviewed. The one factor that is debatable is the prices that these products have been launching at in the Kenyan market.
However, the rival brands managed to outscore or closely follow the leader in various categories. For instance, Dell was slightly ahead in total review scores. This can be highly associated with the Dell XPS lineup that has been widely praised by reviewers across the world.
Meanwhile, HP is clearly breathing down Dell's and ASUS' necks in almost all categories. And it is clear that the brand has still been introducing cool new laptops over a number of years now. The most interesting ranking though was Apple which took the second last position on the list. That is not to say that company hasn't been producing some of its best MacBooks lately.
MSI pretty much took the most improved award rising 7 places from its previous place in 2019. The brand that is famous for high-performance gaming and work stations has been extending boundaries this year venturing into light slim laptops that still offer great specs.
Alienware and Microsoft were the unfortunate losers as they dropped four and three places respectively from their previous positions. This could be attributed to the number of variety of laptops that these two brands have released this year in comparison to the leaders of the list. Alienware is known for just gaming PCs while Microsoft thrives on business slim lightweight laptops.
Either way, if you are looking to buy a laptop in 2020 you might want to look for either of these 11 brands.