According to Statscounter, Samsung holds 16.56% market share of the mobile phone market in Kenya. This puts it behind TECNO and ahead of Infinix and Huawei. In a market that is so saturated, that's not such a bad position to hold but with the ever-growing threat of being dethroned, Samsung needs to improve their game.
Just this year alone, we have seen Huawei really make a splash in the market, I know it's just March but the battle lines have already been drawn. Other players like Xiaomi and Nokia are also in the training room awaiting to come throw a few punches here and there and unfortunately, the kings of budget smartphones, TECNO and Infinix have been awfully quiet (although Infinix did quietly launch two phones).
For Samsung, their budget smartphones have not always been that good and compared to what the competition was offering they were a tad too expensive. The company seems to have noticed this, and their renewed concentration on their budget offerings shows their interest in meeting the needs of all market segments – because we all know Samsung flagship devices are easy winners.
We thought that Samsung's new M-Series would be the one to save their face but turns out we might not be seeing them make their way to Kenya but all is not lost. The new A-Series not only refreshes the design of the phones which now feature a teardrop notch known as Infinity-U display but the prices and specs seem to have been adjusted to effectively compete with the well-known Chinese brands.
Samsung East Africa did confirm that a myriad of Galaxy A-Series smartphones will be hitting Kenyan stores. The devices which range from the A10, A20, A30, A50, A70 and a rumoured A90, will be available for purchase in Kenya. So far, the company has only launched the A30 and A50 in international markets and that's where we will base our argument.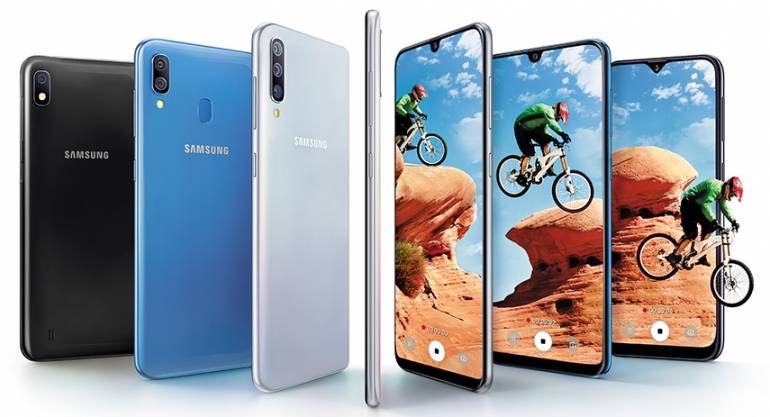 The "Chinese" Strategy
Looking at the Galaxy A50, it is easy to see that Samsung is now employing the strategy of Chinese brands – stock phones with high-end specs but keep the price low. For instance, the Galaxy A50 not only features a glossy glass-masquerading plastic back, but it also comes with a SuperAMOLED display and a triple camera set up on the back topped up with an in-display fingerprint scanner.
Memory options are either 4GB or 6GB of RAM with 64GB or 128GB of storage. There's also the extra features that Samsung loves to bundle with their phones like an Always-on display and the great choice to pack a 4000mAh battery on this phone, all for around $300. Of course, this price will go up when it hits Kenya but I bet you it will not be as high as it would have been a couple of months ago.
Even the cheaper Galaxy A10 (around $120) and Galaxy A30 (around $250) – which have already been launched in India, pack quite the specifications and good design. With at least 2GB RAM, 32GB internal storage and a 3400mAh battery on the A10, and at least 3GB RAM, 32GB internal storage and a 4000mAh battery on the A30. Both of which have slightly different shaped teardrop notches as with recent trends.
Aside from the official confirmation that the A-Series will be launched in Kenya, Samsung has not given any dates or even hinted at the pricing but if the company stays true to the international pricing, Kenya's smartphone market is about to get interesting.