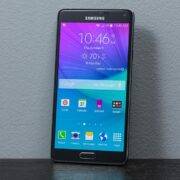 Samsung Galaxy Note 4
This is the best phablet money can buy and is definitely worth every penny
The Good Stuff
Feature packed

Battery life

Camera

Design
The good thing about owning a couple of low-end Android devices for a long period of time (4 years precisely) is that you appreciate the power driving a raw, true, fully-packed flagship smartphone with the latest hardware specs and the newest OS available. You notice a lot of things you have been missing: superb display, awesome and swift camera, almost a lag-free experience when navigating through apps, premium hardware and simply the ability to feel and use an almost complete device. Not perfect, but complete. Web browsing is a breeze, the camera fires shots fast, apps open really fast, connectivity radios perform similarly quick and that makes you hate the experience you have been having on previous devices which have their provisions crippled; and the worst part is when you reluctantly sneak back to your primary daily driver for obvious reasons – obvious here being that you don't actually own the review device. Yawn.
Enter Samsung Galaxy Note 4. The best Note ever made by Samsung. It's big, somewhat supersized for those with relatively small hands. It is smarter, kind of special and brings an improved S-Pen experience to the phablet game it helped create back in 2011. Is the new Note 4 worth your money and time? We will find that out in a couple of paragraphs.
Spoiler alert: this was a live demo unit, and that shielded me from doing a lot of things with it, the worst being that I couldn't pop my SIM in because it runs the Retail Demo software which is different from the ordinary OSes. That also translates to being stuck on WiFi (ouch, 3rd world country problems) which I didn't like. It is pretty difficult to know how your battery performs without carrier access, mostly when accessing the internet or making phone calls with your SIM card. You can't tell how well/bad the device handles cellular reception and data speeds. Those limitations brought by the RetailMode software will be discussed as we walk through this review.
Hardware
The Galaxy Note 4 is the latest Samsung flagship device. It sports the same 5.7-inch Super AMOLED display found on the Galaxy Note 3 (Quad HD for the Note 4 and Full HD for the Note 3).
This QHD display is the best I have seen on a mobile device, which is also being rivalled by that of the LG G3 that has been around for some time now. A lot of people will agree with me that QHD displays are not that necessary, especially when we take a look on how the battery life performs when driving those pixels but that's the trend that has already been picked by OEMs at the moment. Additionally, you will definitely see the difference between when a full HD panel is placed side by side with a QHD one; QHD is pretty. Also, the latest flagships have that insane number of pixels like the Nexus 6, (Motorola) Droid Turbo and as previously mentioned, LG G3. We will get used to this.
Hardware specifications have also been upgraded when compared to the Galaxy Note 3: there is a 16-megapixel primary camera with Optical Image Stabilization (OIS) and 4K video recording (13MP without OIS on the Note 3) and a 3.7-megapixel selfie module (2MP on the Note 3).
The Note 4 comes in two versions: one with a Snapdragon 805 SoC with a quad-core 2.7Ghz chip backed up by Adreno 420 GPU and another with an octa-core Exynos 5433 (2 sets of quad-core chips, 1.9Ghz Cortex A57 and 1.3Ghz Cortex A53) backed by a Mali-T760 GPU.
My review unit sports a Snapdragon 805 chipset.
Both have 3 gigs of RAM, 32GB of storage and an SD card slot that can be expanded up to 128GB.
There's no IP certification here as found on the Galaxy S5. A heart rate monitor is embedded at the back just below the camera module. Together with
A heart rate monitor is embedded at the back just below the camera module. Together with it is a single LED flash. The fingerprint scanner is also built in the signature Samsung physical home button (I couldn't tell if it is actually missing or deactivated by the RetailMode software because I didn't spot it on the settings menu. The lock-screen settings have also been disabled because of the Live Demo Unit. You never know who will be testing the device on the display stands, lest they input a lock-screen setting with their fingerprints and walk out).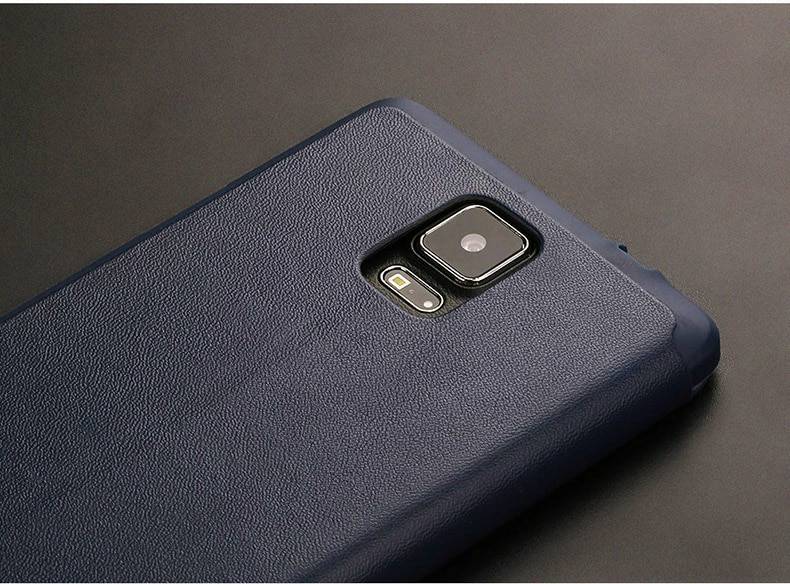 Being a Note device, the S-Pen is present, with twice the sensitivity levels of the Galaxy Note 3. A big battery tags along too with an impressive 3220mAh. The Note 3 has a 3200mAh one.
Pick up the Note 4 and you'll feel the all-new premium feel and design language. Gone is the all-plastic construction to a metal adoption. The back panel is still plastic but has a leather-like finish.  The fake faux leather stitching on the Galaxy Note 3 has been skipped.
The front is covered by the huge 5.7" QHD Gorilla Glass 4 panel with slightly curved side edges that make it easy to swipe from the edge.
At the bottom has a standard 2.0 micro USB port, a downgrade from the 3.0 port on the Note 3 and two microphones.
A 9V fast charger comes along with the device. Samsung claims that it piles juice 30% faster than the ordinary, traditional chargers. I didn't test this because well, it wasn't provided.
A 3.7MP front camera capable of 2K video sits on the top right.
Along with that top edge is an array of sensors (ambient light sensor, proximity and adaptive display sensor), an earpiece and an LED notification light.
The bottom edge houses the physical home key, flanked by two capacitive keys (recent apps and the back key). A 3.5mm jack and an IR blaster are at the top.
The right and left sides have the power and volume rocker keys, which are sweetly tactile.
User interface and software
On top of the all-new TouchWiz, which is still TouchWiz, is Android 4.4.4, KitKat.
Because I couldn't access the lock screen settings, I basically didn't have a lock-screen page. Ordinarily, there's a camera shortcut on the bottom right with pedometer/weather widget, both of which are adjustable. Quick settings in circular toggles are arranged in a row on the drop-down menu with the brightness slider below them with an auto button next to it. There are 3 default home screens to the right. You can pinch in to see all home-screens, remove/add them. The rightmost page has access to Flipboard Briefing which replaces My Magazine that was introduced first on the premium Galaxy Tab S/Pro series tablets; it was a home-replacement interface that briefed the user about their stories of choice in a magazine-like manner.
The recent app soft key gives you access to your recent apps, stacked together in a card-like manner Android 5.0 style. Holding this button opens the settings options (wallpapers, widgets and home screen settings).
A double-tap on the home button gives access to S-Voice.
Power-users (phone-clutching zombies who push phones to the upper limit by testing lots of heavy apps, flashing custom ROMs and kernels, doing various UI tweaks and making the device dance along their tune) will definitely be thrilled by the high-end specs that make this phone scream with power.
The Air Command utility as soon as you remove the S-pen from its slot. The utility window disappears if you tap anywhere on the screen or you can return it by clicking the S-pen button. The S-pen works reliably for all navigations actions we do with our fingers. Selecting and copying text is a breeze, you can expand your gallery albums with it, type with a swipe on the keyboard elegantly and fast, drag and drop items, S-pen scrolling (works with some apps only. Annoying), etc.
Air Command Utility has four options: an action memo, smart select, image clip and screenwrite. Screen Write does a screenshot that you can write on. Action Memo starts the Notes app where you use the S-pen to write down any information you need like a phone number, URL etc after which, you can execute the appropriate action like opening the URL on a browser. With Smart Select, you have the ability to draw a box-like figure over a desired item on the screen. The resulting image clip identifies the information on the image which you can add to the clip box for further use. Finally, Image Clip helps you circle an image (views can be edited to circular or square shapes), which you can save to the scrapbook for later use or sharing.
When activated, a palm swipe does a screenshot.
The quick settings toggles also show us some of the features built in the phone like download booster that combines WiFi and mobile data to boost download speeds, Ultra Power Saving Mode that dims the screen into a grey scale display with a limited selection of apps, power saving control which, upon being checked, that restricts background data and slows down CPU performance. Smart Stay (first introduced on Galaxy S III) is present. Notably, Smart Pause is gone together with the ToolBar feature we saw on the Galaxy S5.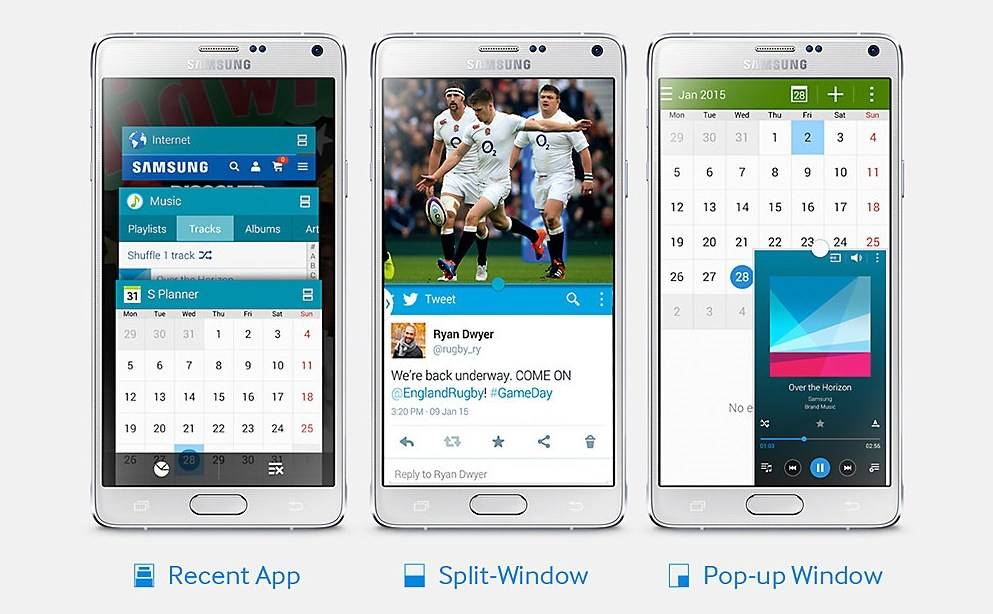 I rarely use the multi-window feature on my ageing Grand 2 because I'm shamelessly reserved for this habit of running one app at a time; or more truthfully, I suck at multitasking. On the Note 4, we have an all-new multi-window functionality which is a huge improvement over an almost complete add-on in Touchwiz that we saw first on the Note 2. Upon activation, hold on the back capacitive key to bring it up. It allows up to five apps to run side by side, which can be minimized into small bubbles by hitting the home key (same to what we see on Facebook chat-heads). These windows can be resized and dragged around the screen. Additionally, the little windows have shortcuts maximize or minimize them, copy text, etc. Two apps can be run side by side like the native multi-window on previous Samsung devices. You can add and remove apps on the multi-window sidebar or create custom apps that can run together. Another cool add-on that comes bundled in multi-window is the pop-up view, that is, a link says a YouTube one will open a new window without replacing the current page. Neat.
Worth noting is that not all apps can be minimized into small windows with a swipe from the top right/left edge.
I didn't have access to the fingerprint scanner as previously mentioned. Therefore, the features associated with them were mammoths to me like Private Mode we saw on the Galaxy S 5.
The Quick Connect feature on the dropdown menu allows brings up devices you can control or broadcast media to like a printer or a supported smart television.
S-Finder is a search tool for the local files and online search is an available tool, both of which work together.
Screen mirroring wirelessly broadcasts your screen and audio to a supported smart television.
Blocking mode is a do-not-disturb feature that blocks all incoming notifications, but you can allow some to come through in the settings options.
The IR blaster on the top edge helps you control your TV with the Smart Control app.
Diving into the settings panel, you realize that the whole panel has been redesigned. They are more organized but the experience looks messy to me because it is not easy to locate some of the settings (the search option can bail you out). These settings have a grid or list view; the grid view is organized into six panels (quick settings, connections, personalization, system and apps) that you can swipe, horizontally.
Camera
This is probably the best camera experience (no physical shutter key, sad, somehow) I have ever encountered on a smartphone. It fires us really, really fast and autofocus is obediently swift. Tap anywhere on the viewfinder to focus, and the shutter key takes a picture. Holding the shutter key takes bust shots. Zooming in and out is made easier by pinching in or out.
Exposure and focus can be locked by tapping holding on the desired area.
Pictures turned out sharp in good exposure. Brilliant with excellent detail. High Dynamic Range (HDR) aided in producing fantastic images.  Low-light performance was just okay with the help of a single LED flash, and this is a smartphone camera so my hopes for sharp details in low light were low.
Zooming in and out can be done with the same pinch gesture during video recording. The video can be paused/resumed and a picture can be snapped during recording.
Jump into the camera settings (the transition from the viewfinder to the settings was laggy, miraculously) and you'll have access to powers that adjust video sizes from VGA (640×480, AR 4:3) to UHD or 4K (3840×2160, AR 16:9). Video stabilization aided by optical image stabilization (OIS) does a fantastic job in producing smooth videos.
Voice controls are also available for picture-taking and video.
You can manage modes by downloading some. Among those that are available include selective autofocus, rear cam selfie (automatically takes a selfie with the primary camera as soon as it detects a face), panorama, etc.
Selective focus is my favourite. All you need to do is focus on one area, approximately 50cm from your camera and the camera will pull this DSLR-like stunt where any area that hasn't been focused upon is completely blurred. The trick takes a couple of seconds to be effected and you need to have steady hands, otherwise, the results will be unimpressive. The resulting pictures are big, measuring up to 30MBs. Mh.
The selfie module does a fantastic job too. A wide-selfie mode crams more people into a single photo by rotating the camera horizontally, after which it stitches the selfie with all the faces that it captured. The heart rate sensor on the back can be used as a shutter button when shooting a selfie. Videos can also be done up to 1440p for the Snapdragon 805 model and 1080p for the Exynos version.
Conclusion
This is the best phablet money can buy, and is definitely worth every penny.
There are a lot of features that I have deliberately skipped because this is meant to be a short review. The other reason is that I haven't finished testing them. One of them is S-Health that has seen great improvement since the Galaxy S4 days. Now, it incorporates a heart rate sensor and pedometer which I find to be creepy and disturbing (your Note 4 actually tricks you into taking a walk if it senses that you have been sitting for more than one hour. Ugh!).
Another crucial element I've skipped is the battery life. During my test, my usage was and is still inconsistent. Additionally, I can't get accurate results without a cellular connection because, Live Demo Unit.
On the plus side, though, the battery life is excellent. You can squeeze two days out of it with moderate usage – of course, if you crank down the brightness since that QHD panel needs a huge juice reservoir to keep it pretty.
What do I like about this latest Note?
Well, that would be the camera, followed closely by the design language that has ditched the 'cheap' feel we saw in the Note 3 for an Aluminum-Magnesium alloy coating. It's also fast. It boots in under 20 seconds, apps load fast, swiping through home screens and the app drawer is bliss and it doesn't break a sweat when jumping in and out of apps. I think is the best way Samsung communicates to us about how much power it can cram into a single device in the phablet game it helped create.
Power-users (phone-clutching zombies who push phones to the upper limit by testing lots of heavy apps, flashing custom ROMs and kernels, doing various UI tweaks and making the device dance along to their tune) will definitely be thrilled by the high-end specs that make this phone scream with power. Couple that with the S-Pen magic, which comes along with all the functions that make this phone a Note and you have a winner.
If you've small hands and compact devices are your thing, then this is not your phone. If you have a Note 3, I also don't think you need an upgrade because both devices are getting the Lollipop update with the L enhancements in a few weeks' time; and other than the design bump on the Note 4 with revised software experience, the Note 3 is still a capable device. If you are on a budget but excited about the Note love, buy the Note 3 gladly.
Bottom line? This is the best phablet money can buy and is definitely worth every penny.
Note: You can ditch the retail mode software by gaining access to system apps (by root, of course) and uninstalling the RetailMode app, after which, you get to be the owner of a shiny WiFi-only Galaxy Note 4.
---
This article was written by Kenn Abuya and was first published on Android Kenya