As online entertainment platforms fight for the top spot in getting all the attention, Netflix is feeling that heat. In the period between 2022 January – March, the streaming service reported that it had a loss of subscribers for the first time in more than a decade. A record 200,000 subscribers left Netflix, and that was just for the first three months of the year. The streaming giant also lost approximately 700,000 subscribers since the platform pulled out of Russia.
So how do they try to get more people on and make more money?
Uncertainty in Netflix's Business: Subscriber Consequences
In Kenya, Netflix already has a free plan that's ad-free on Android mobile phones. When you sign-up, no payment information is required. Later in the year, Netflix would introduce its ad-supported tier in select countries, with lower subscription fees. In their plan, these would entice more viewers unto the platform.
However, according to data from analytics firm Antenna, only a small percentage of people opted on. In the US for example, Only nine percent of new Netflix subscribers in November 2022 when Netflix Basic with Ads launched. In comparison, 15% of new subscribers reportedly chose the ad-supported subscription for competitor HBO Max during its launch month in 2021.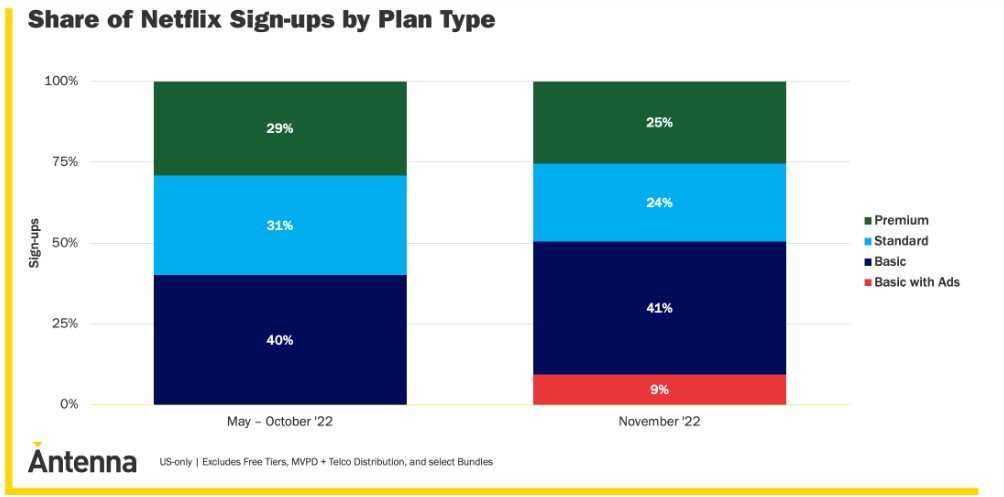 It is important to note that Netflix still leads the industry in streaming engagement, revenue, and profit. Their earning reports show that for 2022, the company finished with 231M paid memberships and generated $32B of revenue.
Nevertheless, even Netflix knows it is a tough time to operate in a highly competitive market as consumers have a vast number of entertainment choices.
"Beyond our direct streaming competitors, we also vie for consumers' time against linear TV, YouTube, short-form entertainment like TikTok, and gaming, to name just a few. The silver lining is that the market for entertainment is huge and Netflix is still very small by comparison." In a letter to shareholders this week.
Netflix to Crack Down on Password Sharing
Over the years, price increment has been the service's number one strategy to increase revenue. As they do that, they lose more subscribers and pursue even more aggressive methods. Between blaming the competition and canceling shows, they have found some time to crack down on password sharing.
Netflix previously encouraged the sharing of user accounts with help of features like separate profiles and multiple streams. Now, they don't like it that much. Netflix insists that today's widespread account sharing
(100M+ households) undermines their long-term ability to invest in and improve Netflix. How that is, I am not very sure either.
So for the last year, they have been working on ways to enable paid password sharing. They will not ban you for password sharing but will, however, charge you for it. This new feature has already been tested in 3 countries – Chile, Costa Rica, and Peru. Later in Q1 of 2023, the service will start rolling out paid sharing more broadly.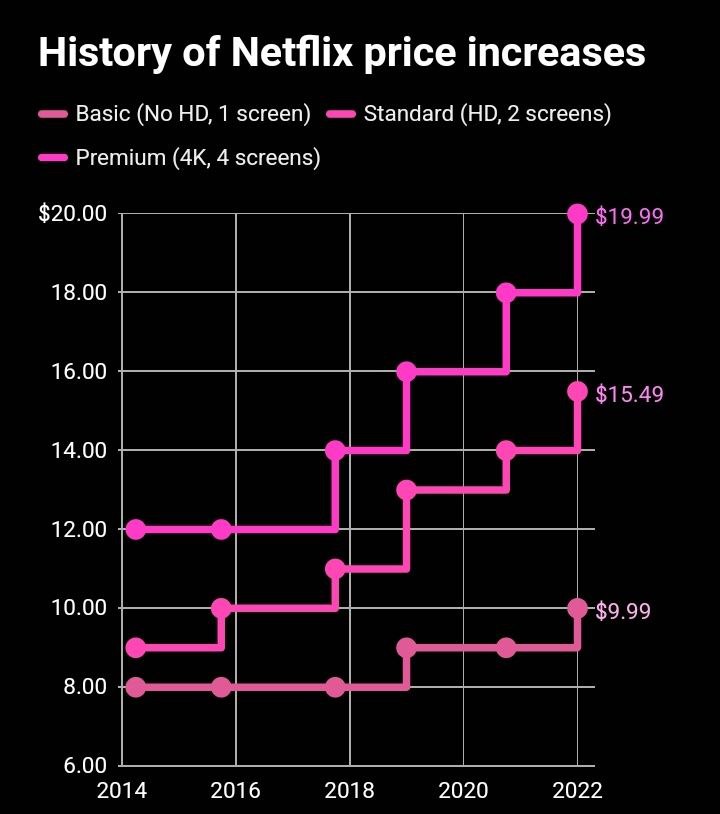 Netflix has long said that it will continue gradually increasing its price relative to the value it provides. With that in mind, cracking on password sharing is not likely to work in their favor.
How this plays out in the long term? Who knows. In the meantime, subscribers bear the brunt of all the uncertainty.