It has been a long way coming, but they are here. First, a great number of Twitter users, including myself, have over the years shouted out our need for an edit button.
Second, it was only a matter of time before Twitter brought its own version of short video content. This is as every major online media platform from YouTube to Instagram and Facebook tries to compete with the lead TikTok has in that space.
Finally, the edit button and the TikTok clone feature are both here, but one of them is not free.
Twitter Edit Button
Yesterday, Twitter Blue sent out a test tweet, writing, "this is a test to make sure the edit button works, we'll let you know how it goes."
The feature will roll out for Twitter's premium users-Twitter Blue. Twitter Blue is a monthly subscription that gives the most engaged people on Twitter exclusive access to premium features. Twitter Blue is available in countries like the US, Canada, New Zealand, and Australia for a monthly fee of $4.99.
When users post a tweet, they have 30 minutes to edit it before it's posted. In these 30 minutes, the user will be able to edit the tweet as many times as they like. In an edited tweet, users can see the edit history, which shows when and what changes were made.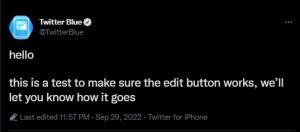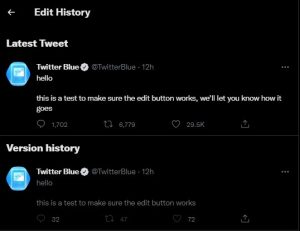 Twitter "TikTok" Video Feature
Twitter is now bringing along a TikTok -like feed right alongside tweets. Twitter's updated immersive media viewer expands videos to full screen with a single click. Once the video is launched in full-screen mode, video discovery is easy. Just scroll up to browse more video content, like in TikTok and Instagram reels.
This immersive media viewer will be available in the coming days to people using Twitter in English on iOS.
Twitter has also introduced a new video carousel, to help users find more videos they like alongside Tweets and Trends. This newest addition is on Twitter's Explore tab. The video carousel is currently available to people in select countries using Twitter in English on iOS and Android.