Another day, another OPPO smartphone is released. Today, we're taking a closer look at the OPPO Reno 8 T, the latest smartphone release from the Chinese tech giant OPPO. Launched on February 1st, 2023, the OPPO Reno8 T boasts some impressive specs. The big question is, is it worth the price tag? Is it worth the upgrade? Let us find out. Here's our OPPO Reno8 T review.
OPPO Reno8 T Review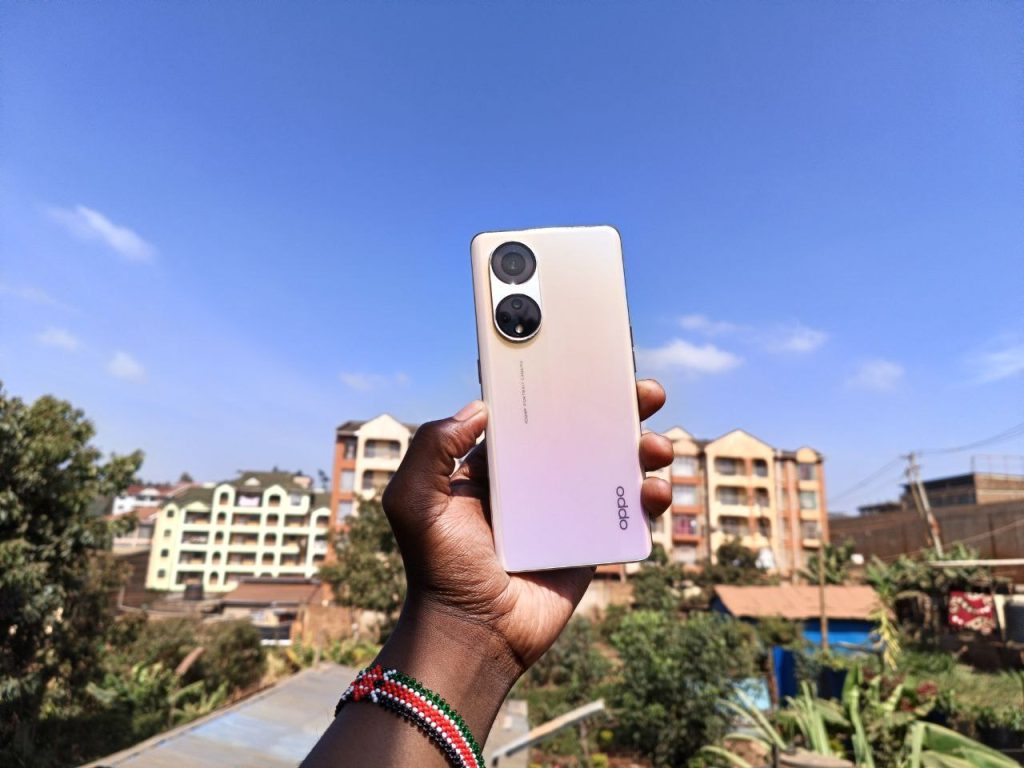 Display – Curvy
Let's start with the display. The OPPO Reno 8 T's 6.7-inch curved OLED display is a thing of beauty. With its 1080 x 2412 pixel resolution, everything on the screen looks crisp and clear. Plus, the display is protected by Asahi Glass AGC DT-Star2. However, it is worth noting that the Gorilla Glass 4, which we are more accustomed to, may be slightly more durable than the Dragontrail but to a neglectable degree.
Cameras – 108 MP but No 4k Video
Moving on to the camera. The Reno8 T's triple camera setup includes a 108 MP wide lens, a 2 MP microscope lens, and a 2 MP depth lens. These lenses work together to deliver stunning photos with rich colours and sharp details. The company has worked on white balancing when taking photos but it is sad to see there is no 4K recording capabilities. The main cameras only shoot up to 1080p.
Power
The OPPO Reno8 T is powered by a Qualcomm Snapdragon 695 processor, which is fast and efficient. With 8 GB of RAM and 256 GB of internal storage, this phone can handle some of the most demanding apps and games. While it comes with 256 GB of internal storage, there is no option to expand this with a microSD card. This could be a problem for users who need to store large amounts of media. I.e photos and videos, on their device.
Battery – Can't beat them here
The phone is fueled by a Li-Po 4800 mAh battery, which will keep you going all day long. And if you do need to charge up, the 67W wired, PD + Reverse wired charging will get you back up to 100% in no time.
Design – Companies have wild names for colours these days. "Si Must"
The phone comes in two colours: Black Starlight and Dawn Gold. This goes out to all companies. OPPO, Samsung, APPLE, OnePlus, everyone. Just because you name a colour "Dawn Gold" or "Phantom Black" doesn't mean it's any more special than just plain old gold. Okay just trolling, I could not care less but i get the dawn aspect of this colour. It glows, glitters and shimmers into different colours depending on how you tilt. It's pretty fun to watch.
The 8 T runs on the Android 13 + ColorOS 13 operating system and supports dual SIM. Plus, it's loaded with sensors like an optical under-display fingerprint sensor, accelerometer, gyro, proximity, and compass.
Unfortunately, one area where the Oppo Reno8 T might fall short is in its software updates. OPPO has a history of being slow to roll out software updates to their devices. This can be frustrating for users who want to take advantage of the latest features and security updates.
My $0.02
Overall, the Oppo Reno8 T is a good smartphone with a lot to offer. This phone may have everything you need to stay connected and productive on the go. Retailing at KES 49,999 in Kenya it may be a good option. Worth noting is that the OPPO Reno8 5G is also around the same price and the Reno 9 will also be launching soon. So the decision is up to you, go back and get more features, stay here and get a 108MP camera with a curved screen or wait for the rumoured Reno 9.
(I suggest you wait tho)