The Communications Authority of Kenya has provided conditions that every Kenyan must do SIM Card re-registration using photo IDs by April 15th. If this is not done by then, CA says users risk disconnections and other penalties including fines or possibly a jail term. Telcos in Kenya have responded, with Airtel and Telkom providing an online registration form for the same.
On the other hand, however, Safaricom is insisting that all customers in Kenya must physically visit their shops. Kenyans have reacted online, angrily and comically, as they do on most issues.  Here is a compilation of some of the best and funniest reactions Gadgets Africa has spotted on the web.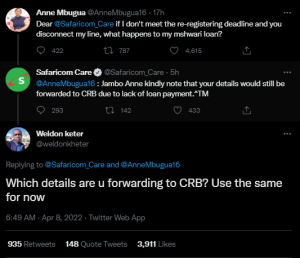 Even that lady in that SIM card is laughing,it sounds funny. https://t.co/GolFIZ1KhF

— Nyahururu StudEnT🏥 (@KigenZakayo) April 8, 2022
Ezra Chiloba: unregistered SIM card users will be fined 300k

Us: pic.twitter.com/mpvotMsQVU

— Alvin Ole Leiyan (@AlvinLeiyan) April 7, 2022
Safaricom can't just put up a link coz it will definitely crash and devs wako Microsoft wote siku hizi 😂😂😂

— Kevin Oguoko (@Oguoko) April 8, 2022
Safaricom: Dear customer please register your SIM card before April 15th or you risk disconnection.

Kenyans: pic.twitter.com/FISwjjdj9l

— PencilManiac♟️🖌️ (@tchallarr1) April 8, 2022
The Kamiti gang is not spared in the mentions. If you know, you know…
Going to Kamiti because of not registering your Sim Card only to start scamming people from said Kamiti with an unregistered Sim Card 😂

— Mashorat (@Mwadzame) April 7, 2022
Me and my friends reuniting in a cell at Langata Women's Prison on April 16th😂😂 https://t.co/oj70bbtjsT pic.twitter.com/ClkpvZhzp1

— Shortstuff (@weak_spell) April 7, 2022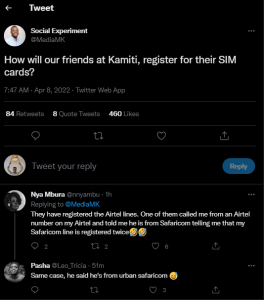 Safaricom has provided guidelines on how you can comply with this registration requirement at their shops, dealers and agents. Kenyans in diaspora have been provided an online option for compliance, and this does not sit well with those at home.
Will the power of social media come through once more and force Safaricom to avail a SIM Card re-registration portal for all online? What is your reaction and way forward if you are yet to register? Let us know in the comments.