An initiative launched by a digital health startup, Damu-Sasa, makes it easier to donate blood in Kenya. They set the startup to offer innovative end-to-end blood services. These services range from sourcing blood to inventory and transfusion management. Recently, they have added a new feature for donors to book appointments with blood centers online.
Since the onset of Covid, Damu-Sasa has provided online booking for blood donation appointments, personalized booking links for each hospital, evidence-based educational articles, and mobile text reminders of safe practices to blood donors.
Additionally, the startup has so far registered 40,611 donors in 37 counties on its platform.
Here is how to donate blood online in Kenya via the Damu-Sasa app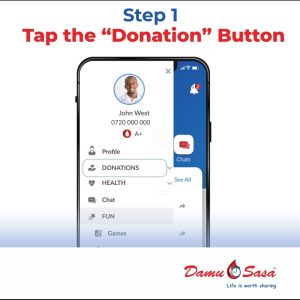 Open the Damu-Sasa App and tap the Menu Bar
Tap the DONATIONS  button
Click to check the nearest donation centre
Make a donation booking