Software updates have never been Android's strong suit. The platform has struggled for years with manufacturers being slow or outrightly neglecting to update their devices to the latest versions of Android for various reasons.
As much as Google has been trying to make it easier for manufacturers to update their devices, the problem has persisted. As per Counterpoint's research, the issue lies with both the manufacturers and the consumers.
Counterpoint notes that consumers simply do not consider software updates that important as they did not list it as the top 10 important features on a phone and in return, manufacturers do not pay attention in updating their devices.
"We believe that device makers need to step up their efforts to provide regular software and security updates to their users. Except for Nokia and Lenovo, the performance of other device makers has been poor," reads Counterpoint's research.
The Best Android Brand
From the numbers, Nokia emerges as the best manufacturer when it comes to updating their devices. The data shows that 96% of Nokia smartphones have already been updated to Android 9.0 Pie. Following closely is Samsung, with 89% of their devices running on Pie, then Xiaomi at 84%, Huawei at 82%, Lenovo at 43%, OPPO at 35% and the likes of Vivo, LG, Alcatel and TECNO all below 20%.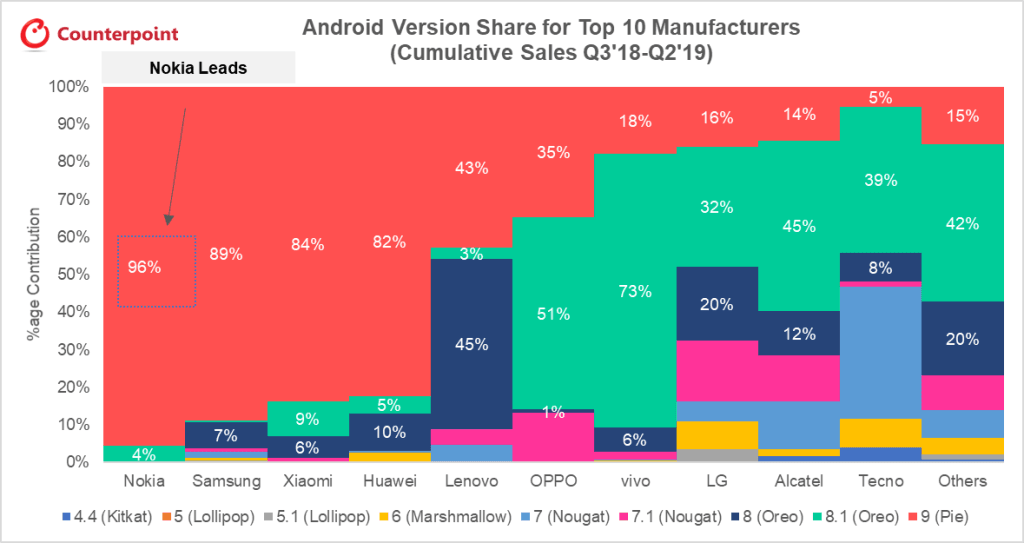 Interestingly, when it comes to how fast these brands offer the updates, Nokia still emerged the top, followed by Xiaomi, Lenovo and Huawei respectively. At the tail we have TECNO and Alcatel being the slowest.
"Brands like Alcatel and TECNO are the laggards. This is because these brands have broad portfolios, mostly in the sub-$200 segments, and the lifecycle of their models tends to be short. Their products often transition from launch to end-of-life in as little as six months, which means they have less incentive to provide long-term updates," noted Research Analyst, Abhilash Kumar.
What's even more impressive is that Nokia has already outlined a roadmap for when they will update their devices to the latest version of Android, Android 10.