Xiaomi's line of Mi A devices have always been fan's favourites, mostly because of their great specifications and low price but more importantly, they run on Android One platform which means they don't come with MIUI. From the name, the Xiaomi Mi A3 is the third generation device in this lineup and with it, it comes with a few improvements over the past two but also one big change that has left us scratching our heads.
To start with, the device comes with a new front design that features the much smaller waterdrop notch over the now-aged block notch, the display is protected by Gorilla Glass 5 which is much welcome and interestingly, we also have an optical in-display fingerprint scanner.
The Xiaomi Mi A3 has 4GB of RAM and either an option of either 64GB or 128GB of internal storage (which of course costs more). The processor is a Snapdragon 665, a 4030mAh battery, USB-C and an IR blaster to control your devices at home. Oh, there's the return of the 3.5mm headphone jack that had mysteriously disappeared on the Mi A2.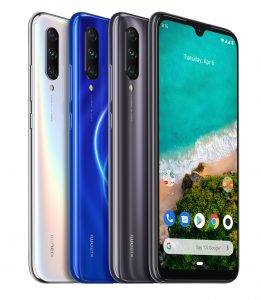 Away from the technical specifications, Xiaomi decided to follow in Google's footsteps in going with catchy colour names; More Than White, Kind of Gray and Not Just Blue. To complement the catchy names, Xiaomi says there's a "nano-level holographic pattern" on the blue and white models.
If you are smiling and jumping in excitement, well, I am about to burst your bubble. The Xiaomi Mi A3 features a 6.1-inch OLED display, which is good, but it's a 720p which just leaves us with more questions than answers although the previous generations did have LCD panels, they were of 1080p quality.
As for pricing and availability, the Xiaomi Mi A3 will be launching in Europe towards the end of the month for around $280. As the trend, we'll be seeing these phones hit the global market soon after, including Kenya.