Feature phones have refused to die, apparently, Google may be trying its luck in a market that it has never been able to infiltrate: the feature phones.
Despite Android's undeniable success in the smartphone world, Google seems to be salivating at the Feature phone market, something we expected when the company invested in KaiOS. This interest may be due to the fact that feature phones are quite popular in developing countries and basically among those who don't like smartphones.
These users mainly prefer feature phones due to the minimalistic features which often are calling, messaging and basic internet connectivity.
The news that Google is working on an OS for feature phones was first disclosed from screenshots that were obtained affirming a touchless Chrome app is being built for an Android Oreo version – an inference made from the icons that can be seen on the status bar that are like those designed for Android 8.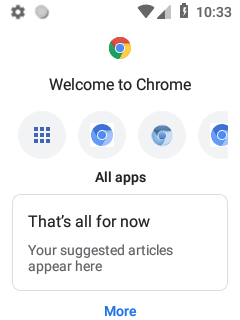 It is still not yet clear why Google plans to develop the system on top Android Oreo instead of Android Pie or the upcoming Android Q, neither does the code say much about the detailing of the system but using a version that has already grown two-years-old and may be phasing out is a bit questionable. Either way, I do not think users of these devices will mind too much about what version of the system they use.
What is clear is that if this is completed and released, KaiOS will be receiving a new competitor in a market that they have basically dominated, despite the fact that the two companies recently partnered.
Google I/O is nigh and it would seem reasonable that Google would probably make an announcement touching on this new version of Android, alongside the anticipated Android Q. If that is done, perhaps more details about the Chrome version will be revealed and how it is connected to Android.