RAZER BLADE 15 (2018)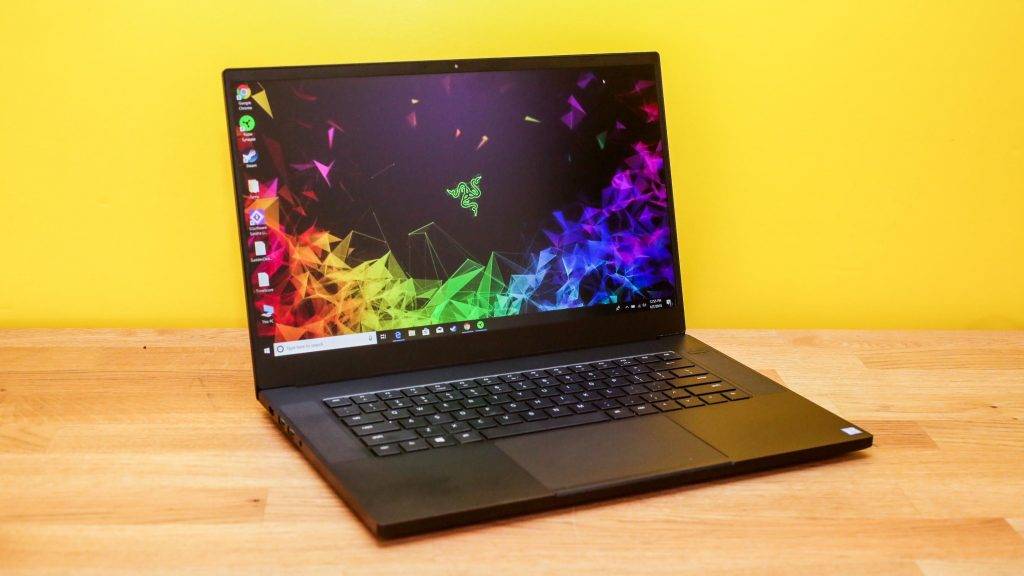 When I tell you that this is a gaming beast, believe me. It is however a gaming device worth a price that will leave a big hole in your wallet. This is a factor that does not deter serious gamers who will stop at nothing to get the best performance there is.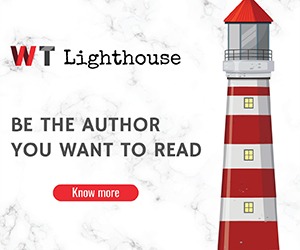 The laptop sits proudly on an aluminium framework. Previous models have come in the same chassis but black, proving not that much of a change in design. The 2018 and 2019 models have however proven to be among the thinnest gaming laptops in the market if you don't count the competition from Apple's laptops.
Its Intel 8th generation, i7 6-core processor brings up a performance that is impressive all backed by 16gigs of RAM, NVIDIA GeForce GTX 1060 video card and 128GB or 256GB SSD (optional) making it able to handle every kind of high-end game there is. Problems with graphics is honestly not an issue with such powerful hardware support. The unit comes with a single-zone RGB backlit keyboard giving it more exclusive gaming feel when you operate on it.
The keyboard reacts to Chroma standard for immersive in-game lighting effects. The one let down is that it does not offer selective output on the keyboard that I wish they had to bring convenience in terms of RGB options. The 15.6-inch display brings a focus of attention to your gaming or any other kind of work with its thin bezels on the sides and at the top which is quite rare to find with gaming laptops.
Nevertheless, it is limited to a 1080p resolution with 60Hz which I wish would have been better with other options like 1080p 144Hz and 4K 60Hz. Its 2019 model, however, comes with a slight upgrade but will have to cost you much more for that privilege. It comes with storage options of 1TB or upgraded 2TB which would be decent enough considering the huge size of high graphics games. It is funny how Razer insist that this a "budget laptop" with its starting price of Ksh. 160,000 that may run up to Ksh. 200,000 depending on the upgrades you choose.
Apart from the price and slight cons that it owns, this has proven to be a popular machine among gamers with its high demand especially when it started shipping back in late 2018. 
CPU: 2.2GHz Intel Core i7-8750H (hexa-core, 9MB cache, up to 4.10GHz)
Graphics: NVidia GeForce GTX 1060, Intel UHD Graphics 630
RAM: 16GB DDR4 (2,667MHz)
Screen: 15.6-inch FHD matte (1,920 x 1,080, 144Hz, IPS, 100% sRGB)
Storage: 1TB with 128GB SSD
Ports: 1 x Thunderbolt 3; 3 x USB 3.1; 1 x mini DisplayPort 1.4; 1 x HDMI 2.0; headphone jack
Connectivity: Intel Wireless-AC 9560 (802.11ac); Bluetooth 5.0
Camera: HD webcam with Windows Hello (1MP, 720p)
Weight: 2.10kg
HP OMEN 15 (2018)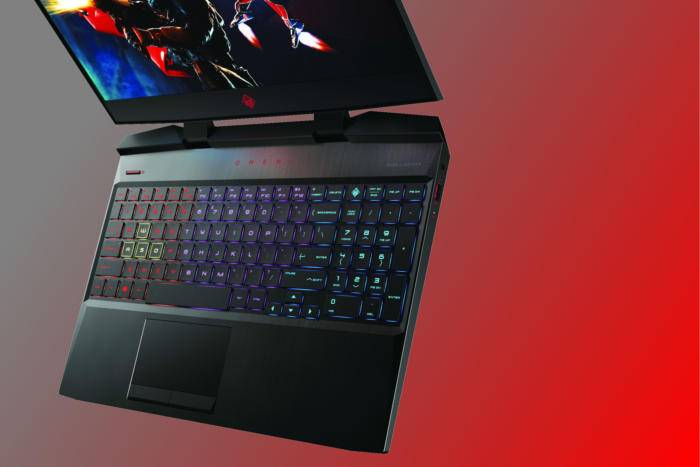 This is a gaming laptop series by HP that has had my attention for quite a while now with each of their releases showcasing an upgrade in performance specs to bring up the ultimate gaming experience. The 2018 version is the most impressive for me though.
It brings in that chunky, sleek look with sharp edges on almost every side and a firm carbon fibre chassis. Looking at it first gave me the impression of a batmobile which I think is something that gaming nerds would really appreciate. The general design of this laptop does not look cheap at all crowned by the special red logo of the HP Omen series.
Its performance really sets up a high bar, being powered by Intel Core i7-6700HQ clocking at 2.60 GHz, up to 3.8 GHz with Intel® Turbo Boost Technology and 8GB RAM DDR4-2133 SDRAM. You would not compare its ultimate speed with something like the Razer Blade but it really does take a hit from high-end gaming applications. To add to the graphics and general performance is the NVIDIA N16P-GT (GeForce GTX 950M) with up to 2048MB of dedicated video memory graphics for gaming without any graphics hitch.
The 15.6-inch display with antiglare WLED backlight does set an environment for high definition view with its 1080p HD resolution and a 6430K-6450K colour temperature value. What impresses, even more, is the RGB backlit keyboard with a preferential output and you can even have different sections of the keyboard with different colours. I however like the all red backlit colour that sets the tone for gaming and even compliments the laptops outlay and logo design.
Other than its first and secondary impressions, I wish it was a little bit lighter than it actually is. If it really does impress you, be ready to part with around Ksh. 100,000 to get it.
CPU: 2.6 GHz Intel Core i7 6th generation. Turbo Boost up to 3.5Ghz)
Graphics: NVidia GeForce GTX 950M (N16P-GT), 2GB RAM UHD
RAM: 8GB DDR4 -2133 SDRAM
Screen: 15.6-inch diagonal UHD IPS UWVA WLED backlit
Storage: 1TB with 128GB SSD
Ports: USB 3.0 (x3), USB Type-C, HDMI 2.0, MiniDisplay Port, Ethernet, DTS: X dual audio jack, SD card reader, Microphone jack
Connectivity Intel Wireless-AC 9560 802.11a/b/g/n/a (2×2) Wi-Fi and Bluetooth 5
Camera  HP WIDE VISION FHD Camera
Weight: 2.25kg
DELL G5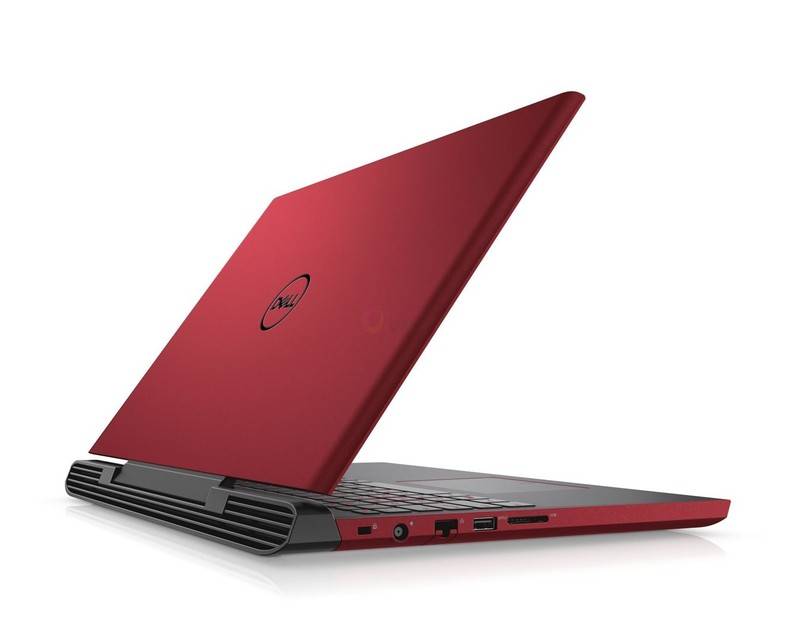 This piece does not set itself back when it comes to showing off its hot design with a red and black styling inside and out. It almost brings up the same idea of a purely gaming unit like the HP Omen. It also offers a stud firm setting. The matte black piece gives off a smooth black lid with a bold red logo at the centre.
It also a bit slimmer look but does not hold off the smudges and sharp edges on its magnesium alloy framework. The laptop's hinge features thick radiator-like lines running horizontally across with similar lines also running across the front-facing edges of the lid though thinner.
Opening it up immediately shows you the deck housing the red backlit keyboard coupled with a red font on the keys to make it pop. I just wish that the corners were not so sharp and a bit subtle but some of you wouldn't mind the sporty look. Keeping with its full-bodied looks, the 15.6-inch IPS display with anti-glare unfortunately has quite thick bezels that I wish would be thinner to bring a full focus on the game.
Compared to other gaming laptops, the G5 is quite a heavy one claiming 2.8kg with 15.3 x 10.8 x 1 inches of general size. The NVidia GeForce GTX 1050 Ti 4GB graphics card holds up to task but not as clear and smooth at 1080p resolution. All this is powered up by a quad-core Intel Core i7 8750H and 8GB DDR4 RAM which chugs along okay when it comes to light graphics workload. There is a lot to like with its superb battery that actually is pretty convenient lasting around 6hours and a powerful sound for good audio with the games or a video. What might set you off are the fans located at the bottom that may get a little loud when playing games or doing a heavy workload.  This may cost you around Ksh. 110,000 especially in online stores to own.
CPU : Intel Core i7 8750H
Graphics: NVidia GeForce GTX 1050 Ti, 4GB memory
RAM: 8GB DDR4, 2666 MHz
Screen: 15.6-inch FHD (1920×1080), IPS with anti-glare
Storage: 1TB with 128 SSD
Ports: 3x USB 3.1 Gen 1 Type-A ( 1x with PowerShare), 1x Thunderbolt 3, 1x HDMI 2.0, 1x headphone/mic, 1x 2-in-1 SD card reader, 1x Noble lock slot
Connectivity 802.11ac + Bluetooth 5.0, 1x Gigabit Ethernet RJ45 jack
Camera  720p Webcam
Weight: 2.8kg
HP PAVILION 15

The HP Pavilion is familiar in office settings but after checking its specifications, the Pavilion 15 did stand out as a much more efficient gaming PC. It is a subtly designed unit with a quite plain metallic silver finish as is a tradition with the Pavilion family. The laptop really does give a lightweight impression as it slimmer to the former choices on this list.
Its latest version is not much of an upgrade from its previous model in terms of design but I was definitely impressed by the sleek look which has no sharp corners and a fibre chassis on its lid to set it apart. Its sides house a USB-C port, making it a future proof piece. It also holds a power connector, two USB 3.1 ports, SD card reader slot, HDMI, LAN port and headphone jack. Opening the lid up brings you to a 15.6-inch IPS screen which I honestly thought was much bigger due to its thin side bezels for a better focus on your gaming or any other kind of work. With 1920x 1080-pixel density, it does light up 90% evenly alongside 54% sRGB rate for a bright colour pop. Many have said this to be a slight let down compared to other higher competitors but in comparison to the ones in this list, it does earn a place as a gaming unit with a good display.
All this is then brought to life by Intel Core i5 -8250U processor chip supported by 8GB of RAM and NVidia GeForce MX130 GPU. The teamwork of this hardware does make it capable to handle medium graphics smoothly which is a surprise considering the Core i5 processor it houses. If it had an upgrade from that, I believe it would do much better. A 1TB storage with 256GB SSD does make it enough in capacity and responsive enough. The rotating fans are quiet on light workload but as you progress it can get a little rowdy especially in quiet settings. The sound is an impressive factor as the speakers are pretty decent and well balanced. One cut-down that disappoints is the 4 to 5-hour battery life on maximum workload which may not be good for those who rarely find time to charge. It really gives off its impression but for anyone who wants lightweight gaming and a light unit, go get this at around Ksh. 80,000. 
CPU : Intel Core i5 8250U
Graphics: NVidia GeForce MX130, 2GB RAM
RAM: 8GB DDR4, Dual channel
Screen: 15.6 inch 16:9, 1920 x 1080 pixel 141 PPI, IPS, glossy
Storage: 1TB with 256GB SSD
Connectivity 802.11ac + Bluetooth 5.0, 1x Gigabit Ethernet RJ45 jack
Camera  720p Webcam
Weight: 1.93kg