Today, the Kenya Revenue Authority (KRA), is running an Online Auction to sell overstayed cargo at the Port of Mombasa. There are a variety of items to bid for like cars, football boots, household appliances, TVs, laptops, gypsum and Bibles, among other things.
KRA Online Auction – Terms and Conditions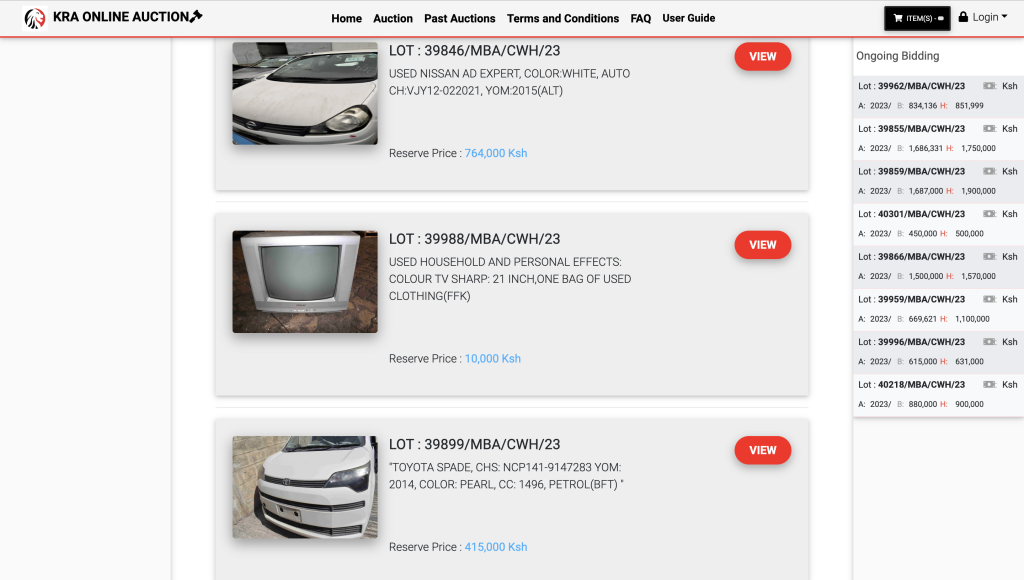 The Auction is running from Monday 14th August 2023 to Sunday 20th August 2023. Before you head over there let's take a look at the terms and conditions.
iTAX and Email Requirement: You need valid iTax credentials and an active email.
Auction Fee: To join the auction, you pay a non-refundable $10 administrative fee.
Item Condition: Items are auctioned "as is" and "where is," so no refunds or replacements are possible.
Lot Changes: The auction organizer can add or remove lots before bidding starts.
Payment by Winner: The winning bidder must pay 100% of the bid amount within 48 hours.
Non-Payment Consequence: If not paid within 48 hours, the item goes to the second highest bidder.
Item Removal: The winner has 3 days after payment to remove the item. If not, they pay storage from sale date.
Multiple Bids: Bidders can bid on multiple items and can increase their bids.
Claiming Items: The winner must provide a paid assessment copy, bank receipt, authorized letter if sending a rep, and ID.
Proper Identification: Acceptable IDs include passport, driver's license, voter's card, or national ID, with a notarized letter.
Third-Party Claims: Claims by third parties are not considered.
Exclusion: KRA staff can't participate in this auction.
Consideration of Terms: Interested individuals must carefully review and accept these terms before proceeding.
More Details
You may access the Online Auction through this link. To bid, log in using your KRA iTax PIN and iTax Password. Happy bidding and let us know what you got!