I'm inherently a designer and I'm more accustomed to the 'OG' tools like Photoshop, Illustrator, Figma and Blender. However, recently I've been drawn to the ease of using web apps like Canva and it has been the stuff of dreams. The amount of time it has saved me with photo and video editing is remarkable. With all their success in the web design world, they were bound to get some competition soon and It looks like Microsoft Designer is that guy. I got early access to Microsoft Designer last week and I think Canva is in trouble.
Canva vs Microsoft Designer
Similarities
In the grand scheme of things, they are similar and provide solutions to the same problems. They are both free-to-use online graphic design tools. Their main uses are to create social media posts, presentations, posters, videos, logos and more.
Compared to the OG tools, Canva and Microsoft save you a lot of time when designing. Unlike Photoshop where you start from a blank Canvas, these web apps provide templates to choose from so you don't have to start from zero. But for some paid features and lack of crucial instruments like a paint or brush tool, there's no limit to your creativity on these apps.
Another similarity is that they combine multiple editing software in one. You can design posters,(photoshop), edit videos (Premiere Pro), create ads and logo animations (After Effects) and so much more. Unfortunately here is where the similarities end and the differences begin.
Differences
Microsoft Designer Uses AI to Generate Images
Simply type in your request and MS Designer generates images and provides suggestions for arrangement and writing to help you create effective designs. You can personalize your design by adding your own images from your device, and the Designer's Ideas pane can give you suggestions to make the new elements fit right in.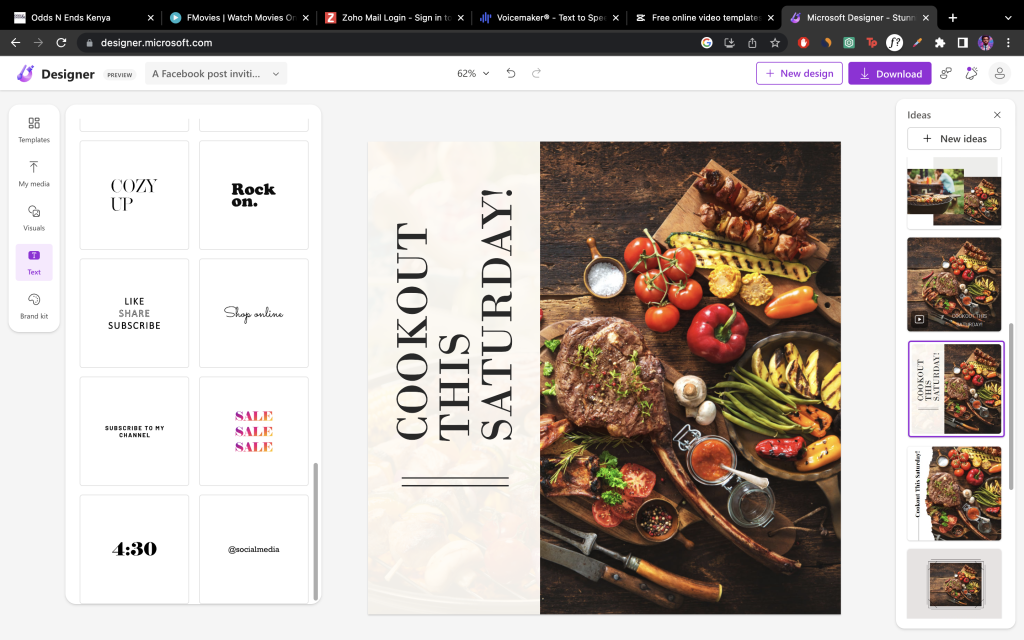 The two features that draw the most attention are the 'Inspire Me' and 'New Ideas' buttons. Once you add images, shapes and or text to your canvas, the AI will generate new ideas for text and image placement. This gives you a wider scope of imagination making designing so much easier.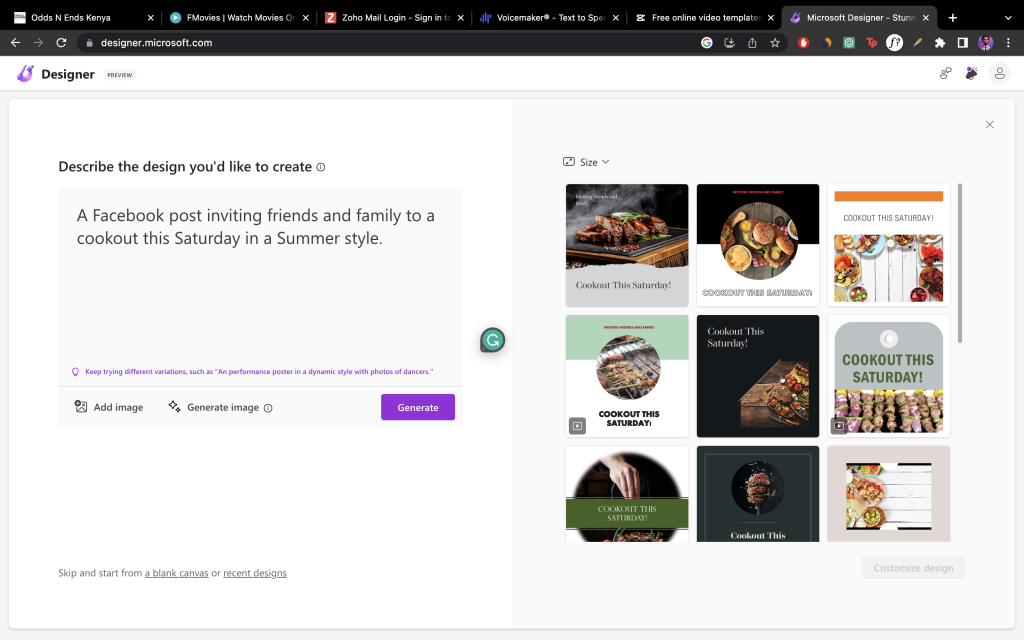 Canva currently has 'Magic Design'. It helps you create designs based on the pictures you provide. It works well but pales in comparison to the AI on MS Design.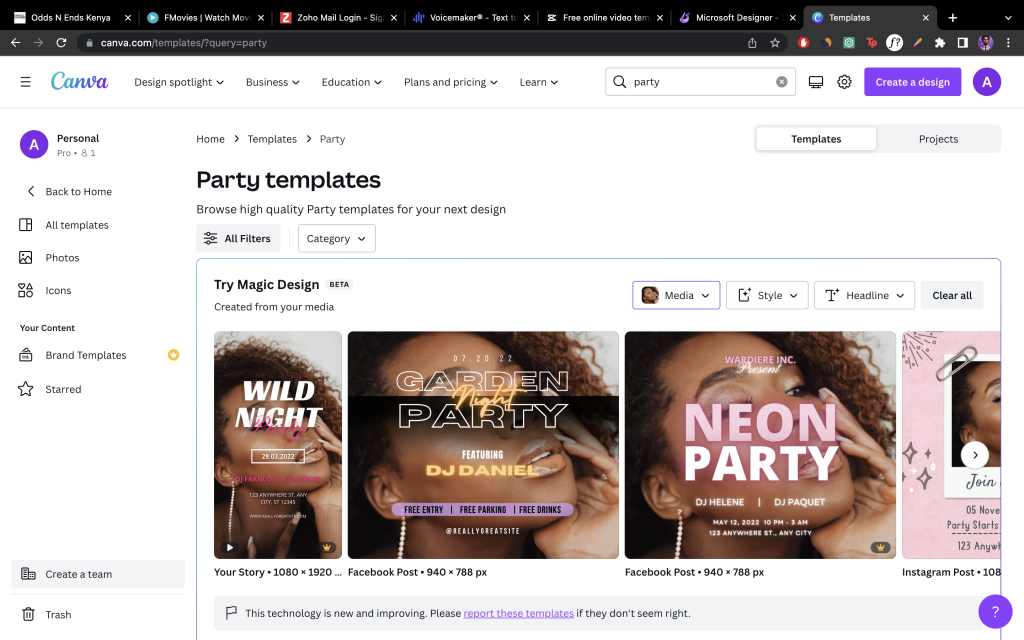 Canva 0-1 MS Designer
Canva has more features and a larger library
What Canva lacks in AI, it makes up for in features and their large library. Here is a comparison between the two when requesting for 'Party Poster Templates'. Canva has been here for a longer time and thus has more templates, fonts, images, videos and audio to choose from. They also have a lot of users creating new templates every day for free and or for sale and this just makes it easier to manoeuvre. It also has a lot more features like video editing, mockup creation, document editing, website creation and logo animations.
Microsoft Designer is fairly new so they are still filling out their templates, stock photos and images but that won't be the case for too long. Nevertheless, they still have a lot to do so this round goes to Canva.
Canva 1 – 1 MS Design
My $ 0.02
They are both exceptionally good. At this time, I have to side with Canva seeing as they have been in the game longer. A few more months with MS designer and maybe my mind will change. Until then try them out and let me know what you think.