A small screen or a super large one? Why not both? In continuation with my foldable evangelism journey, I recently used the ASUS Zenbook Fold 17 OLED released late last year, for a couple of days. This device is the world's first 17.3-inch foldable OLED laptop. Or is it the world's first 12.5-inch Unfolding OLED laptop? It is a massive device, and it is also not.
Walk with me on this Asus Zenbook Fold 17 OLED Review.
WTF? What The Fold?
The ASUS Zenbook 17 Fold OLED's design is sleek and modern, with a folding screen that catches the eye of anyone who sees it. Its slim design and compact size make it a statement piece in any setting. Every single place I popped it out, eyes and countless questions followed.
When did tech start to bend, and in that form factor?
ASUS says they have perfected the hinge mechanism to endure at least 30,000 open/close cycles. To put this in context, if a user opens and closes the laptop six times per day, this represents a lifespan of over nine years.
They built the step-less hinge to firmly hold the upper screen at any angle. The screen folds and unfolds easily, but trust me, you can never get enough of that.
Design and Usability
Is it more gimmicky and less tech? It is one thing to be unique; it is another to be useful while at it. This is that folding technology that is actually handy.
For connecting to peripherals, there are two convenient USB-C Thunderbolt 4 ports. They also support fast charging of the 75 Wh battery, and connections to external displays.
The laptop includes a Bluetooth version of their ErgoSense keyboard and touchpad. When combined with the keyboard and touchpad it is extremely versatile and unique.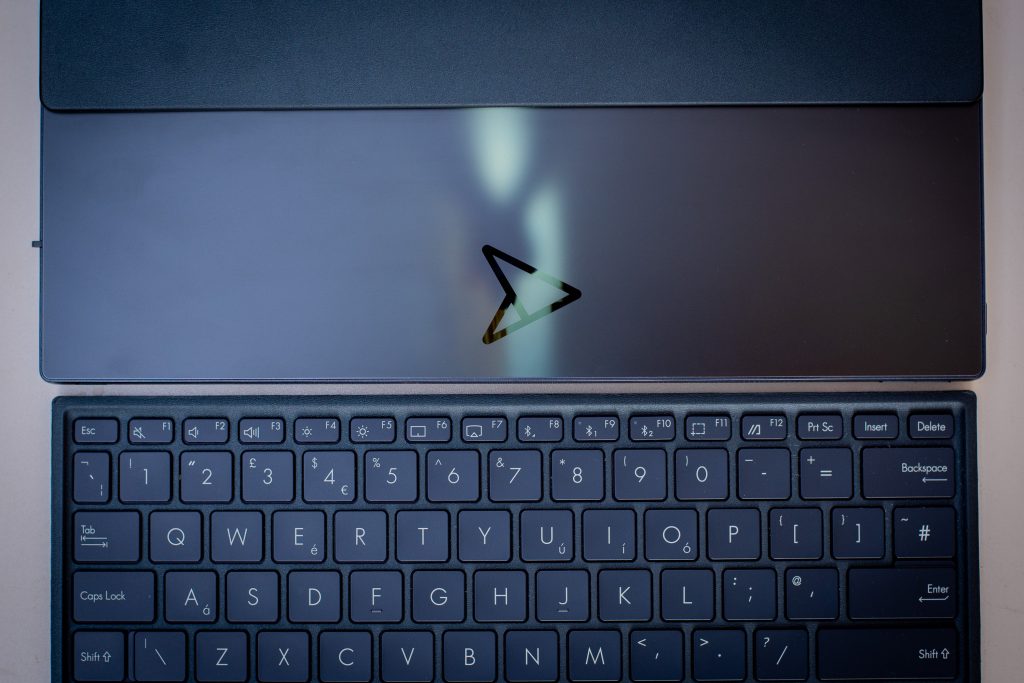 The folding design allows multiple usage modes.
Desktop: With a built-in kickstand and the Bluetooth keyboard on the surface in front of it, it becomes a large-screen PC at 17.3 inches. It is like a workstation that you can fully carry to a coffee shop. I loved this one the most, as it allowed me heavy work even when on the go.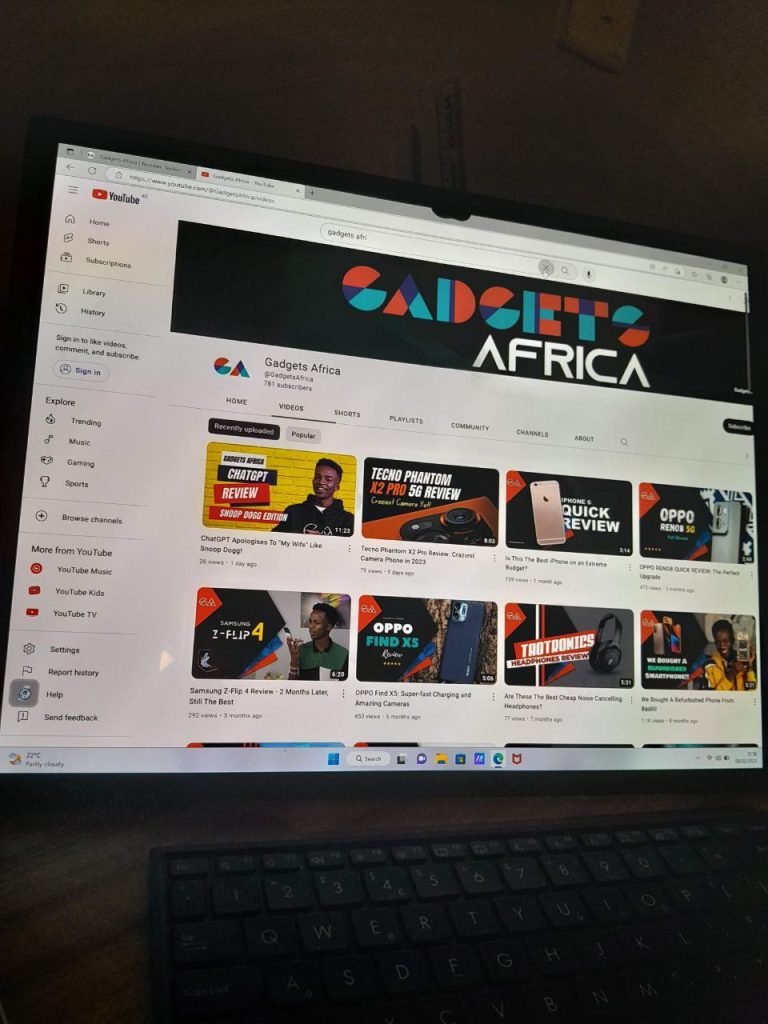 Laptop (with Bluetooth keyboard): The keyboard attaches magnetically when placed on the lower half of the folded display.
 Laptop (with virtual keyboard): The lower display can be turned into a virtual on-screen keyboard and you don't have to carry the physical one..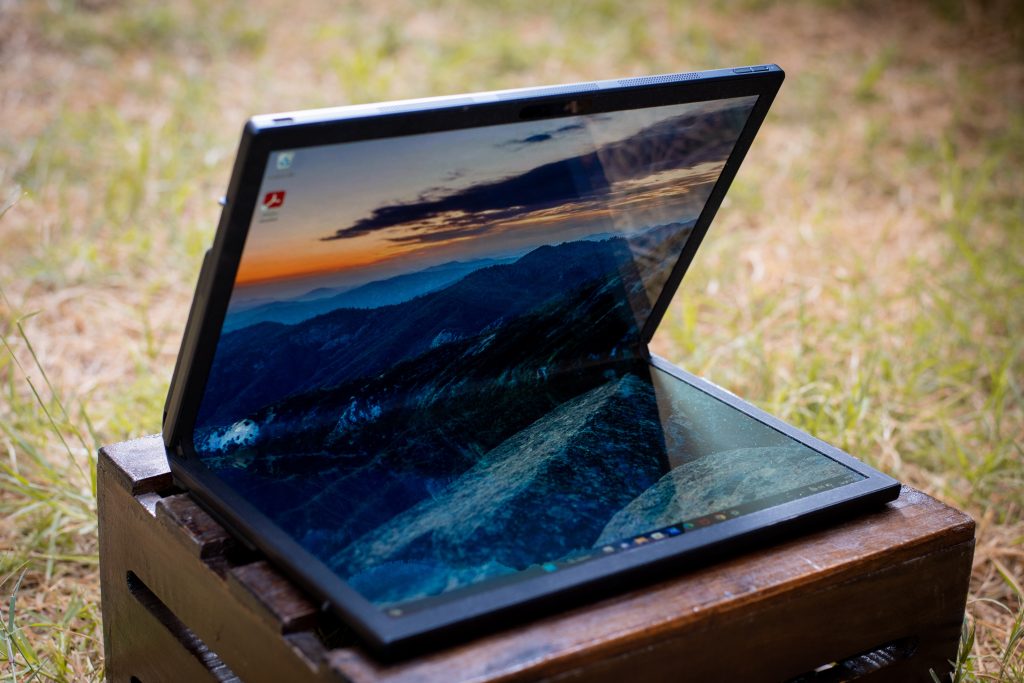 Extended: propped up in portrait orientation, the folded two 12.5-inch screens are perfect for users to scroll on the upper and lower displays seamlessly. Thus, Zenbook 17 Fold OLED can be connected to an external monitor via one of the two USB-C ports.
Tablet: Allows users to exploit the full touch capabilities of the fully opened 17-inch touchscreen
Reader: With the hinge aligned vertically — turns Zenbook 17 Fold OLED into a reading device.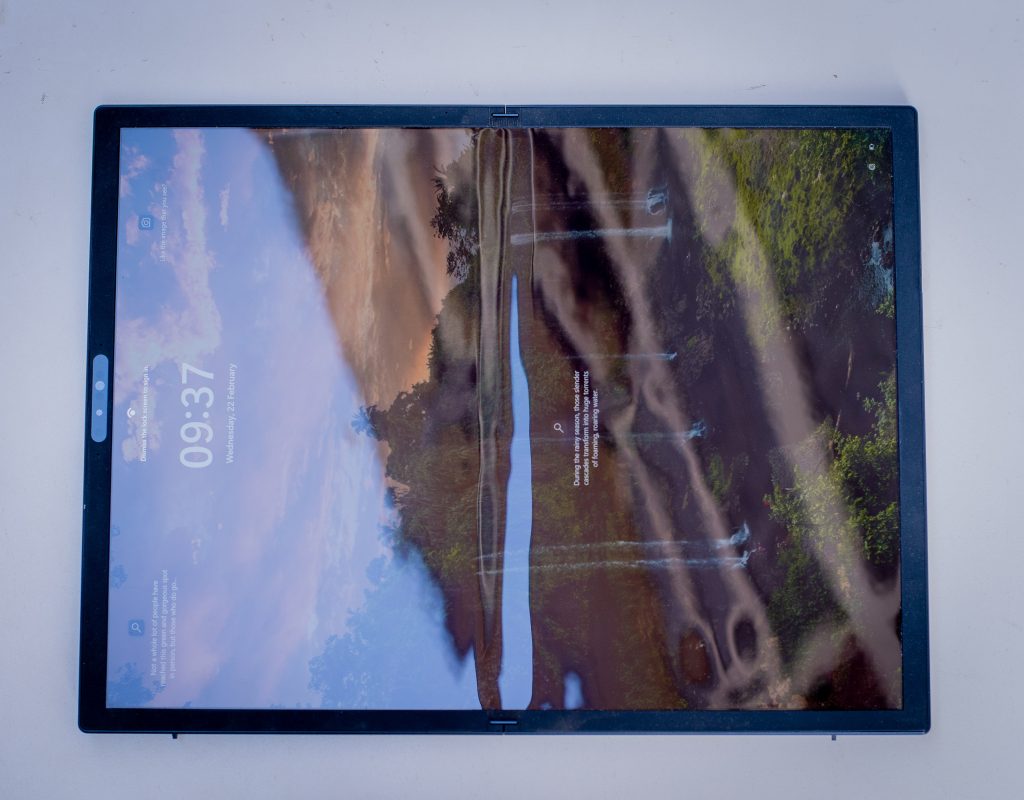 The variable screen size is definitely a plus, and having more screen real estate is always a bonus.
Additionally, each screen can be split into multiple windows, and the contents arranged. This is by taking advantage of the intelligent window-management feature in the ASUS ScreenXpert 3 and exclusive Mode Switcher apps.
Despite its versatility and large screen size, the device weighs just 1.5 kg without the keyboard or 1.8 kg with it. Nevertheless, this is not so light. Be prepared for some significant load in your backpack, which may make it feel heavy to carry for extended periods.
Performance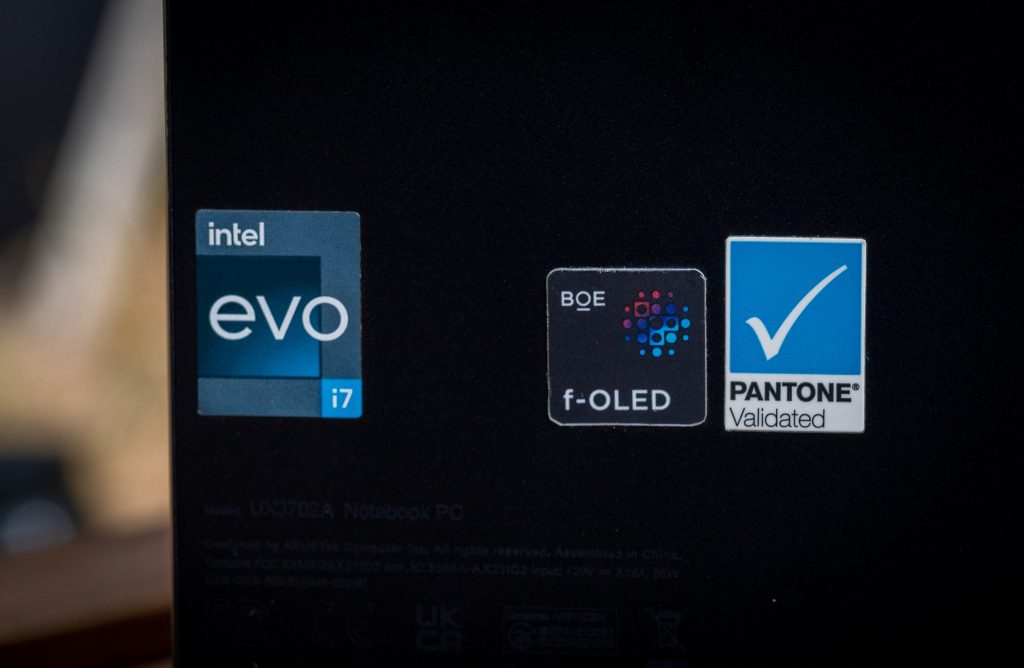 The performance of the ASUS Zenbook 17 Fold OLED is impressive, thanks to its 12th Gen Intel Core processor and 16GB of RAM. It runs Windows 11 Pro smoothly and handles multitasking with ease, even with multiple tabs and workspaces open simultaneously.
Harman Kardon-certified quad-speakers enable surround-sound capabilities. Dolby Atmos audio system enhances multimedia content by adding an exciting new spatial dimension.
Speaking of AI (Aren't we always these days?), Zenbook 17 Fold OLED has these two smart AI-powered features I liked the most:
User-presence detection using a HD IR camera: For example, as well as fast face login, it can detect when the user moves away from the laptop. If this happens, it dims the screen to save battery life and locks the laptop for security. When the user returns, it brightens the screen and logs them in automatically.
Integrated color sensor: For automatic adjustment of screen brightness and color temperature
However, the hardware is first-generation for ASUS on foldable laptops. So, you can expect that the software compatibility isn't at its best. Sometimes the screen glitches when connecting the mechanical keyboard in laptop mode or when booting up. I am sure they will fix this in due time if Samsung foldable phones are a precedence to go by.
The brightness level of 500 nits peak brightness isn't enough to use outdoors comfortably. I also found that the battery drains quickly and can't last over 6 hours of intense work or less if streaming content.
Verdict
First, I had so much fun with this laptop. No chances spared.
Second, this device retails at $3,499.
The ASUS Zenbook Fold 17 OLED is a bold step into the unknown world of large foldable screens. Others have tried it before them, like Huawei and Lenovo, but more players are always welcome so we can push innovation forward. It's a great option for tech diehards and professionals who need a portable workstation that can handle multiple tasks and workspaces.
But for critics, naysayers, and professionals who carry out heavy tasks, the price is too steep for a first-generation folding laptop. You could wait for a few generations more.