Instagram has done it once again by spamming users with ads. It's bringing more ad options to two more sections of the app, Explore tab and profiles. This is in the hopes of maximizing its revenue intake and providing new opportunities for brands.
With that approach, this could be popular for users. But does it feel too much?
Instagram Ad Options On Explore Tab & Profiles
There are already ads when scrolling through the Explore page feed, but now, Instagram has added the ability to put ads on the Explore homepage as well. This is the photos and videos you see when opening the Explore tab.  In case you were curious, Instagram posted an example of what it might look like.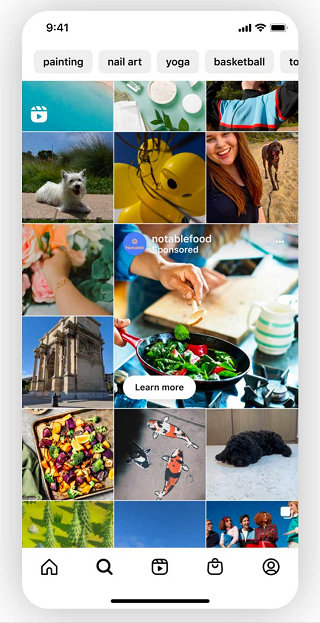 The ad has a sponsored label along with the name of the account and a Learn more button, so you can see it's an ad. It's noticeably large taking up a big portion of space on the Explore grid. It seems pretty inconvenient. For businesses and brands, this is a good chance to get your products featured in the main discovery feed in the app.
Profiles are also the next target for ads. So now if you check someone's profile and tap on a post, you will be eligible to have ads in that dedicated stream of their content. The platform says it will only put ads on 'non-teen, public profiles'. A mock-up of how the feature would look was not shared.
Instagram is also looking into whether this option could also be used as a monetization opportunity for the creator, as that activity will be tied back to an individual profile and content.