Have you found yourself indulging in a movie or TV show then hearing an amazing song that you don't recognize? Or music that you want to hear again? We have all been there. That happened to me as I was watching the latest episode of Euphoria. How do you get to know the title and artist?
It's relatively easy to find soundtracks, as long as you know exactly what you are looking for. But there is a site that can help you find every song used in your favourite movies and TV shows in an instant without having to do lots of digging. Called TuneFind, this site is a music discovery app that contains soundtracks and song listings from movies and TV shows. You can search by the movies, TV shows, games or artists. You can't miss finding what you are looking for.
The TuneFind library of musical references is massive. It covers thousands of TV shows. For each series, the songs are listed by season and by episode. Some series even have descriptions of the scenes to make the discovery even easier. But as long as you know what you are watching, you will be able to track the music in seconds.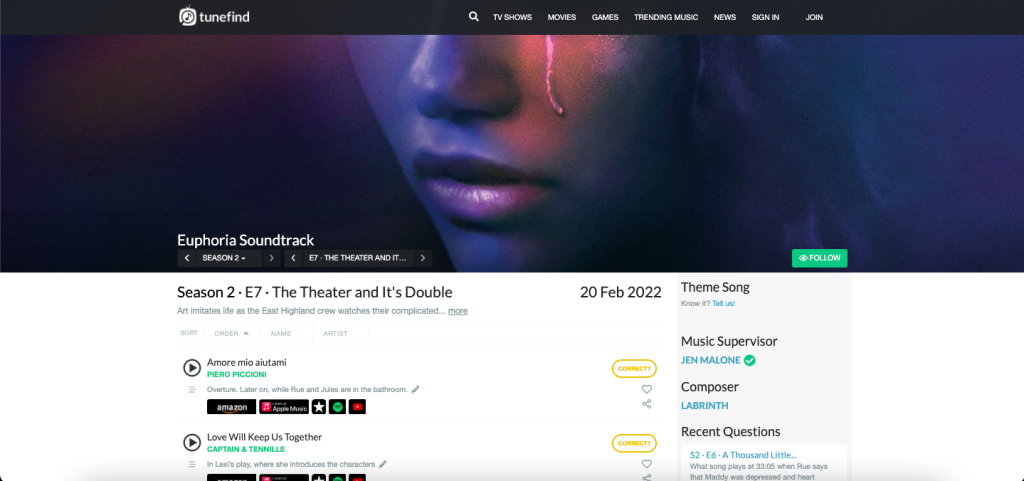 A feature that I particularly like, is when it comes to new episodes, you can expect to see a show's latest episode go live on the site, with the complete soundtrack within minutes after airing on TV.
Tunefind focuses on accuracy. It has a community voting system where the site users can confirm or deny the specific song. This prevents cover versions of songs with the same title but different artists from getting credit for work that is not theirs.
A user can also receive alerts of new episodes of movies and shows that they like and alerts for their favourite artists' songs getting features. There are also links to Amazon, Apple Music, Spotify and YouTube for the songs where available.