It is no secret that modern life has us stuck to screens for hours every single day. This can even be more for those who depend on their devices for everyday work. They're the first thing we interact with every morning and the last before going to bed.   But it is also common knowledge that too much screen time has proven to not be healthy at all for us. So, how do we get to balance having a good relationship with our online reliance without having to harm our vision? Luckily, devices have lately been coming in with features designed to help protect our eyes. The Huawei MatePad T 10S is one of them.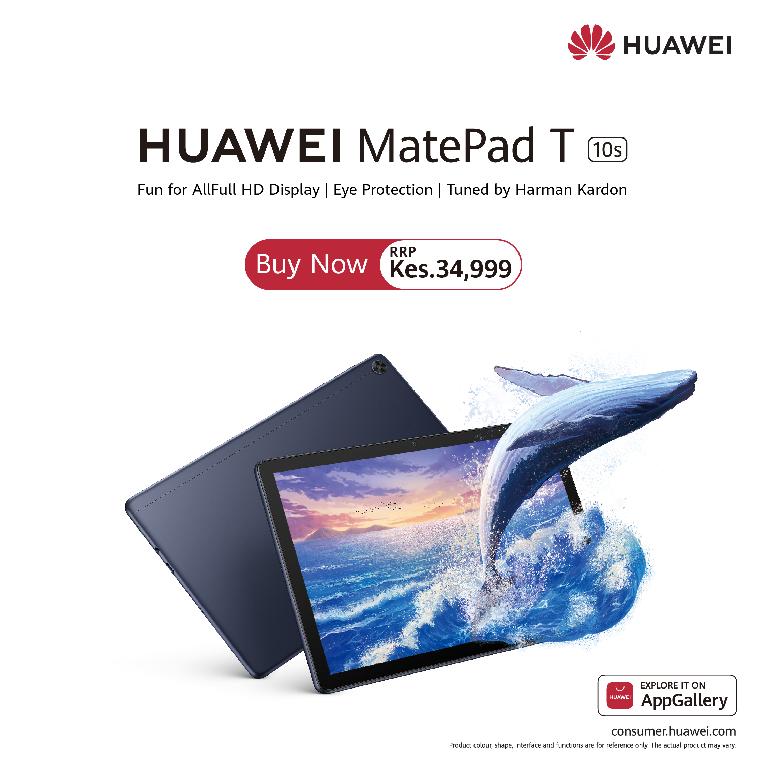 The tablet that launched last year, is packed with eye protection modes that are meant to run best in the night when we do need too much light from our screens. At KES 34,999, the Huawei MatePad T 10S features a TÜV Rheinland-certified Eye Comfort mode and is able to adjust to warmer tones automatically from cooler ones best for the nighttime.
According to Huawei, these features are important to any user as they reduce the amount of blue light emitted from screens. Blue Light is well-known to disrupt one's circadian rhythm at night thus affecting your sleep cycle.
This is meant to work alongside the dark mode that displays dark and gentle surfaces across the UI to keeps users' eyes from bright light. Instead of simply changing colours, everything from background, text to icons, has been adjusted for contrast and colour scale based on massive human factors study.
The tablet also features an eBook mode that Huawei says will be useful for readers. With the feature, the tablet's display contrast, brightness, sharpness, saturation, temperature are adjusted in order to simulate a paper-like effect.
The feature is also designed to make it easier for readers to access books of their choice online and download them for offline reading.
"You can also look up things on the spot. For example, words you may not understand, some historical context or something you want to visualise which you can easily do on the browser app. But reading requires utmost concentration, often with our eyes fixed on the display. That's why the Huawei MatePad T10s has a practical eBook mode that is easy on the eyes so that you can always keep reading," says Huawei.
Unfortunately, the tablet does not come with Google services although these devices have proven to have a workaround. As long as you're not using it as your daily driver, you will not find any restriction in your usage.