The food business is thriving in Kenya and that's all thanks to the implemented online delivery systems like Glovo, Uber eats and Jumia Food. Thanks to them we don't have to worry about going out to actually buy food. Or having to settle for when restaurant.
They open up the food industry to any and all customers. Well, now they've stepped it up a bit by adding Kibanda food to their list of deliveries.
Do you ever miss the Kibanda food? That Ugali matumbo? That chapati ndengu! That mukimo beef! Oh, my taste buds! Whoosh!! Well, now you can get it delivered straight to your house or office. They're calling it the Kibanda Express.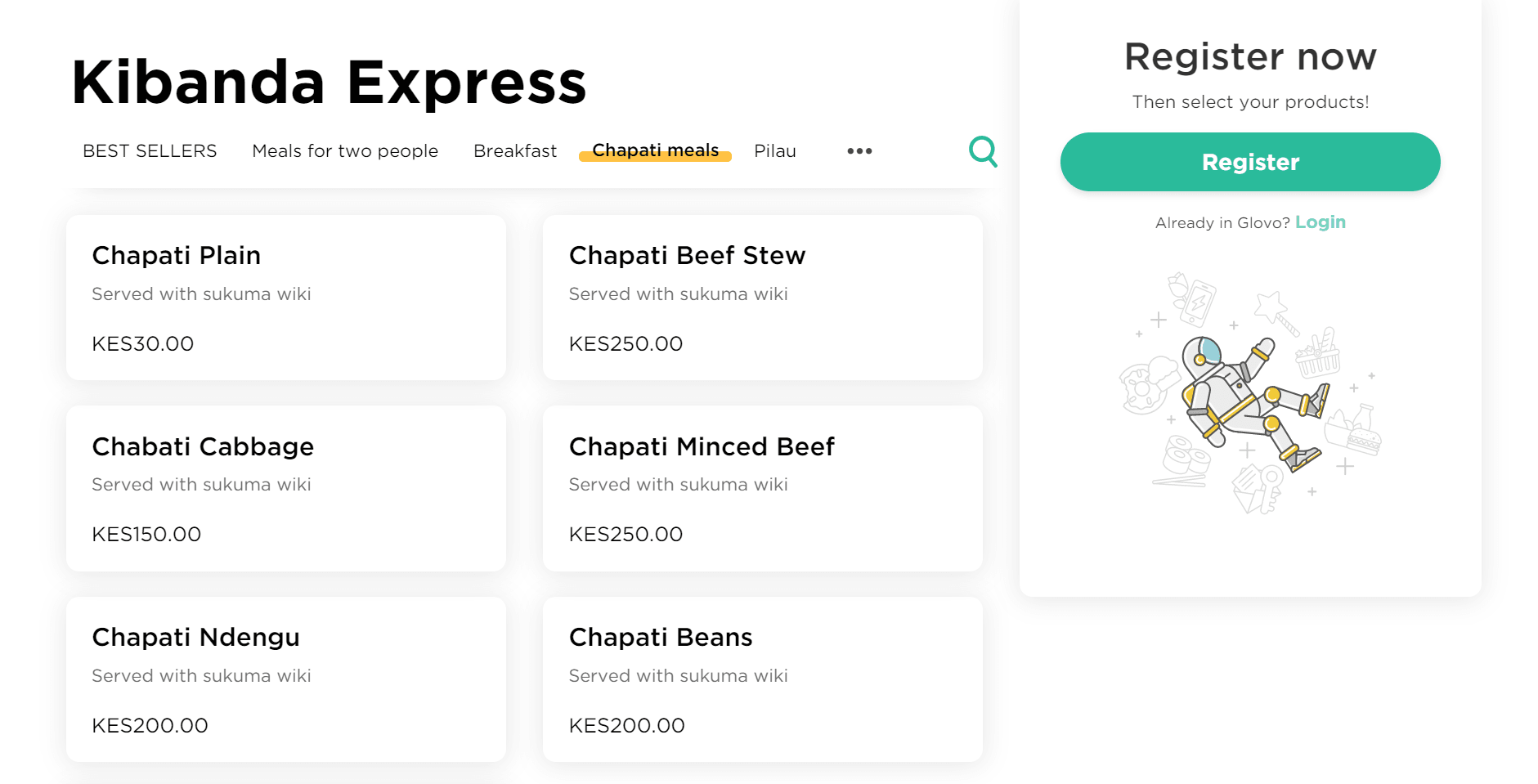 The Kibanda Express is accessible through their app or website under local foods. The meals are further broken down into sub-categories from a wide range of Kenyan delicacies:
Meals for two people Ksh

Breakfast 

Chapati meals 

Pilau 

Mukimo
Matoke
Spaghetti
Plain
Snacks
Rice meals
Ugali meals
Drinks
Alcoholic Drinks
The meals range from as low as ksh 150/= to ksh 1200/= for a 'sharing meal.' Jumia have a similar venture called Dishi poa which is also accessible through their platforms.
Is It Worth It? My $0.02
It came as a surprise to me when I found this out so I thought hmm, great idea. I could actually see this through. When I checked the prices I went back to my usual Kibanda.
Where I eat, chapati and beans is 7o bob. But here on Kibanda Express, it amounts to 150 bob. That's almost double the amount that I pay. Now I'm not saying I hate the idea of having 'Kibanda Express' but I'd rather walk to the Kibanda myself and get the food.
Maybe this isn't targetted to the likes of me. Some of you may not have Kibandas around and you just miss the authenticity. Some of you may not have the time to go to the Kibanda and actually get the food. Maybe you're just feeling nostalgic and wanna remember the good old days.
The choice is yours. Should you want to experience it, be my guest but for me, not yet.
Bon Appetite!!