It's not a surprise that Apple's security and privacy statutes have always been overboard, especially when it comes to the iPhone. And that's not a bad thing. I think that's probably why we love their products so much. Well, they aren't backing down from this, not even to the U.S. government.
What Happened?
Apple turned down a request from U.S. Attorney General William Barr this week,  saying it will not help unlock two iPhone devices used by a terrorist suspect last month in the deadly shooting at the Naval Air Station in Pensacola, Fla.
"That's a lot of sensitive information that may be privileged. It may be trade secrets or covered by International Traffic in Arms Regulations (ITAR)– so [it's] things you have a legal obligation to protect. Companies also need assurance that hardware they're deploying is secure. If the government is ordering the company to introduce flaws into the security of the hardware or software … it could compromise that corporate data." General Counsel for the Electronic Privacy Information Centre, Alan Butler said.
It will not back down from its unequivocal support of encryption that is impossible to crack, people close to the company said.
What Would Happen If Apple Fully Accepted The Request?
"If the government succeeds in forcing Apple to subvert iPhone security, corporate IT managers will be put in a sticky situation." said Alan Butler, general counsel for the Electronic Privacy Information Center (EPIC).
Here's what Apple's Mark Gurman had to say about the issue.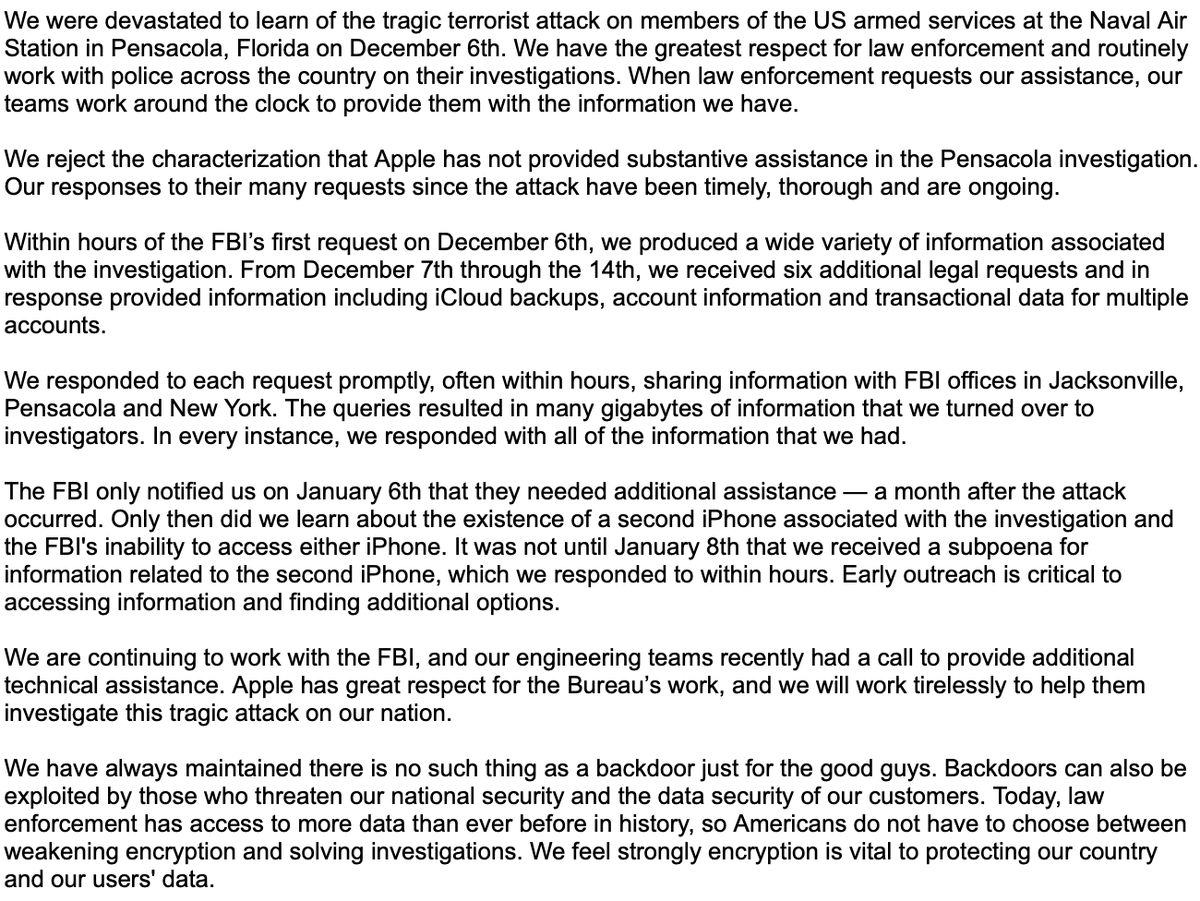 Ongoing Apple Privacy Feud
If Apple developed a way to allow the American government into its phones, its executives argued, hackers or foreign governments like China would exploit the tool. The battle between the government and technology companies over advanced encryption and other digital security measures has simmered for years. Apple, which stopped routinely helping the government unlock phones in late 2014 as it adopted a more combative stance and unveiled a more secure operating system, has argued that data privacy is a human rights issue.
But frustrated law enforcement officials accuse Apple of providing a haven for criminals. They have long pushed for a legislative solution to the problem of "going dark," their term for how increasingly secure phones have made it harder to solve crimes, and the Pensacola investigation gives them a prominent chance to make their case.
In a statement Monday night, Apple said the substantive aid it had provided law enforcement agencies included giving investigators access to the gunman's iCloud account and transaction data for multiple accounts.
"We don't want to get into a world where we have to spend months and even years exhausting efforts when lives are in the balance," Mr Barr said. "We should be able to get in when we have a warrant that establishes that criminal activity is underway."