Samsung Electronics Co., Ltd. has introduced its much-awaited fifth generation of Galaxy foldables, the Galaxy Z Flip5 and Galaxy Z Fold5. The launch event was held at the trendy Shamba Café in Nairobi, drawing tech enthusiasts from all corners of the East African region. The exciting event was not only about cutting-edge technology but also showcased Samsung's commitment to environmental conservation through a tree-planting initiative. Let's take a look a the specs, price and availability of the Samsung Fold and Flip in Kenya.
Form Meets Function: Samsung Galaxy Z Flip5 and Z Fold5
The Galaxy Z Flip5 and Z Fold5 boast distinctive form factors that offer a unique experience to every user. From sleek and compact designs to endless customisation options, these foldables push the boundaries of what a smartphone can do. Central to the experience is the new Flex Hinge, which not only enables the foldable feature but also ensures a balanced and sturdy design. Samsung's dedication to innovation is evident in the foldables' extraordinary camera capabilities, including the FlexCam, which allows users to take photos from creative angles and push their photography skills to new heights.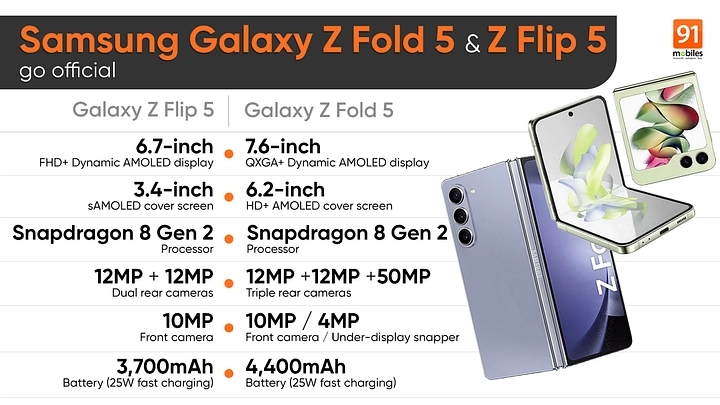 Durability Meets Style: Built to Last
The Galaxy Z Flip5 and Z Fold5 are not only powerhouses in terms of performance but are also built to withstand the rigors of daily use. With a shock dispersion layer on the main screen, a redesigned back, and IPX8 support, users can have peace of mind knowing their devices are protected from accidental bumps and splashes. The Armor Aluminum frames and Corning Gorilla Glass Victus applied to the Flex Window and back cover add an extra layer of protection, making these foldables tough yet elegant companions for everyday adventures.
Galaxy Z Flip5: Pocketable Self-Expression Tool Without Compromise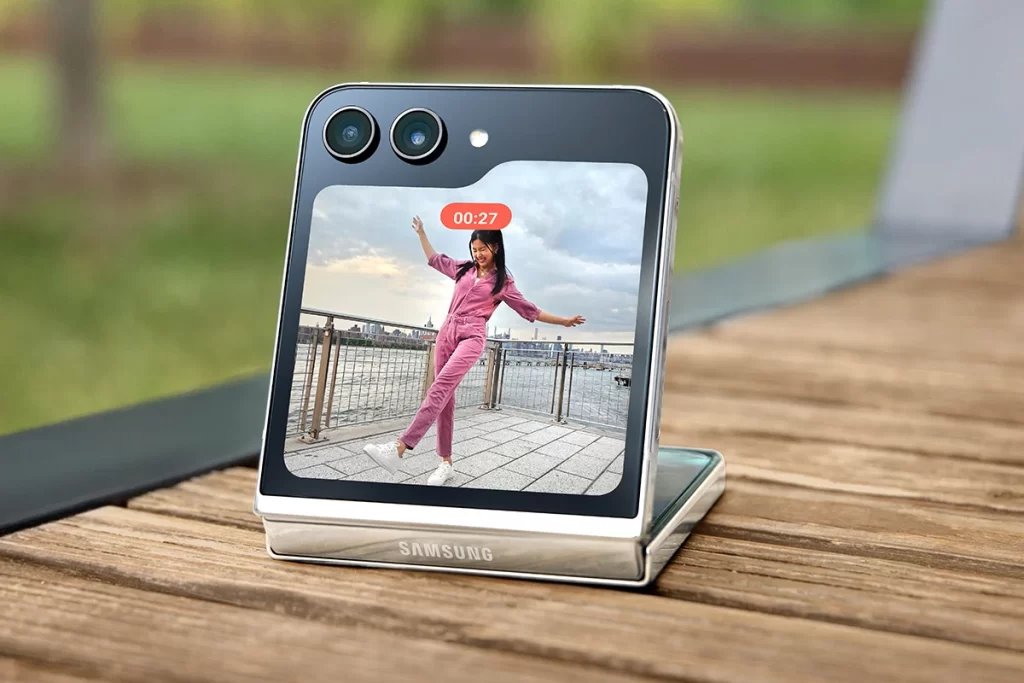 The Galaxy Z Flip5 is a pocketable masterpiece designed for self-expression. Its new and larger Flex Window offers a multitude of customisation options, including informative and graphical clocks that complement the user's Galaxy Watch series face design. The closed Z Flip5 offers more usability than ever before, with easy access to useful information through Widgets and Quick Settings. The camera experience is a standout feature, with FlexCam enabling hands-free photos from creative angles and AI solutions enhancing photo quality, even in low-light conditions.
Galaxy Z Fold5: The Ultimate Productivity Powerhouse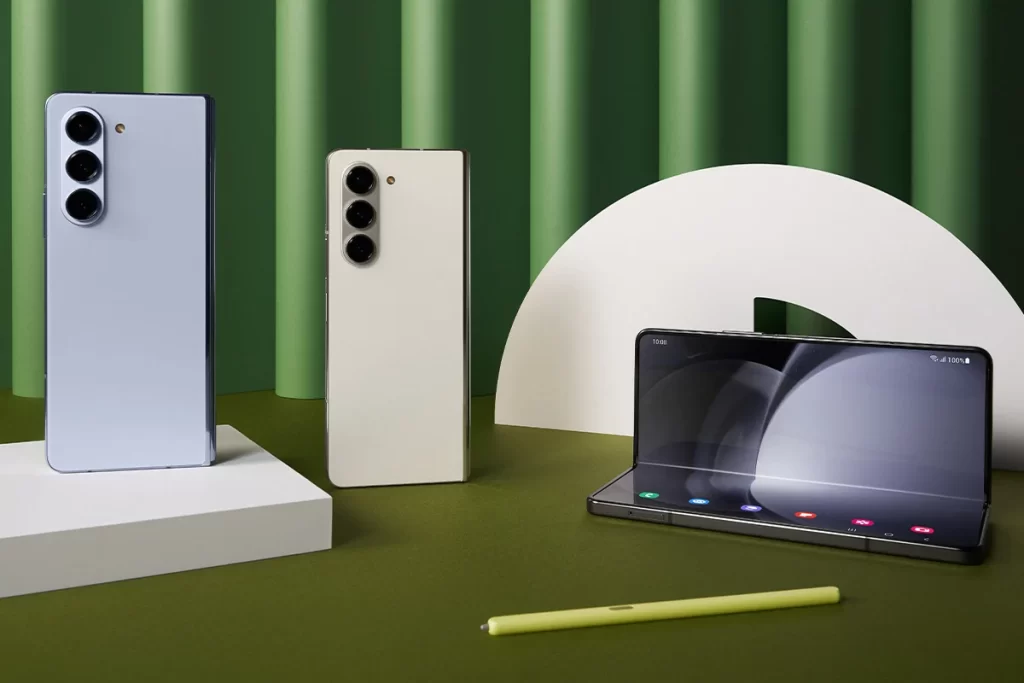 The Galaxy Z Fold5 takes productivity to a whole new level with its large screen and long-lasting battery. From the improved Taskbar for efficient multitasking to the two-handed drag and drop feature, the Fold5 empowers users to complete important tasks seamlessly. The addition of the Slim S Pen Fold Edition enhances real-time annotating and ideation, making it a perfect tool for professionals on the go. The immersive gaming experience on the large Galaxy smartphone screen, powered by the Snapdragon 8 Gen 2 Mobile Platform, ensures smooth gameplay without compromising performance.
Making a Positive Impact: Samsung's Commitment to Sustainability
Samsung takes its environmental responsibilities seriously and is actively working towards achieving net-zero carbon emissions by the end of 2030 for the Device experience Division. The Galaxy Z Flip5 and Z Fold5 showcase Samsung's dedication to sustainability with their use of recycled materials, including pre-consumer recycled glass and aluminum, as well as post-consumer recycled plastics. Even the packaging boxes use 100 percent recycled material, reflecting Samsung's efforts to reduce its ecological footprint. Additionally, both devices come with extended security updates and OS upgrades to ensure a longer product lifecycle.
Samsung Galaxy Z Flip5 and Z Fold5: Availability, Price and Pre-Order Details in Kenya
Pre-orders will be available starting July 26, with general availability to kick off on August 11. The Galaxy Z Flip5 comes in an array of trendy colours like Mint, Graphite, Cream, and Lavender, along with a range of accessories to personalize your device. KES 193,000 for the 512GB Version. (The pre-order comes with Free Samsung Buds2 Pro)
On the other hand, the Samsung Galaxy Z Fold5 is available in Icy Blue, Phantom Black, and Cream, with a variety of cases to choose from, including a Slim S Pen Case, Clear Gadget Case, Eco-Leather Case, and a Standing Case with Strap. To sweeten the deal, Samsung Care+ offers customers peace of mind with one free screen repair within a 12-month period for accidental screen damage. KES 325,000 for the 512GB Version. (The pre-order comes with Free Galaxy Watch 5)
Conclusion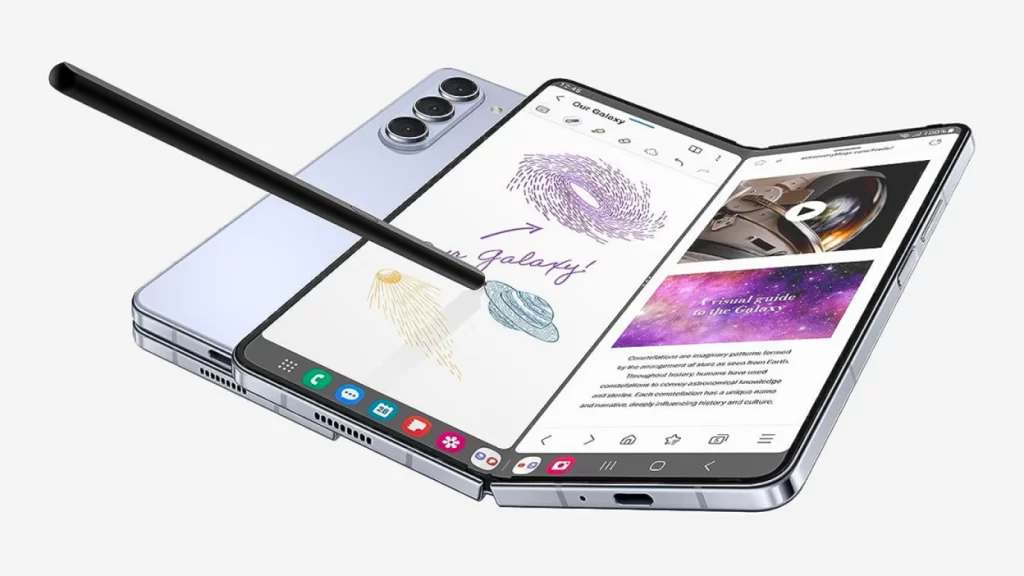 Samsung's fifth-generation foldables, the Galaxy Z Flip5 and Z Fold5, are here to redefine smartphone technology. Packed with groundbreaking features, durability, and sustainability, these foldables cater to the diverse needs of modern users. Whether it's for self-expression, productivity, or gaming, the Galaxy Z series pushes the boundaries of what a smartphone can achieve. So don't miss the opportunity to pre-order these innovative devices and experience the future of mobile technology firsthand.