Artificial intelligence is the hottest kid in tech right now. The rise of ChatGPT and the availability of its API model to others who want to develop similar tech is speeding up AI adoption across a variety of professions. Now, you can also handle your court issues with AI. Sheria Mkononi is Kenya's first AI lawyer, designed to provide advanced legal services, especially to the ones who cannot afford them.
Sheria Mkononi- Kenya's First AI Lawyer
The system is based on the OpenAI model GPT-turbo. This allows it to interpret complex legal concepts and provide personalized legal advice to clients. Sheria Mkononi, translating to "law in hand", is designed to understand multiple languages, including Swahili, making it accessible to clients from different regions of Kenya and beyond.
The chatbot takes just a few seconds to respond, and you can prompt it in either English or Swahili. Sheria Mkononi may also come in handy to prosecutors when they want to form a case against someone. It can process vast amounts of legal data in real-time, providing reliable legal advice.
Here is an example of my prompt and its detailed response.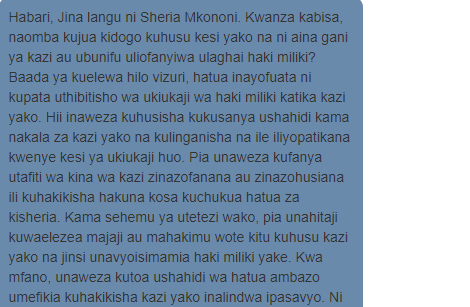 The response here is in Swahili but you can switch to English.
A Case for AI Lawyers
In the US, AI lawyers are at an even more advanced phase. They have developed an AI chatbot to advise and represent people challenging speeding tickets in courtrooms. The chatbot, created by DoNotPay, is designed to answer questions and hold a conversation. A client just needs to wear wireless headphones that relay the judge's statements to the chatbot. Thereafter, the chatbot will provide suggested responses that the individuals can choose to repeat in court.
Using AI chatbots like Sheria Mkononi in legal proceedings could potentially increase access to justice and reduce costs. However, it's important to note that this technology is still in its early stages, and there may be limitations to its effectiveness.
Additionally, there could be concerns about the reliability and accuracy of the information provided by the chatbot. Nonetheless, AI technology is here to stay, and its potential to assist lawyers in their work is enormous.
Try out Sheria Mkononi here in its live system and let us know what you have to say. There is also an app that you can download on Appstore and Playstore.