I have recently complained about the smartphone lifespan across all brands. You can read my rant here. How often do you upgrade your smartphone? According to research by Strategy Analytics, for most people, the answer is 2-3 years on average. OPPO's latest device, the Reno8 T, promises to go above and beyond to take care of that.
Quickly degrading smartphone performance over the years has been a point of concern for a majority of smartphone users. With the all-new OPPO Reno8 T series, you are now promised longterm performance for an all-around smooth experience. Here is how.
OPPO Reno8 T Performance
One of the features for a more stable operating system is the OPPO-developed Dynamic Computing Engine. This Engine optimizes the scheduling and recovery of computing resources to increase overall speed, stability and boost app startup times by up to 11%.
Additionally, users of the new OPPO Reno8 T can keep up to 20+ apps running in the background and still experience a smooth switch and jump from one app to another.
Further, OPPO says they have tested the phone for 48-Month Fluency Protection by OPPO Labs. This means it can theoretically maintain a high degree of operating fluency even after four years of use.
At the OPPO labs, simulations of a typical day-to-day phone use over 48 months and test the fluency of the phone in areas like app startup time, boot time, and multimedia responsiveness.
Battery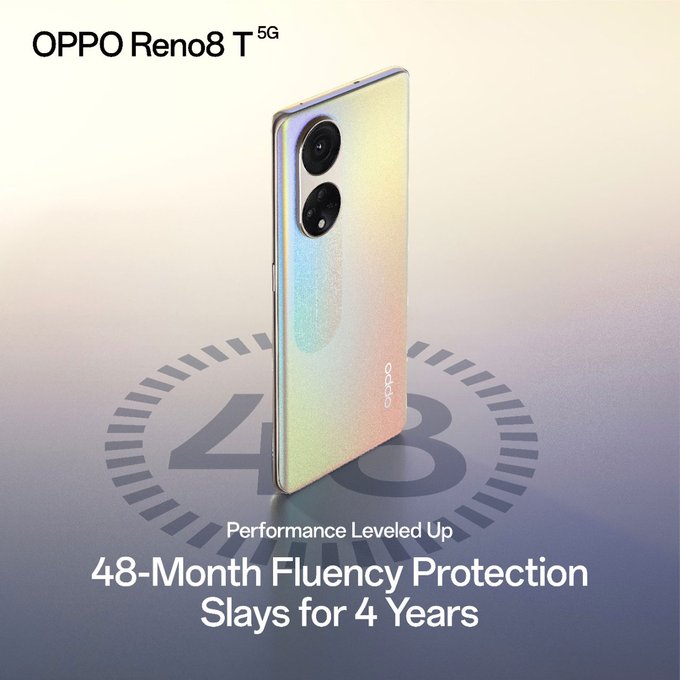 The OPPO Battery Health Engine can keep a battery running at over 80% of its original capacity after as many as 1,600 charge cycles. It translates to around four years of typical use if charged once per day.
This is effectively doubles the current industry average of 800 cycles. If this is true, then it is effectively the world's longest-lasting in terms of battery lifespan.
Reno8 T 5G is currently available for purchase across all OPPO official retail shops, including Kilimall at a recommended Retail Price of ksh 49,999 for the 5G and ksh 37.999 for the 4G.