With the launch of the OPPO Reno8, OPPO continues to push new limits in delivering a "Portrait Expert" experience to its users. The new "Portrait Expert", presents Dual Sony Flagship Sensors, a new generation IMX709 RGBW on the front camera, and an IMX766 sensor on the main camera.
The OPPO Reno8 Camera Design- A Portrait Expert!
With the Reno8, OPPO has discovered that 40% of photos shot on Reno smartphones are taken after 5 pm. This percentage is even higher at nearly 50% for videos. With this discovery, OPPO got to work upgrading the portrait capabilities on the Reno8 series.
Imaging Power with Reno8 Dual Sony Flagship Sensors
To work on the greatest challenge of getting decent shots in a lowlight environment, OPPO invented the Quadra Binning Algorithm. This helps each sensor capture 60% more light and reduces image noise by 35% when compared to a traditional setup.
The Sensors should now capture brighter, clearer images while maintaining color accuracy in low-light situations. To enable this algorithm to be functional on the Reno8 series, OPPO partnered with Sony for new focused sensors. The phone has the IMX709 RGBW on the front 32MP camera, and the flagship Sony IMX766 50MP on its main camera.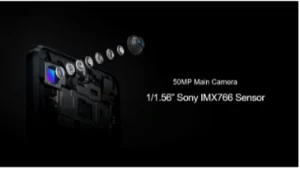 Besides issues related to lowlight, OPPO equally worked on back-light, which is a common problem in smartphones with traditional camera sensors that results in strange ghosting effects on images.
To solve this problem, OPPO incorporated DOL-HDR technology into both the front and the rear sensor. It differs from traditional HDR processes as it takes short and long exposure photos "quasi-simultaneously" before synthesizing them into a single frame image.
With this, OPPO promises users that whether they pose in front of a sunset or beneath serene moonlight, every photo and video taken will look brighter and sharper.
Ultra Night Video
The Reno8 5G's Ultra Night Video algorithm detects ambient light. Thereafter, it automatically increases image brightness, improves color expression, and sharpens facial features to bring out the beauty in everything.
This AI-enhanced feature is set to deliver clearer, brighter, and more vivid portrait videos on both front and rear cameras, whether shooting at night or in dimly lit surroundings.
Night Portrait–Pro-level Photos
Mobile photography has always experienced the challenge nighttime photography. Looking at traditional nighttime photography feature on a smart-phone, users always take time while taking photos at night.
OPPO has added two features that improve night portrait capability by 39.7% compared to the previous Reno7 series. These are:
Turbo RAW algorithm- It reduces noise using an AI neural network
Light sensitivity of sensors-When users press the shutter, photos appear faster and without long delays, allowing them to capture sharp nighttime portraits exactly as they see them.
Market Availability
To enjoy the above features, get the phone through OPPO e-commerce partners and across all OPPO stores in Kenya. The Reno8 5G retails at 59,999 KSH and the Reno8 is at 42,999 KSH.