You are already aware of the most dramatic event that transpired on the Oscars stage last night. Well, unless of course you are living under a rock (Pun intended-I was itching to drop that).  But if you are Chris Rock and a multitude of people around the world, you are still probably processing.
Actor Will Smith walked to the stage and handed a hot slap to comedian Chris Rock, a move no one expected. This was all a result of a Chris Rock joke on Will's Wife, a joke everyone except Jada Smith seemed to find funny. A joke that Will Smith himself enjoyed a few seconds prior to the slap.
Here are some of the best reactions, tweets, and memes I am still laughing at since then.
God grant me the serenity of @chrisrock coz it slaps different pic.twitter.com/I8Xy2DSJUN

— Mark Masai (@MarkMasai) March 28, 2022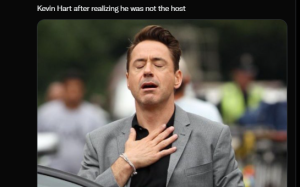 The cameraman after Will Smith slapped Chris Rock🥴 pic.twitter.com/xnSja5wDu1

— Ainà Dipo 🇳🇬 (@dipoaina1) March 28, 2022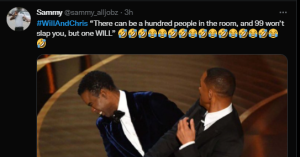 They need to send Will Smith to move with his auntie and uncle in Bel-Air.

— Ben Shapiro (@benshapiro) March 28, 2022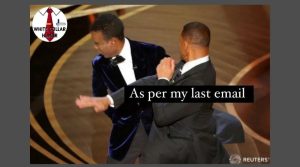 And if the setup was a bit different?
Jada if Chris Rock made a will smith joke pic.twitter.com/MEmrrrdjdc

— almeostro (@el_trapahan) March 28, 2022
Stop the damn #Oscars broadcast and drag a red table onto the stage because we need to TALK.

— Saeed Jones (@theferocity) March 28, 2022
will smith if the rock made that joke instead of chris rock #WillAndChris #Oscar pic.twitter.com/EMvl4C78sH

— Ispider Man (@Alone_Mastt) March 28, 2022
Their son on the other hand seems to be fine with everything.
And That's How We Do It

— Jaden (@jaden) March 28, 2022
What's your reaction?