The end of July wasn't the best for French inventor, Frank Zapata, who had goals of successfully showcasing his new flying hoverboard, dubbed the Flyboard Air, that he created. He did this by publicly flying across the English channel on the jet-powered hoverboard for the first time but it all went downhill when he fell into the water while trying to refuel the vehicle.
But in obvious determination, he took his second attempt on Sunday morning, when he took off from Sangatte, northern France and landed in St. Margaret's Bay, near Dover in England, as planned. The inventor took 22 minutes at a speed of about 170 km/h to cross 35 km above the water body.
According to Zapata, "I had the chance to land in an extraordinary place. It's beautiful. My first thought was to my family. It was huge. Thanks to my wife who always supports me in crazy projects. We worked very hard."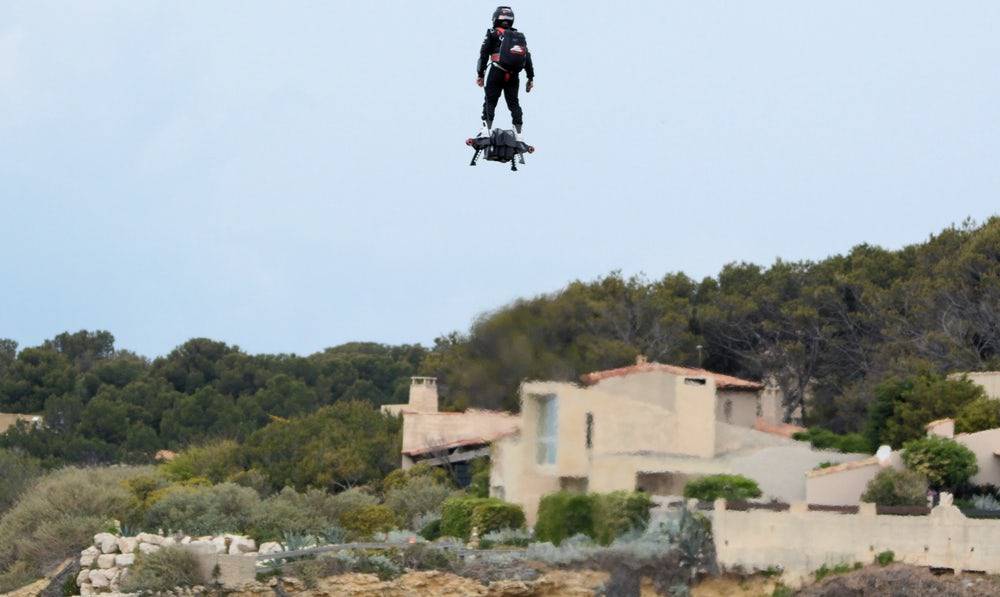 Reportedly, the trip wasn't a continuous one since he only carried a 10-minute supply of fuel on his back and had to make a pit stop at the halfway mark to refuel. And unlike his second attempt, he failed to make the milestone for the first time when he fell into the water while trying to land on the refuelling platform.
In an effort to make the second trip successful, he and his team made a few adjustments like using a different route and a larger fueling platform.
Zapata, a former jet ski racing champion, invented the Flyboard in 2011 a device that uses a water jet to propel the rider through the air behind a boat. To make it even more fun and daring, he created the Flyboard Air, a four turbojet engine-powered board that allows a rider to fly through the air untethered, using a computer to keep it stabilized.
This achievement came alongside a world record for the farthest hoverboard flight after he flew the Flyboard Air along the south coast of France for about 22km. His acclaim earlier rose after he made headlines in July when he appeared to crowds at France's Bastille Day celebrations carrying a gun to demonstrate some of the uses the device could have.
Moreover, the invention has gone on to attract interest from the defence industry with contractors like Implant Sciences planning to acquire Zapata Industries with Zapata receiving a €1.3m (about Ksh.150m) grant in 2018 to help with the development of the vehicle.
Many potential shareholders would also be ecstatic to know that Zapata isn't the only one working a sort of jet-powered transportation as a British inventor, Richard Browning, developed a jet suit that allows the wearer to fly with six turbo-engines strapped to their arms.