With the crypto industry growing and getting wider, platforms are seemingly getting swayed into the idea of conducting crypto transactions for their users. Moreover, this does not just include crypto exchanges or crypto wallets. Now with the current trend of messaging platforms getting involved and adopting crypto payments, one big market player is joining the crypto club. This was brought to light through a tweet by Zulu Republic about a launch of a new Lite.Im bot for WhatsApp users to send and receive such currencies as Bitcoin and Litecoin. How will this be made possible then?
we are happy to announce that from today you can send and receive #bitcoin & #litecoin on #WhatsApp via @liteim_official ! try it yourself here: https://t.co/JaldSafGBK @FranklynCrypto @SatoshiLite @CharlieShrem @CCNMarkets @GLRalf

— Zulu Republic (@ztxrepublic) May 19, 2019
You just need to install the new Lite.Im WhatsApp bot and follow the prompts that follow telling you about the actions to take in order to start sending and receiving crypto coins.
Other than that, the bot offers many other options for those who install the messaging bot like earning those digital coins through referring friends and making sure they install it as well. The users can also adjust the options to their preference, set up a password for login, choose a language and set a default coin.
The system obviously needs more work to be done as the only default languages to choose from are English and Spanish for now. One advantage, however, is the slightly wide choice of a default coin for users between ETH (Ether) and ZTH, in addition to BTC and LTC.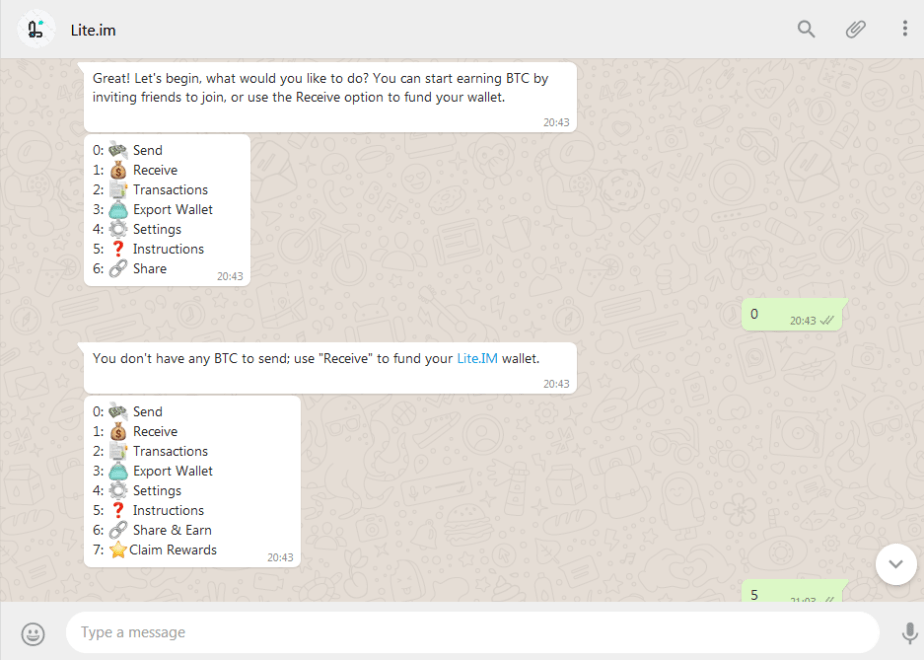 With one of the main goals for the development and evolution of cryptocurrency being simplified transactions in order to help it go mainstream, it might seem reasonable why the market players want to make their digital coins as accessible as possible by introducing them to popular messaging apps including the likes of Telegram, Facebook Messenger and even regular SMS.
Nevertheless, individuals that are not so tech informed might disagree with the fact that crypto transactions have become quite easy with time. In fact, many do complain of how the process still remains to be unfamiliar and slightly frightening, causing them to separate themselves from the industry altogether even though they may still be interested in digital coins.
Mass Adoption
Zulu Republic has revealed its beliefs in this integration being a huge method for mass adoption, considering that WhatsApp alone has over 1.5 billion users. Other than the potential growth, there already are areas that are only starting to join the network, especially in Africa and Southeast Asia.
Moreover, the messaging apps adopting digital transactions will allow unbanked and underbanked people to get access to payment methods as well. One other cause for the adoption may be the confidence it relays due to the rapidly increasing price of the market's lead player, Bitcoin that more than doubled its size in April and May, growing from around Ksh. 334,000 to its current price of Ksh. 797, 692.50, assuring individuals and businesses of its stability and growth since it went live 10 years ago.
Facebook Plans Its Own Coin
As aforementioned, Facebook is one of the most talked about platforms when it comes to introducing digital currencies and is reportedly busy developing its own stable coin. Lite.Im's move with the Facebook-owned WhatsApp might then be seen a competition to Zuckerberg's very own company.
While Facebook's digital currency remains cloaked in rumour and speculation, the only known fact is that it will be like Bitcoin with most important details remaining unknown. Even though it is reported that a special blockchain division and a recently founded startup in Switzerland are doing the job, the Facebook family might want to adopt policies for healthy ecosystem between themselves once the currency is launched.