The Chinese smartphone manufacturer had (as it is already known) filed patents for some of their upcoming smartphone designs. This may be in line with the new trend among many more companies to bring up a new era to designs and start demonstrating potential in that aspect.
OPPO is not willing to be left behind and they are aggressive as they patented their new ideas in late January. As much as OPPO has begun showcasing some of their "unique" thoughts and put them to life through their previous products, there is one that has caught our attention.
Renders started coming in of a smartphone with a miniature pop-up display (not a camera, but display). OPPO had been on the forefront to bring up devices with a sliding back for the front-facing camera. All this was in order to create the coveted full and totally bezel-less display. But this one is slightly different as the part that pops up is an extended display though slightly smaller than the main one.
It slides up out of the top of the smartphone about a third of the way. This may appeal to some but it will honestly shout for attention as one of the most awkward designs.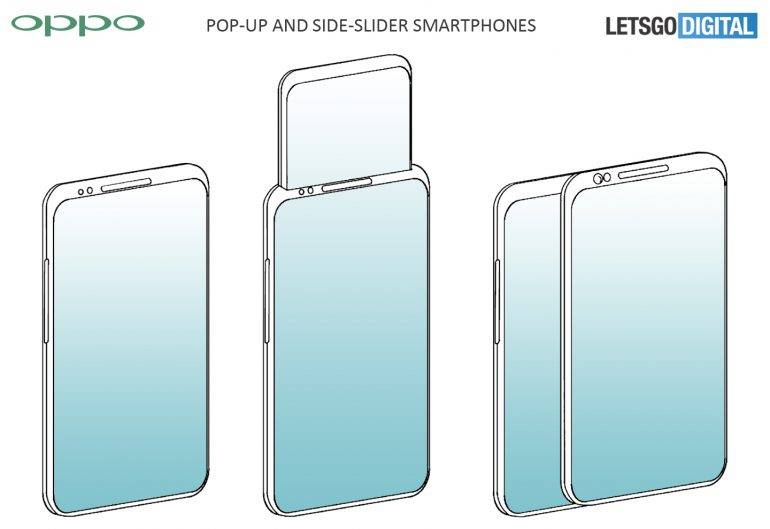 If I was asked to state the purpose of the mini-display, I would be in a daze as I do not see how this makes the user experience better or more efficient. What makes it even weirder is when you hear of OPPO's idea to place the front-facing camera into the top bezel of the main body. So it is definitely not there for a display with no bezels or to get rid of a punch hole or notched camera. So why would OPPO think of such a bizarre thing? It honestly just looks a big phone with a small one coming right on top.
Another design that would make some slight sense is one with a side screen sliding out of the main display. Knowing that this design also looks like two smartphones attached to the side of each other, it would make sense that the side screen can feature controls for games that are displayed on the main body. I will not tell you to wait and see this idea to come to life because I honestly don't want to see the first one.
Just because a company patents a product does not necessarily mean they will come to life. We might see some of their ideas or maybe not. One thing is clear, the team at OPPO are not joking when it comes to being creative on any idea that is brought to the table.