A good number of you might actually not know who or what Transsion is. Although the name Transsion has been associated with the African mobile phone market for the longest time with reports of Transsion dominating the mobile phone market in the continent hitting headlines year after year – a quick search on Google reveals headlines such as "How tiny Chinese mobile firm, Transsion holdings beat out global giants" but that's just the once upon a time of the tale.
With such a reputation, it is best to start this piece with a short history class to catch you up on who Transsion is and why this company is very important in the African mobile market.
In The Beginning…
Transsion Holdings is the mother company behind TECNO, Infinix, itel and a conglomerate of other non-phone brands. But before Transsion Holdings was "Tecno Telecom Limited", a small Chinese company founded by George Zhu Zhaojiang and his unnamed business partner. Mr Zhaojiang (I know you skipped his name but it's ok) set up the company after an expedition that saw him visit 90 countries after which he returned to his home in Hong Kong inspired to build an international mobile communications company with a focus on emerging markets and build he did.
This was back in 2006, when the company solely sold their devices in the South Asian market – at this time, going by the name of the company, it is clear that they were making and selling TECNO phones. But one year later, in 2007, the company birthed a second brand – iTel. iTel's purpose was to serve the feature phone market as TECNO put in more effort in the smartphone space – all this time just selling their devices in South Asia.
In 2008, something changed, there's no record of what the trigger was but Transsion changed strategy and stopped selling in Asia and adjusted its focus to the African market where the company deemed to be a better chance at success. The company ended its operations in South Asia and only sold its phones in Africa.
Transsion's entry into the African market was not by trial and error. While everyone (the other smartphone makers) were focused on the premium market through their devices, Transsion came into the Kenyan market (one of its very first markets in Africa) and set up an office along Nairobi's Luthuli street – an office that the company would retain to date albeit serving a different purpose.
The company had a plan to capture a neglected space in the penetration of smartphones in the continent – the budget segment. I actually remember my first TECNO smartphone, the TECNO N3. The device cost Kes.7,000 and offered 3.5-inches of display among other specifications that would make you cringe by today's standards but at that time, this was the holy grail.
When the calendar hit 2009, Transsion opened a second factory in Shenzen, China and launched another brand, this time around, an after-sales service – CarlCare. CarlCare's task was to ensure that the company would be able to extend quality after-sales services and warranty to its customers –  this was the beginning of the famous TECNO "12+1 months warranty". CarlCare's birth was followed by the launch of Transsion's third mobile phone brand, Infinix in 2012. Infinix, unlike TECNO and iTel, was meant to be a fashionable online smartphone brand that would appeal more to Millenials. Although by 2018, most of the original plans with these three mobile brands had been rearranged and now they are all basically going neck-to-neck on each other, fighting for the same market space.
Beyond Mobile Phones…
It's not just mobile phones that the company has a taste for. Between 2014 and 2015, Transsion decided to wade the murky waters of accessories and home appliances by launching Oraimo – an accessories seller and later on Syinix, a home appliances brand. But because its thirst for smartphones was not quenched, Transsion got into bed with India's Spice Mobility which needed a breakthrough with its dry spell lest it closes shop. The result of this unholy act was a joint venture that birthed the relaunch of the dying Spice brand in India, now under Transsion holdings.
At this point, Transsion Holding's Vice President, Lin Qin acknowledged the obvious, Transsion has been employing a multi-brand strategy. This strategy worked so well for the company as consumers would be picking one brand over the other without realizing that they are all cut from the same cloth and this would explain Transsion's obsession with merging all their brands when reporting sales, which, as much as is unfair in my opinion, does win the Chinese company the crown of Africa's best selling mobile phone vendor.
Transsion's tale of success does not end there, with the number of smartphone sales reducing by the year (according to industry reports), it is easy to see why Transsion is trying to diversify its offerings beyond the mobile gadget. Recently, the company has been putting extra effort into their software offerings – a move we have seen with other smartphone manufacturers including the fruity Apple.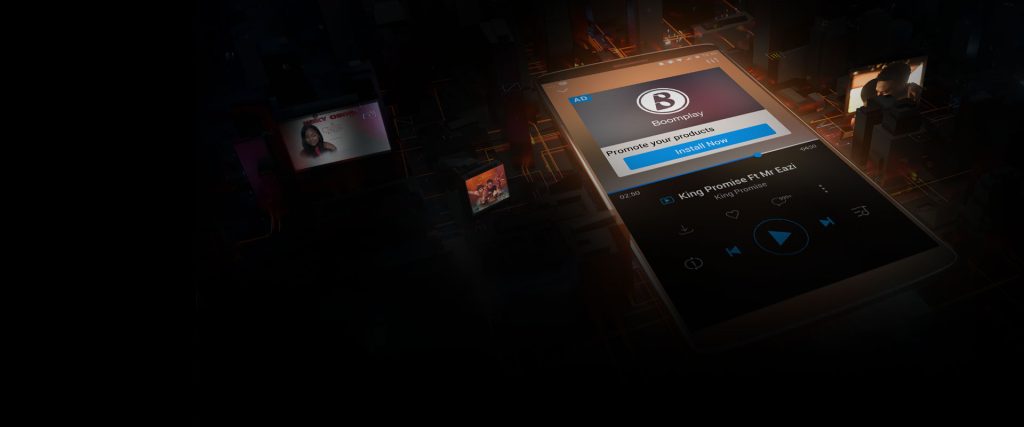 The company's first play with software was with Boomplay – music streaming service. Boomplay allows users to stream music for free with ads in between songs or users can opt for a premium package that has no ads, allowing users to purchase these premium packages through airtime.
Since its launch in 2015, Boomplay has signed licensing deals with Universal Music Group and currently boasts of 29 million users and over 10 million downloads on the Google Play Store. We can outright say that this is a success, but a success that hangs on the already successful mobile phone business, since Transsion pre-installs Boomplay on their smartphones.
It's not just Boomplay, through its subsidiary Transsnet –  a partnership between Transsion and NetEase Group, Transsion has also got into the mobile financial services market (although only in Nigeria). Under Transsnet, the company offers Palmpay, Palmsave and Palmcredit – which offer payment services, savings options and mobile loans respectively.
At the beginning of the year 2019, Transsion also launched Scooper, a media aggregating platform that delivers content from different sources to users. This too, Transsion leverages on its smartphone penetration to push the services which would explain the accelerated success.
On top of these software offerings, Transsion has a number of proprietary apps that are pre-installed on its smartphone brands, such as the Phoenix browser. Even more controversial is the inclusion of ads within TECNO's HiOS and Infinix' XOS software – a move that has put these brands on the receiving end of criticism but a polite reminder, all those budget smartphones have a higher cost that has to be covered somehow and besides, even Xiaomi – a globally recognized smartphone brand does the same.
[infogram id="transsion-1hnp270eod786gq" prefix="Q39″]
How They Made It…
By 2018, Transsion Holdings had sold over 200 million Dual-SIM devices around the world and since 2016, Transsion has been at the top of the pyramid as the best selling mobile phone manufacturer in Africa overtaking giants like Samsung and Huawei. But such a success was not attained overnight, in an effort to appease to the neglected budget segment, Transsion made very conscious decisions that no one else was making.
First, the company was the first to start selling Dual SIM devices in the continent – this was after research revealed that a significant number of people owned more than one SIM card. Secondly, these devices also featured (and still do) huge batteries and cameras calibrated for darker skins. Lastly, the price was kept low, low enough to reach the bottom of the pyramid but not too low to sink the company into bankruptcy.
All this while, Transsion was only selling its devices in Africa. The success of Transsion in the mobile space was not only fueled by cutthroat pricing coupled with up to par hardware but the company's mantra to think globally and act locally meant that they put in an effort to serve each African country individually. This concentrated focus saw Transsion open its third assembly plant in Ethiopia in 2011, where the company was able to lower the cost of production even further and thus better serve the market.
Unfortunately, this tale does not end with a smile on my face. A series of brand mistakes and slow down in innovation has seen the competition learn a thing or two from Transsion's success and use this same strategy to trample upon the company. If you may have noticed, Transsion's mobile phone brands have been on a slowdown, seemingly stunned by the sudden arousal of OPPO, Huawei, Samsung and Xiaomi all of whom have folded their sleeves and are now putting in renewed efforts to capture the budget smartphone market – an area that has been Transsion's forte.
While to the public eye it looks like Transsion has been hit hard by recent competition, our hope is that the company will awaken from its current sleep before its crown is stolen from its head – maybe start with the launch of that "fake" foldable phone that TECNO teased during Apil Fools' or is that too crazy a dream to have?