LinkedIn has been on a roll to try and keep up with other social networking platforms which leave the service feeling lost and forgetting its identity as a professional website. Last year, LinkedIn absurdly added stories to their platform, a feature that did not sit well with a lot of people but the company's latest addition seems to be a bit reasonable.
LinkedIn has announced that it is introducing live videos under a service known as LinkedIn Live. The company justified this decision by saying that video is the fastest-growing format on the platform alongside original written work and shared news.
LinkedIn Live will allow users to broadcast live videos on the platform to either a select group of people or the general public. At the moment, the service is under beta in the US alone and it is currently an invite-only beta program. Reports indicate that LinkedIn has not yet clarified whether the service will eventually be available to the general public but the company has said that it will allow users to request the feature while its in beta.
The new service will be familiar to anyone who has interacted with videos on YouTube, Facebook and Twitter. LinkedIn's director of product management, Pete Davies says that the live video streaming service will allow viewers to like the video, it will have comments section as well as moderation tools for the broadcaster.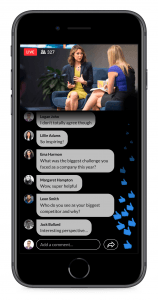 LinkedIn says that its new service is aimed at showcasing conferences, product announcements, Q&As, corporate events like earnings calls among similar events. The company says that it has no plans to serve ads through LinkedIn Live, but one thing is for sure, one way or the other, this service will be monetized, in a bid to grow the company's revenues.
"That will come down the road, but for right now we are focused on awesome use cases," commented Peter Roybal, LinkedIn's head of video product management, in response to monetizing live videos.