The Strix laptop from ASUS gives off its fair share of impressions that might appeal beyond the typical gaming audience.
THE GOOD
Graphics

Design

General Performance
ASUS has for years now been making steps forward to try and prove to the world of tech of their intent in making devices. And in the spirit of being manufacturers of high-end devices, the Taiwanese manufacturer has clearly been making efforts to try and attract a market that demands devices with high-end specifications.
This is when we talk about the processor, memory, battery, display and of course a good design. Talk of the ROG Phone line that has had two installments so far with this year's proving to be a true gaming beast. Prior to this, we have had huge line-ups of brands like Strix, Scar and of course the famous Zephyrus line of laptops. However, these line-ups have been coming at crazy prices which is reasonable enough if you considered the impressive specs.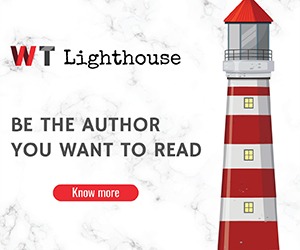 Among all these line-ups is the ASUS ROG Strix G531G laptop that we have been reviewing for a couple of days now. Under the Republic Of Gamers (ROG) umbrella, this unit was clearly made to appeal mostly to one niche yet demanding market; gamers. And as much as some don't like to hear it, if you are in the market for a gaming laptop you clearly cannot ignore the products that ASUS is bringing up every year.
What sets the G531G apart first is the impressive 9th Gen Core i7 processor rotating at a speed of 2.6 GHz. You should, however, note that the unit comes in other variants. This includes the Core i5-9300H which is to keep the price down but we would not recommend going any lower than the Core i7 chip.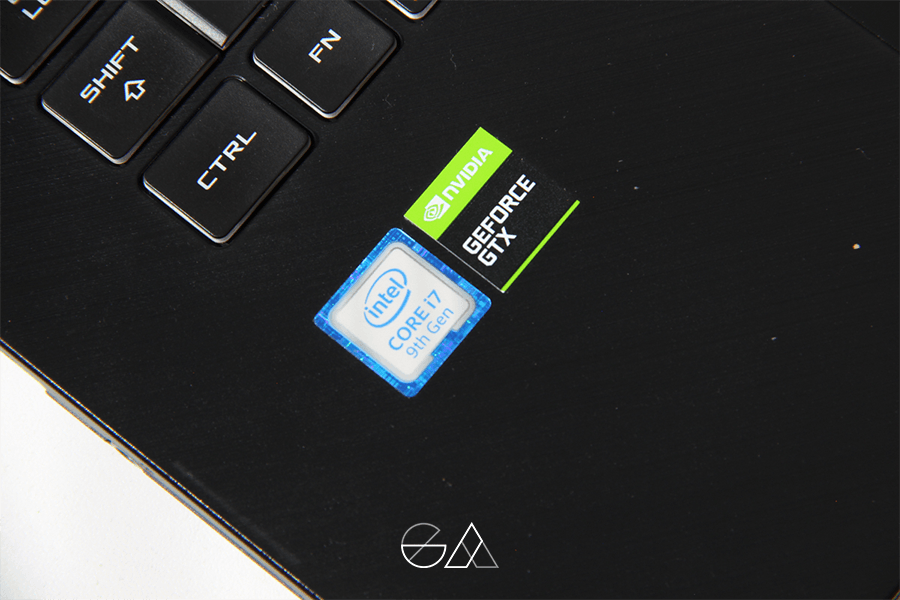 What gets it even more separate from a regular consumer's laptop, even more, is the GTX 165o with 4gigs of memory from Nvidia to handle your high-end graphics games to the best of its ability. But more than that, does this laptop have anything for a normal consumer who would not be getting it solely for gaming purposes?
Design
As a ROG device, the laptop obviously gets a unique set of physical features that you wouldn't normally see every day. The computer comes in a generally black chassis all through its build with a brushed finish from its cover all through to the keyboard. ASUS states that the design was done in collaboration with BMW Designworks Groups. Whether this may be true or just a marketing gimmick is not up to us to investigate though. But what we loved about the general build is its aggressiveness and subtlety all at the same time.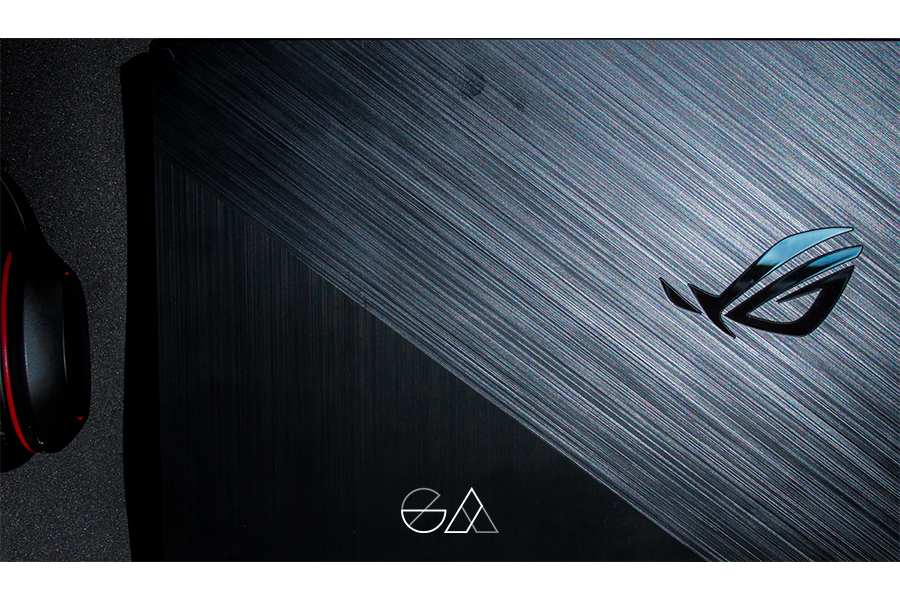 It is big yes, but does not necessarily give off those typical symmetric features that you would find in almost every other gaming laptop form other brands. The cover is fairly flat with a shiny metallic ROG logo standing out on the side. It does disappoint though to realize that other laptops from ASUS have a glowing logo while this one doesn't. Sucks, right?
The whole body may be made purely of plastic but it does feel Herculean enough. The lid can be easily be opened and closed with one hand and the hinges are stable are there to make sure of that even while using the laptop. It may feel a little wobbly but that's only if you shake it.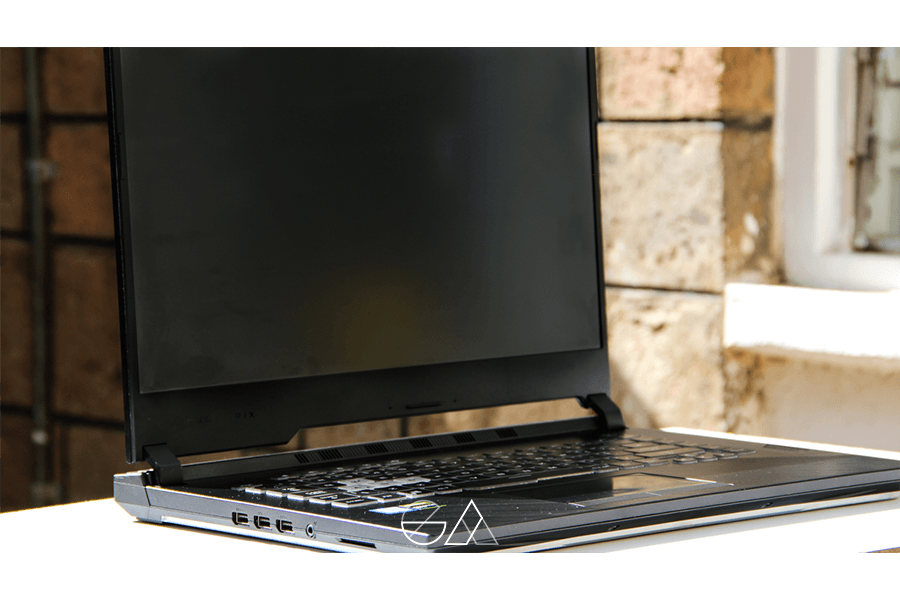 At 2.3 kg weight, the laptop is obviously not light at all but you could definitely call it portable enough to carry around during your daily commute. Additionally, it is neither too thick nor too slim to start giving you problems with your thermals. This is mostly considering the huge space taken on the interior by the dual fans for efficient air circulation and therefore good thermals, which is a story for later.
ASUS here chose to give the consumers a sufficient supply of ports although not enough. Three USB ports with a headphone jack alongside an ethernet and HDMI display port at the back is not what you would typically refer to as a plethora of connectivity options. But it still holds its ground for those who have no need for ports like thunderbolt and USB-C even though it would have been nice to have the latter.
Keyboard, Trackpad & Display
Opening up the laptop surely does give you one statement from ASUS that this is nothing less of a device meant for gamers. That is not to say that other personnel like editors and graphic designers cannot use it. The Strix G531G comes with a 15.6-inch IPS display at 120Hz refresh rate which is nothing short of impressive. With such a refresh rate you would expect the designers to have gone for much brighter lighting but that does not happen.
At 300 nits, you do find yourself wishing the display lit up more than it actually does. Working or playing games outdoors gets to be a real hustle which we do not expect with a laptop of this caliber. Although, this is not to say that the pixel density and viewing angle is not impressive.
The bezels around the display are quite thin which is a good thing bu ASUS decided to totally get rid of the webcam. This action has been done on many other models by the company which has been quite controversial. If you think about it though, it is a good thing for those who prefer a laptop without the camera at all. But if you are desperate for one, ASUS provides a separate webcam that records at about 720p resolution for an extra price of course.
With the GTX 1650 graphic chip in place, watching movies, playing games and even regular office work gets to be a really good experience.
More to this is the keyboard that is set apart not only by the good key travel but also the RGB lighting. Different from other laptops though, the lighting is projected mainly from the sides of each key saving you from the light just burning straight to your eyes. The RGB lighting continues further down by an extensive light bar at the bottom of the device. For gimmick purposes, you can even customize the lighting to your liking through ASUS's dedicated Armoury Crate app that syncs with AURA lighting effects. You may not appreciate under heavy light but in dark places, the thrill is undeniable.
The keyboard does not include the number pad as this included in RGB format at the trackpad which to me seemed a little too gimmicky. It's quite obvious you would obviously find yourself rarely using it. but the cursor response to the trackpad is quite good as it uses the regular Windows precision drivers.
The general typing area is big enough for your hands to fit with the trackpad in fairly regular size to provide the space.
Performance: CPU & GPU
With a six-core Core i7 chip at its 9th generation alongside a 16GB RAM and 256GB of Solid State drive, do not expect hitches when it comes to general performance at all with this laptop. Moreover, this is because these specs offer a minor bump from its predecessors, which you would actually get to notice. opening and closing software and video games are never a hustle with the impressive clocking speeds. The 16gigs of memory offer you a chance to open multiple windows and apps simultaneously without having to worry about your system crashing.
When it comes to gaming (which is what it's mainly about), the Nvidia Geforce GTX 1650 comes into play offering you one of the best gaming experiences from low-end to the most graphically demanding video games. With the 142 PPI density though, you may notice some limitations in the pixelations and color but that doesn't hinder you at all from playing your favorite game in peace.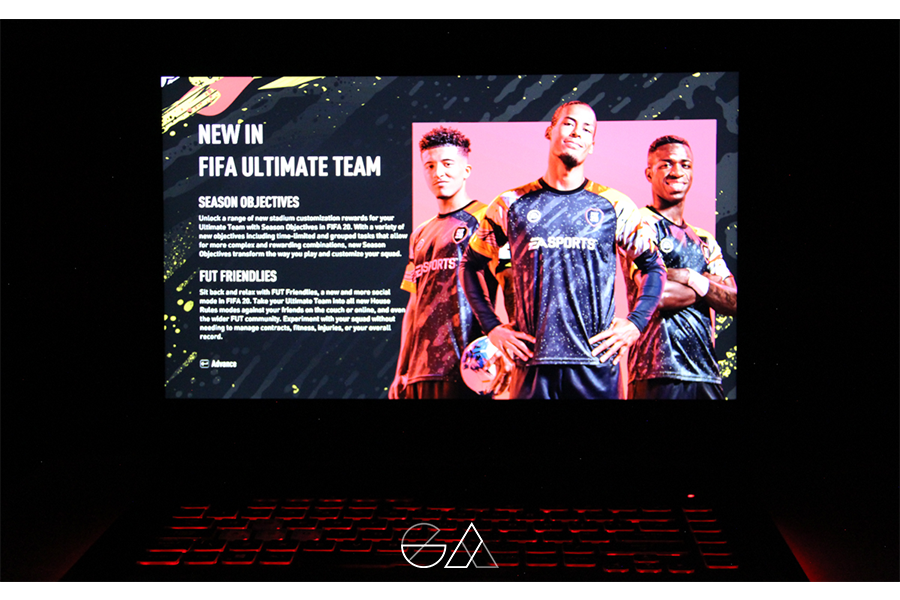 However, you should get ready to have a loud laptop especially when it is in Performance or Turbo mode that you can switch to with just the touch of a button. Gaming laptops insist on good thermals and with the heavy graphics, the fans get to work to the best of their abilities.
Video editing and graphic design have also proved to be done easily on this computer thanks to all the specifications mentioned prior. The difference, however, comes when exporting or rendering your footage as it has proved to take about a minute longer than its competitors from ASUS and other brands. if this gets to be a turn off then you might want to look elsewhere.
The G531 laptop continues then to offer a really good sound through its speakers located at the bottom. With a good level of bass and mids, you can only imagine how better it would have been if they situated at the top.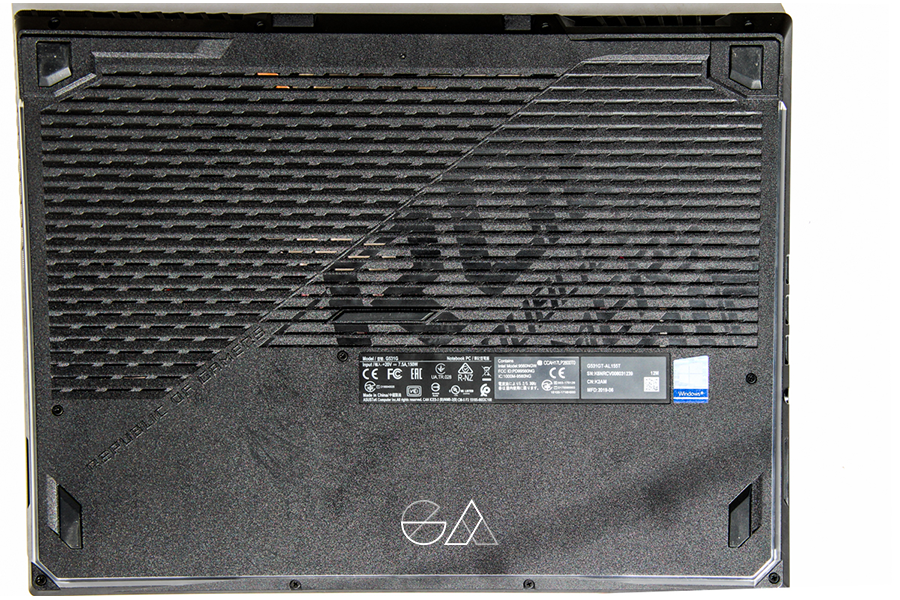 Battery
Most of the stuff may be impressive but here's where we draw the line, ASUS. `The 48Wh battery proves to be pretty insufficient even under light work. The battery lasted for about three to three-and-a-half hours while gaming under the brightness of about 120 nits. On maximum brightness, it lasted for just over an hour which is so disappointing. And yes, gamers spend most of their time indoors with plugged-in laptops but anyone working remotely would have to spend about two hours and then start panicking.
Verdict
After all, is said, does the Strix G531G model count as a laptop worth your time and money. Now, you should know that all this brought at Kes.139,000, give or take (but definitely take). Obviously ASUS has made sure to come up with other models that bring in heavy competition to this particular model, but after using it, it absolutely leaves you with a thrill.
The performance is definitely out of this world with the display being a major accompaniment.  I feel like you would definitely have a hard time getting another laptop with a 9th Gen chip and 256GB SSD at such an affordable price. So, the G531 G is definitely worth its cost and one that a full-time gamer should consider getting.
Buy ASUS Strix G531