The newly launched Galaxy Z Flip4 is a device that can express its user's style through its design, features, and even angles. You can position the small form factor at different degrees to unlock a trove of innovative features.
Here is how to create a personalized experience at different available angles.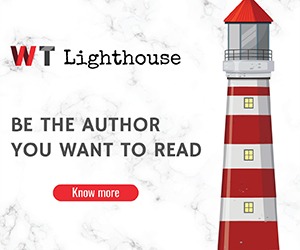 How to Make the Most of Galaxy Z Flip4 at Every Angle
∠ 0 degree: Potential of the Cover Screen
When folded, the Galaxy Z Flip4 fits smoothly in users' pockets. Plenty of its diverse features can be optimized without flipping it open.
For instance, with Quick Setting, you can turn on and off airplane mode or flashlight and adjust the screen's brightness. It is possible to reply to messages or make a call — all from Z Flip4's 1.9-inch Cover Screen. You can also pick the widgets you want to use right on the Cover Screen.
By pressing the side button twice, you can activate Quick Shot. This feature allows users to take high-resolution selfies by using the main cameras of the Z Flip4 right from the Cover Screen.
∠ 75 degrees: Photoshoot Experience With FlexCam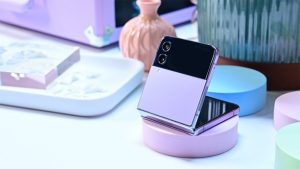 With FlexCam, you can use your Galaxy Z Flip4 cameras at different folded angles. The main cameras and the Cover Screen photo previews can work together with Z Flip4's wide spectrum of angles to provide dynamic, full-body shots. This transforms the smartphone into an adjustable tripod that fits right in your pocket.
You can even angle Z Flip4 at 75 degrees and place it on the ground for stylistic shots.
Out with friends and want to take a group photo? Just place your device at the angle you want on a nearby surface and strike your poses. FlexCam lets you trigger the camera by holding up your palm, without needing to press a button on the camera itself.
∠ 90 degrees: Content Creation and Versatile Photography
Designed with Millennials and Generation Z in mind, Z Flip4 allows you to conveniently create online content.
For example, you can take a vlog using the video recording in Quick Shot mode and then seamlessly switch to Flex mode to continue recording hands-free — all without ever stopping the video. For handheld shots, Galaxy Z Flip4 can be held like a camcorder.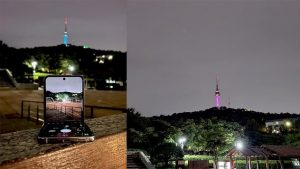 Z Flip4 is also perfect for capturing night-time scenes when out for an atmospheric evening walk. The Nightography mode is optimized for using the camera in these conditions. You can get bright, sharp photos with less image noise. 
∠ 115 degrees: Multitasking Needs
Z Flip4 adds a touchpad within Flex mode that lets you control the mouse cursor for pausing, rewinding, or playing videos without picking up the device.
Multitasking is also more intuitive and easier to activate, because of swipe gestures. Swipe up on the screen with two fingers to split your screen in half or swipe to the middle from the top two corners to instantly switch full-screen apps to pop-up windows. 
With multi-window, you can watch a film on the top screen while taking notes on the bottom screen, all while chatting with friends on a message thread and planning your route to meet them simultaneously.  
∠ 180 degrees: Colours and Combinations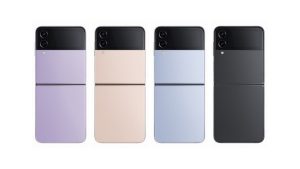 You can complement your style with premium design in legacy colors, including Bora Purple, Graphite, Pink Gold, and Blue. 
The Cover Screen is the focal point of Z Flip4's surface: it is the part of the phone that gets the most exposure. You can take advantage of Z Flip4's camera features to craft the perfect Cover Screen background. Maybe also add the clock style of your choice from the expanded list of clock designs to complete the picture.