5G is the new craze when it comes to features in a smartphone. All the companies, Apple, Samsung, OPPO, Xiaomi and even Vivo are doing their best to integrate 5G t their smartphones. This year it's been all about Apple but OPPO and Vivo are not to be silenced.
Apple Makes A Bold Statement With 5G Smartphones
Most 5G phones sold Per Company in both q1 and q2 2021
According to Strategy Analytics, despite only participating in one quarter, Apple sold the most 5G smartphones in 2021. This is probably because all the new iPhones come with 5G.
Ken Hyers, Director at Strategy Analytics adds,
"We estimate Apple shipped a record 40.4 million 5G iPhones worldwide in Q1 2021. This is building on its strong performance of 52 million shipments globally in Q4 2020. Apple iPhone is the clear 5G leader with a 30% 5G smartphone market share globally in the quarter.
The iPhone 12 5G is proving wildly popular across China, Europe and the United States. This is seemingly due to its sleek hardware design and surprisingly competitive pricing." Whatever the case the gap is still massive compared to other phones.
Here is the breakdown:
Apple with 40 Million units
Samsung with 26 Million units
OPPO With 22 Million Units
VIVO with 21 Million Units
Xiaomi with 18 Million Units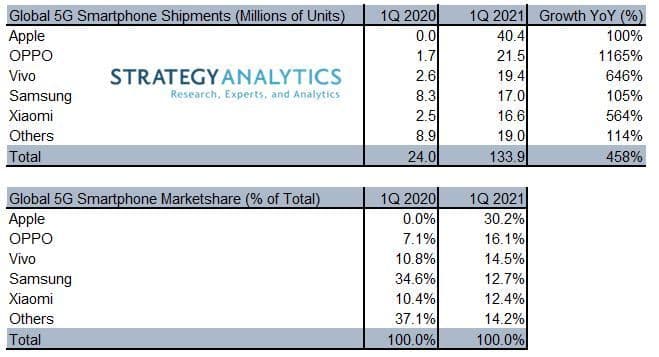 Apple and the domestic trio of OPPO, Vivo and Xiaomi benefitted most as the demand exploded. OPPO Vivo and Xiaomi closed on Apple capturing 16%, 14% and 12% global market share in the quarter respectively.
Samsung Takes A Slight Tumble, OPPO Soars
Estimates show that Samsung shipped 17.0 million 5G smartphones globally in Q1 2021. This is up from 8.3 million in Q1 2020. However, Samsung only holds a 13% market share in 5G smartphone shipments globally in Q1 2021. This is down from 35% in Q1 2020.
OPPO is on this other side growing its market share with 16% market share in Q1 2021, up from 7% in Q1 2020. Their growth also shows in their YoY stats as they grew to 1165%.