It's a cloudy afternoon. The air is dry and the day is silent. I'm seated at my desk grinding through the paces, trying to get my work done then, the phone rings. Everyone goes quiet. The typing stops, everyone's attention is drawn to me and I pick up the phone. (music intensifies). The voice is subtle but authoritative. She says only a few words.
"The ASUS ZenBook Pro Duo is ready, you have only 24 hrs. Do you accept this mission? Over" I look up at everyone else in the office, they already know what's coming next. I respond just as she had asked, grin on my face, twinkle in my eye, calm and in control, "Mission accepted! Over"
Well, that's not what really happened but, wouldn't that be amazing? Anyway, now that I have your attention, I know what you're thinking, what's so amazing about the Asus Zenbook Pro Duo? Why all the hype.
Well I asked all the same questions and spending 24 hrs with it gave more than enough information to help you figure out if it is actually worth it. Honestly it has to be the screens. Before we talk about anything else, let's dive into that.
Productivity and Performance on The ASUS ZenBook Pro Duo is Insane!!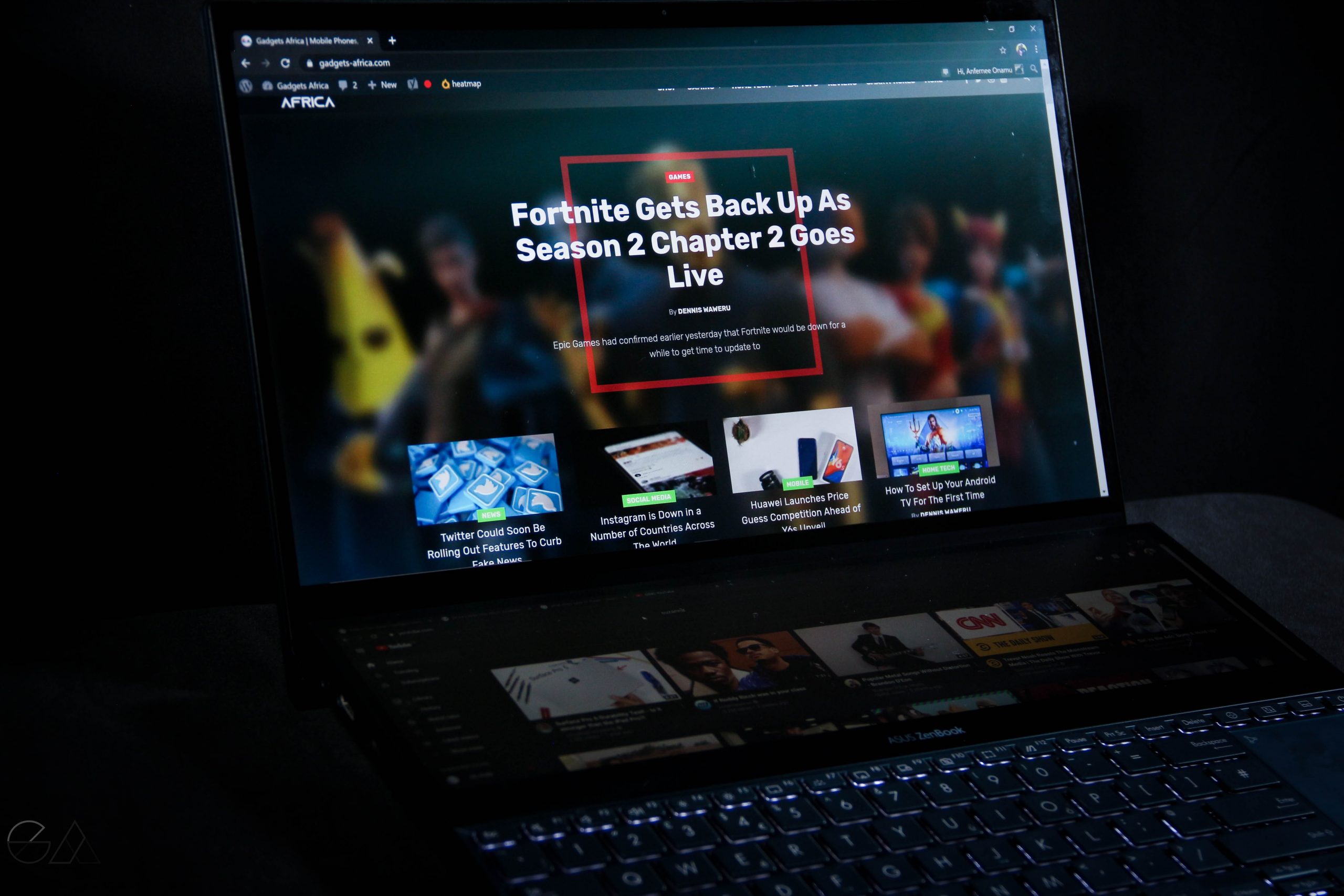 I think this deserves an article on its own but I'll try and be as brief as possible. This stems from the design of the laptop to the quality and performance you can get from the ZenBook.
Think about dual screens for a second. We've seen them implemented on phones and on desktop set-ups with crazy $6,000 screens. Now we're looking at a laptop that comes readily equipped with a secondary screen. I know how that sounds. Crazy right? But hear me out.
Apart from the main 15.6-inch 4K UHD OLED touchscreen, there's another screen on the laptop. They call it the ASUS ScreenPad Plus. It's a full-width 4K secondary touchscreen that works seamlessly with the main screen, giving you endless ways to optimize and personalize your workflow.
The screens come with thin bezels giving you a good enough screen to body ratio. The ScreenPad has a matte finish and it's own brightness settings and a dedicated on and off button. This is good for when you don't want any distractions from that screen or just want to conserve some power.
Functions of the Screen Plus (by ASUS)
Quick Key allows one-tap automation of complex keyboard sequences.
Handwriting lets you input text intuitively.
App Switcher, ViewMax and Task Swap for intuitive interactions between the main display and ScreenPad Plus.
Task Group lets you lock into work mode by opening multiple tasks with a single touch.
You can drag apps or in-app toolbars onto ScreenPad Plus to give you more room to work on the main display, wherever you are.
Functions of the Screen Plus (by Anfernee)
Multitasking tool: I put a music player on the bottom screen so as to have easier access and control to what I'm listening to. I also had YouTube sessions where I'd have a video play on the second screen and use that to easily follow through tutorial instructions.
Reference Bar: Whenever I'd be writing articles, instead of switching from tab to tab or having to resize my main work to fit my reference pages, I would just pin it to the ScreenPad. It's super useful seeing as I could have up to three separate tabs open as I continued working. The beauty about it is that when I couldn't see anything for some reason, there is a dedicated switch-screen that helped me seamlessly move from screen to screen.
Editing: The possibilities to this screen are endless. For the 24 hrs I had it, I could only do a few things but they made such a huge difference. For those that use any of the Adobe Suites, you know we have bins and tabs we wished we could just move to a different screen. Well, now you can. I was able to fit my Lightroom filmstrip on the ScreenPad. This kept me focused only on my editing reducing the time it took to edit. I could also move the AfterEffects and Premiere Pro Timelines to the bottom screen and that gave me so much real-estate to work on my videos.
The implementations are endless and when you add the stylus to this mix you have yourself a fantastic combination of creativity, production and just epicness all around. I can only imagine what photographers, editors, DJ's, designers, animators, gamers and programmers will do with this behemoth.
SPECIFICATIONS
So let's talk about the specs on this, dare I say it, beast of a laptop… First, a quick overview, then we can go into detail.
Power and Storage:

Graphics: Nvidia GeForce RTX 2060
CPU: 2.4GHz Intel Core i9-9980HK (octa-core, 16MB cache, up to 5GHz)
RAM: 32GB DDR4
Storage: 1TB SSD

Screens Galore

Main Screen: 15.6-inch, OLED Ultra HD (3,840 x 2,160),
Screen Pad: 14-inch Ultra HD (3,840 x 1,110) touch display

Ports, Connectivity and Bundles

: 1 x Thunderbolt 3 (USB-C), 2 x USB-C 3.1, HDMI 2.0, headset jack
Connectivity: Intel Wi-Fi 6 with Gig+ performance (802.11ax),  Bluetooth 5
Camera: IR webcam with Windows Hello support
Mouse
Stylus pen
If Superman was a laptop, the ASUS ZenBook Pro Duo would be his very capable just as powerful brother
The ASUS Zen Book Pro Duo is fast and powerful. First up we have the
Intel® Core™ i9-9980HK processor. 
A processor's main purpose is to read instructions, known as threads, and perform their dictated actions. The i9 CPU features Intel 
Hyper-Threading
technology. This enables each core to process two threads simultaneously for speedier performance.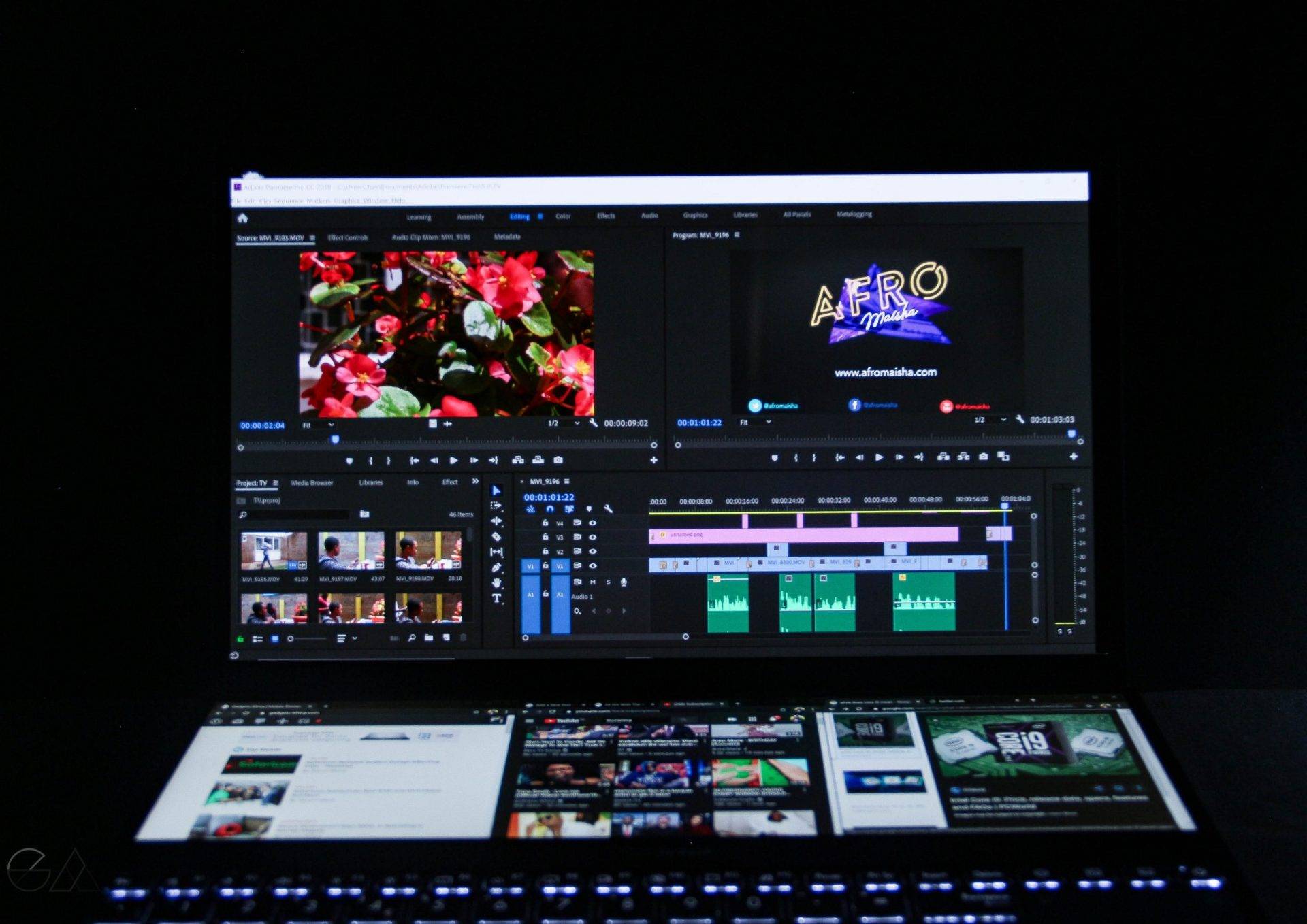 Now consider the fact that the 9th Generation i9 has eight cores, with two threads allocated to each core; the i9 can process 16 threads at once. That's a ton of processing speed and is why the core is great for gaming. It can handle the abundance of threads for lightning-fast game-play.
To back this up, the ZenBook Pro Duo has the Nvidia GeForce RTX 2060 graphics card, 32GB of RAM and 1TB of SSD. With these specs, you expect nothing but the best performance and that is what you get.
Being a video editor, these were the perfect settings for me. Coming from a core i5 laptop, I could immediately notice the difference. The fluidity in multi-tasking and ease of use is immensely satisfying.
The powerful GPU with the NVIDIA Studio Driver gave me the power to carry out high-resolution video editing. The joy of not having to deal with 'not responding' errors from Premiere Pro is amazing. The Advanced RTX features like hardware-accelerated ray tracing ensure perplexing visuals and faster content creation.
With its unprecedented 5GHz Turbo Boost frequency, ZenBook Pro Duo can effortlessly handle all the apps on your main screen and ScreenPad Plus, fluid cross-screen workflow.
Other Features of The ZenBook That impressed me
The design is eye-catching. The slim bezels, matte finish screen and brushed metal surface just tie this entire device so well it's quite mesmerizing the things we can do with tech these days.
The battery life is pretty decent for a laptop like this and the travel of the keyboard is just as good. There's very little to dislike about this laptop, but we'll get to that.
Speakers and Sound quality: So get this, the ASUS Golden Ear team worked with renowned home and automotive audio experts Harman/Kardon to ensure the best audio experience. They are amazing. Playing music for guys in the office has been my go-to and I think I might just be the most popular guy this week. (Saruni in the background: Nope)
The touch-pad: The ASUS ZenBook Pro Duo features the latest version of the ASUS NumberPad. It is an LED-illuminated numeric keypad integrated into the touch-pad. Tap on the top-right NumberPad icon for one second to switch the function on and off, and tap on the top-left icon to choose one of two brightness levels. I loved that even when the NumberPad is activated, the touch-pad can be used for cursor control thanks to its intelligent software.
Stylus: The ASUS ZenBook Pro Duo comes bundled with a stylus. Both displays support stylus input, but ScreenPad Plus gives you a stable platform for writing or drawing. Take notes, sketch out your ideas, or do precision graphical editing on this screen.
Palm rest: There's also a custom ASUS mouse and separate palm rest in the box. The palm rest which enhances the ErgoLift tilting keyboard design to give you a comfortable typing experience.
Was The Mission Successful?
I only disliked a few things. The placement of the mouse pad kept confusing me and till now I keep confusing the palm rest for the mouse pad.
The laptop is heavy and lugging that huge charger around isn't a walk in the park. I wish it had an SD card slot and maybe an Ethernet port for when I would like to game. The laptop is also a huge fingerprint magnet.
For the average consumer, this would be overkill. The retail price starts at around Kes 310,000 and is available at Text Book Centre and Ensure Technical Services.
Yap, I said it! Unless you're going to heavily profit from this laptop, work-wise, or just have that kind of money to spend on tech, I suggest you have a long serious conversation with yourself before you dent your pockets.
Nevertheless, the possibilities are endless and the power is almost limitless. It will be a joy to see what ASUS have in store next for us but until then, it's a standing ovation for this piece of tech.
The mission was a success. Available for debriefing through this platform. Over and Out.