It might not have been the official starting day for the global geek fest, E3, but EA has made sure to make the 8th of this month feel like an action-packed game with the reveals of every game they plan to release later on in the coming months. So, what new?
Star Wars Jedi: Fallen Order
Yes, it seems like the galaxy will not rest until the beloved fallen Jedi force has been completely awakened and gamers will have to fill the big shoes with the new highly anticipated game that will tell a story of a lightsaber-wielding young hero in a timeline occurring just shortly after Darth Vader and Emperor Palpatine grabbed power.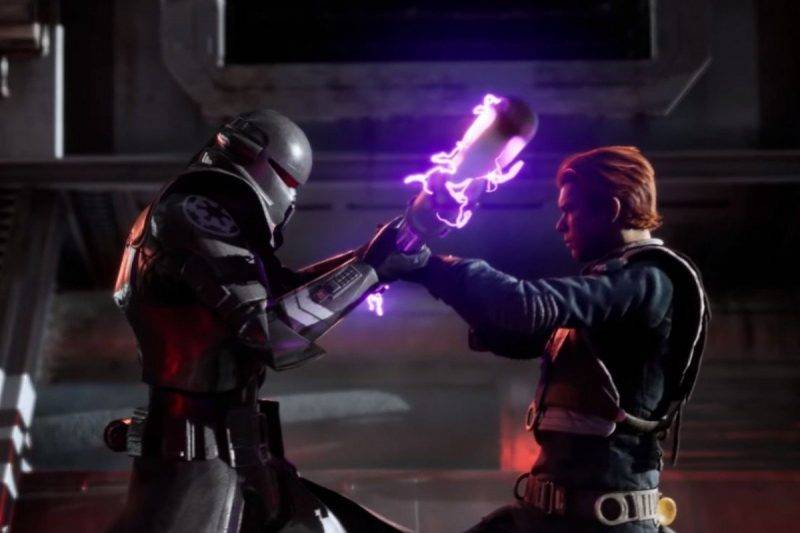 The official press conference was basically kickstarted by a 15-minute demonstration video of the gameplay that players should expect to experience once the game is out on November 15th.
You should, however, note that the clip is a section about three hours into the story and the creators have promised of giving an immersive feel with the lightsaber and generally venturing into the different environments.
In the game, you will play as Cal Kestis, a rookie Jedi who wields a blue lightsaber with a  robotic companion called Body Droid (BD1). BD1 is also set to pay a kind of homage to the androids companions we have seen in the movies of the same name as well as have importance in navigation through abilities like scanning surroundings for danger and helping to unlock gates.
With the whole game certainly meant to pay respect to the film series that is one of the most popular franchises, Cal will also have to face enemies like stormtroopers, scout troopers, flame/fire troopers  as well as new ones like purge troopers, who have a role of basically hunting Jedis and have an interesting weapon.
2. Apex Legends
Not many may be familiar with this universe but if you are into the battle royales that are currently dominating the video gaming space, then you might want to have a look at what EA has in store with the second season of Apex Legends.
The game's presentation did, however, start with a reveal of the various updates that will be coming to the Legendary Hunt Event that is basically the battle royale for this title showing new weapons that will be coming to it but something else totally stole the show later on.
There will be a new legend who will be the tenth, known as Wattson joining the craziness brought by this universe whose real name is Natalie Paquette but is also not so new to the Legends. However unique she will seem from the rest of the legends, her backstory was revealed to tell that she alongside her father, that speaks in the reveal trailer, built the Apex Arena and she practically grew up around the arena watching the legends.
Here is the Apex Legends Wattson animated short ?#E32019 #EAPlay #ApexLegends pic.twitter.com/R0sCpZXnGd

— GameSpot (@GameSpot) June 8, 2019
This background comes alongside the fact that she is a scientist majored in electrical engineering and with her abilities based on that, she can control the flow of battle with defensive electrical walls and pylons that negate incoming fire. The electrical walls, which will be one to watch will be built by her deploying nodes around whatever area she wants in any shape but at a maximum of twelve nodes.
The general battle pass gameplay will include a whole new challenge-based structure, new challenges, a range of skins and a new weapon called the L-star. The Elite Q mode will involve a set of 6 tiers with players progressing one from another and rewards will be based on where one ends up after the battle. The second season is set to be out on July 2nd.
3. Battlefield V
This reveal may very well have been one with the most interesting news regarding the updates that will come with the 5th instalment including the addition of the Pacific theatre of World War II in the single-player mode (Tides of War) as well as in the multiplayer campaigns. This will luckily come with no charges like we are used to with previous content that will also bring up new maps alongside the Pacific theatre mission.
The gameplay has been revealed by the DICE, the developer will have three new maps integrated with one called Iwo Jima. This will also bring up new elements with the aim of bringing an immersive infraction experience and incorporate amphibious warfare with additional vehicles as the US and Japanese forces hop from island to island.
But for those of you who prefer the more intimate aspects of Battlefield, another brand new map: Operation Underground. It's full of flanking routes and opportunities to surprise players. A classic new weapon has also been reported to come into the battle, the M1 Grand. The developers did eventually reveal the work they have been putting in to create the new missions and the new multiplayer maps that will be released in different times: Al-Sahdan in June, Marita in July, and Operation Underground in October. The general Chapter 5 content is however likely to hit in November.
4. FIFA 20
With EA and FIFA focusing heavily on the main gameplay updates that they will be making in order to bring s much authenticity to the pitch as we know it, one other announcement, the Volta Football may seem to get the same if not greater emphasis. The new mode which was revealed hours before the official announcement will be integrated to the game to bring back the FIFA Street that had garnered its own popularity as an independent title.
With many seeming to like the idea of this being a playing mode rather than its own game, Volta Football is set to bring back the feel of basic outdoor football that we used to play when young without the official strict rules but involving a whole package of amazing skill. The mode will let you play 3v3 Rush (no goalkeepers), 4v4, 4v4 Rush, 5v5 and Professional Futsal. This comes with the choice of having players of either gender who can even play against each other as well as a new range of customisable casual gear like t-shirts, sweatpants, shorts among others.
We will have to wait till September 20th, but with EA Access coming to Play Station 4, players can get to have a taste of it a day before.
4. Madden NFL 20
American football may not be much of a global sport but being one that continues to gradually gain acclaim despite the violence, EA also invests in this series and they did announce of their 20th entry that will involve a whole set of new gameplay features to bring with an aim of bringing in as much originality as possible similar to FIFA 20
5. The Sims 4 "Island Living"
The EA Play presentation was finally brought to an end with the reveal of the Sims 4 that was revealed to have an expansion to its universe.
This expansion will bring up an addition of packs and cosmetics that include LGBTQ themed ones under a partnership of EA with It Gets Better Project alongside in-game items that will be neutral gender.
The general gameplay is aimed to bring the tropical adventure to players with the environment its set in. The release will however be in phases according to the different consoles; June 21 to PC and then to PS4 and Xbox One on July 16.
"With Island Living, the development team wanted to give players the chance to escape with their Sims to a peaceful, unique paradise and truly connect with nature," said senior producer Mike Duke.